Nicki Minaj 'Exorcises' Demon During 'Roman' Performance at Grammys? (VIDEO)
Most Viewers Nonplussed by Rapper's 'Blasphemous, Confusing' Exorcism Act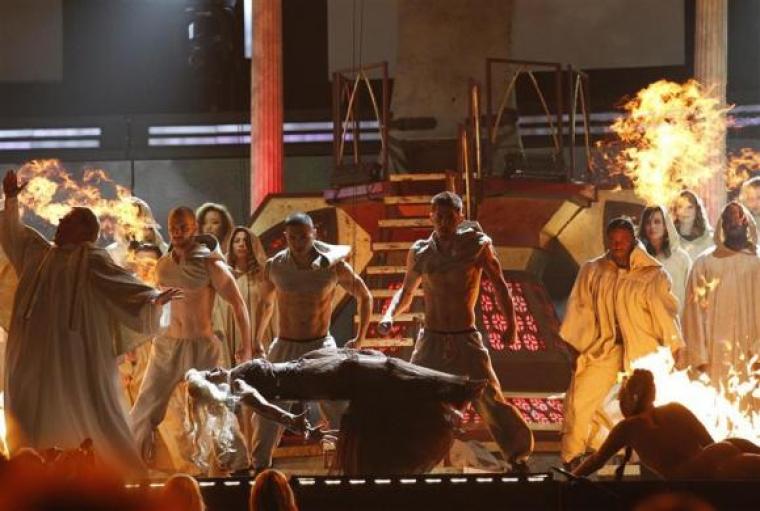 Nicki Minaj performed "Roman Holiday" during the 2012 Grammy Awards Sunday night, leaving fans perplexed and some suspicious that the music artist may indeed be bipolar or demon possessed, as the the hip-hop artist's showcase is being referred to as "the exorcism of Roman."
Minaj unleashed her inner demon, or alter ego known as "Roman Zolanski," during the performance of her new single "Roman Holiday" Sunday night, with her set design conjuring up occult and religious references, which some viewers found disturbing and even sacrilegious. The song, "Roman Holiday," is from the rapper's soon-to-be released second album, "Pink Friday: Roman Reloaded."
Under the influence of her notorious alter ego, Minaj took viewers through what appeared to be an exorcism. During the performance the rapper levitated and, according to MTV, at one point spoke in tongues. Minaj's outlandish and what some are calling nonsensical Grammys act drew similarities to Lady Gaga's equally outlandish performances.
A video of Minaj's performance of "Roman Holiday" is seen below:
SEE VIDEO OF NICKI MINAJ'S GRAMMYS 2012 PERFORMANCE
Minaj, born Onika Tanya Maraj, discussed "Roman Zolanski" (an uninventive stab at "Rosemary's Baby" filmmaker Roman Polanski?) in an MTV documentary called "My Time Now," which aired in Nov. 2010.
The 29-year-old female emcee, or femcee, first revealed "Roman Zolanski" as her alter ego during an Oct. 2010 collaboration for a song called "Roman's Revenge" with rapper Eminem (who often goes by his alter ego Slim Shady).
In the MTV documentary, Minaj explains: "Roman is a crazy boy who lives in me and he says the things that I don't want to say. He was born just a few months ago. I think he was born out of rage. He was conceived in rage so he bashes everyone and he threatens to beat people and he's violent."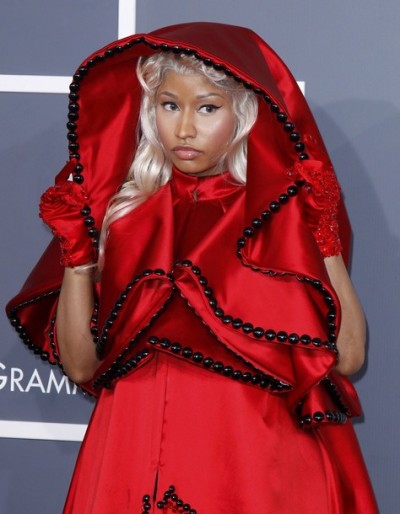 Many who tuned in to CBS Sunday night had nothing nice to say about Minaj's live "exorcism" of her violent alter-ego. As if to give a hint of what was awaiting viewers, Minaj turned heads when she arrived on the red carpet wearing a scarlet hood, and accompanied by a man dressed as the pope. 
Some viewers of the Grammy Awards think Minaj crossed the line with her use of religious imagery, with some even accusing the pop rapper of blasphemy.
Davey D, a music journalist, re-tweeted a comment from another Twitter user in agreement: "RT @darryn_briggs: FRIENDS don't let friends do blasphemy at the Grammies... (Nicki Minaj)."
McKenzie Kirby wrote: "The Grammys Taught Me Nicki Minaj is a demon. That performance should upset all Christians." Kirby added the hashtag "#Disrespectful."
"Nicki minaj is a very sick person her and her lil demon "roman" #I [can't] believe I use to look up to her!" tweeted Niekera Frankiln.
Glamour magazine, tweeting with the account name "@glamourmag," pleaded with the 29-year-old Minaj to stay true to herself and avoid mimicking Lady Gaga, which some observers say the music artist is surely doing.
"Dearest Nicki Minaj: We love you as you are. Please don't turn into Lady Gaga," Glamour tweeted. 
Richa Annisa wrote: "Since nikki minaj showed up, I have more respect for lady gaga. Nicki minaj is just a poser, a knocked-off version with less quality."
Others who tuned into to catch Minaj's "Roman Holiday" performance thought the whole affair to be a nightmare. 
"Jaywan Inc." tweeted: "Let me be the first one to say that Nicki Minaj single she premiered last night was absolute TRASH. And the performance had me very CONFUSED."
"Nicki Minaj's performance at the Grammys was like everyone's drunk uncle who always shows up unannounced at the Family reunion," a user named "Captain Pajamas" tweeted.
Minaj spoke with Ryan Seacrest on his radio program Monday, revealing the artistic vision of "the exorcism of Roman."
"I had this vision for Roman to be exercised and people around him tell him that he's not good enough because he's not blending in with the average Joe," Minaj explained. "His mother is scared and people around him are afraid because they've never seen anything like him. He wanted to show that not only is he amazing and sure of himself and confident, but he's never going to change he's never going to be exercised. So even when they throw the holy water on him, he still rises above."