Nigerian Christians Flee as Islamic Extremist Attacks Continue (VIDEO)
Christians in northern Nigeria have begun to flee as Boko Haram delivered on promises of threats to kill Christians in the area, despite a state of emergency being declared by the president.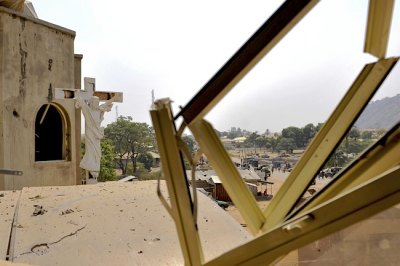 The militant Muslim group, Boko Haram, has extended its bloody campaign of violence against Christians with strikes in northeast Nigeria. In Yola, the capital of Adamawa state, masked gunmen attacked the Apostolic Church, Friday night, killing at least eight people, according to AP.
Another set of gunmen stormed a salon with their faces covered, shooting and screaming "God is great."
The town of Potiskum was also rocked by violence as two banks were bombed, followed by a gunfight with police.
A Boko Haram spokesperson has claimed responsibility for the attacks. The spokesperson, calling himself Abul Qaqa, has said that he wanted to prove to the government that they could always change their tactics.
There has been concern about President Goodluck Jonathan's ability to protect targeted Christians from attacks in the country. Weekly attacks continue to shake up the Christian community and kill dozens even after Jonathan declared a state of emergency just last week.
According to the Guardian, people gathered on Friday to mourn the deaths of those killed in a prior attack, but were fired upon by the same gunmen. Red Cross officials reported that over 21 people perished in the two-day attack in the town of Mubi.
A Thursday attack on a Church service in the town of Gombe left six people dead and a Christian couple was murdered Friday night in Maiduguri.
Christians Fleeing Northern Nigeria
Attacks over the last three days have succeeded in frightening Christians as hundreds have fled to other parts of the country. Red Cross members reported that members of the Christian community in Igbo have begun fleeing to the northeast, according to the Guardian. Islamic people in the area who speak out against the attacks have also been assassinated by the Islamic extremist group.
The Adamawa state was place on a 24-hour curfew Saturday, after the prior days' violence left over 40 people dead. Tomborokai Gajere, chaplain of the state's government has said that the curfew was put in effect to prevent retaliation attacks from Christian groups.
Gajere said he pleads with the Christian youth in Numan to stay calm as reports of violence pour in. President Jonathan condemned the attacks calling them "mindless and unfortunate."
"I urge all Nigerians to eschew bitterness and acrimony and live together in harmony and peace," Jonathan said. "Wherever there is any threat to public peace, our security agents will enforce the law, without fear or favor."
National President of the Christian Association of Nigeria, Pastor Ayo Oritsejafor has called for Nigerian Christians to ignore recent threats and stand their ground, according to AP. He believes it is ridiculous for Christians to flee the north and claims that it would not happen.
"We have information that they have started killing our people in Damaturu, yet I want to say that the threat that Christians must leave the north is a joke," Oritsejafor said during a speech to the Tribune Church on Friday. "It is definitely a joke because it is not going to happen."
He stressed that every Nigerian has a constitutional right to live in any part of the country. He advised them to go about their business as usual and ignore the threats of Boko Haram.
"I believe that not only is God in control, we will see the evidence of God's control in this earth," Oritsejafor said. "They have no right and it is not going to work. It is not going to turn anything by the Grace of God."