North Korea Outraged at James Franco, Seth Rogen Movie 'The Interview,' Threatens 'Merciless Counter-Measure'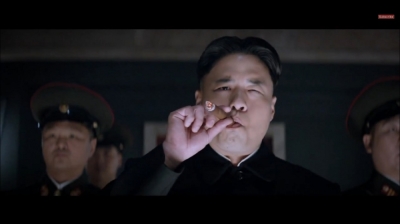 The government of North Korea has expressed outrage over the upcoming movie "The Interview" starring James Franco and Seth Rogen, calling it "undisguised terrorism," and threatening "merciless counter-measure" at the comedy about two talk show hosts who are asked to assassinate Kim Jong Un.
"The enemies have gone beyond the tolerance limit in their despicable moves to dare hurt the dignity of the supreme leadership," a North Korean Foreign Ministry spokesman told the country's state-run news agency on Wednesday, CNN reported.
He added that "The Interview," set for release in October, is "the most undisguised terrorism and a war action to deprive the service personnel and people of the DPRK of their mental mainstay and bring down its social system."
BBC News added that Kim's government has further called the movie "reckless US provocative insanity" and was triggering "a gust of hatred and rage" among North Korean people and soldiers.
"If the US administration allows and defends the showing of the film, a merciless counter-measure will be taken," the North Korean spokesman warned.
The synopsis of the movie, according to Sony Pictures Entertainment, reads: "When they discover that North Korean dictator Kim Jong-un is a fan of the show, they land an interview with him in an attempt to legitimize themselves as journalists. As Dave and Aaron prepare to travel to Pyongyang, their plans change when the CIA recruits them, perhaps the two least-qualified men imaginable, to assassinate Kim Jong-un."
Rogen, who is also one of the directors behind "The Interview," revealed that the plot was initially going to be about Kim Jong Il, but the script had to be changed after the former dictator died in 2011 and his son King Jong Un took power.
North Korea has often directed highly incendiary rhetoric at the U.S. government, with its state-run media calling President Obama a "wicked black monkey," among several highly racist remarks in May.
"You can also tell this by his appearance and behavior, and while it may be because he is a crossbreed, one cannot help thinking the more one sees him that he has escaped from a monkey's body," the controversial article added.
Caitlin Hayden, a spokeswoman for the White House's National Security Council, responded by saying: "While the North Korean Government-controlled media are distinguished by their histrionics, these comments are particularly ugly and disrespectful."
As several sources reporting on the news have pointed out, Hollywood has made other movies poking fun at North Korea's regime, including "Team America: World Police" in 2004, which featured a scene of Kim Jong Il singing about his loneliness.