Number of Clergywomen Has Exponentially Increased Over Last 2 Decades, Study Says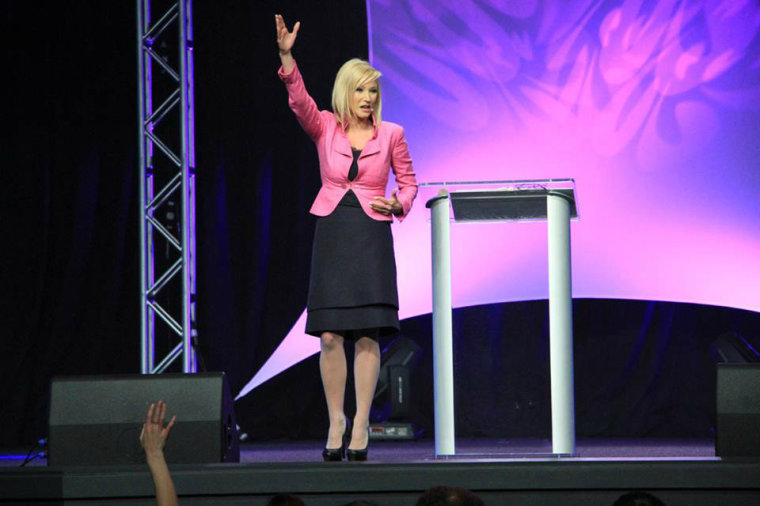 The percentage of clergy in the United States who are women has exponentially increased over the past several decades, a new report shows.
Dr. Eileen Campbell-Reed, a professor of practical theology at Central Baptist Theological Seminary in Kansas, has released a new report titled "State of Clergywomen in the U.S.: A Statistical Update."
According to Campbell-Reed, the report is designed to fill a data gap on female clergy that has existed for about 20 years since previous major multi-denominational studies of women's church leadership were published.
With the assistance of three graduate assistants, Campbell-Reed's team contacted denominational offices, researched online data and received data from the Association of Theological Schools in the U.S. and Canada to assemble a "snapshot" of today's clergy gender demographic.
"I knew waiting for another big study might take 20 more years, and I wanted to understand the landscape of women's progress in leading the church now," Campbell-Reed said in a statement.
In the 1960s, sociologist Wilbur Bock used census data to suggest that women comprised just 2.3 percent of clergy in the U.S. According to Campbell-Reed, women's ordination "exploded" in the 1970s and continued to rise through the next four decades.
As of 2017, the new report states, women comprise about 20.7 percent of clergy in the U.S. today with results varying depending on the denomination or religious tradition.
The report states that in most mainline denominations, the percentage of clergywomen have doubled or tripled since 1994.
In combining totals from American Baptist Churches USA, Disciples of Christ, the Evangelical Lutheran Church in America, the Episcopal Church, the United Church of Christ and United Methodist denominations, the data shows that women comprised about 32 percent of clergy from those denominations in 2017.
By comparison, women only accounted for 15 percent of clergy from those denominations in 1994 and 2.8 percent of clergy in those denominations in 1977.
Women comprised at least half of Unitarian Universalist (57 percent) and United Church of Christ (50 percent) clergy in 2017, meaning that clergywomen have reached "numerical equity" with clergymen in those denominations.
"In 2017, the combined average percentage of female pastors in the Mainline churches stands at 27 percent, based on our calculations of denominational reporting," the report states. "This data provides a contrast to Barna's 2017 State of Pastors report that estimates about 9 percent of the pastors in the U.S. are women. The Barna study looked at all Protestant pastors, and many Evangelical and Baptist groups still do not admit women to the pastorate in large numbers, if at all."
The study notes that in 2018, women are pastoring churches in nearly every denomination except two of America's largest denominations: the Roman Catholic Church and the Southern Baptist Convention.
"Untold numbers of women have come from those traditions to become leaders in other denominations," the study stresses. "In other cases, small communities and larger groups have separated from the Southern Baptist Convention (SBC) and Roman Catholic Church (RCC) over various doctrinal and practical issues including women's ordination. In the breakaway groups of Baptists and realigned groups of Catholics, women are pastors and priests in growing numbers."
The progressive Alliance of Baptists, which broke from the SBC in 1987, has women pastoring 40 percent of their congregations, according to the study. Meanwhile, women pastor less than 7 percent of Cooperative Baptist Fellowship churches.
The percentage of women in other Protestant, Pentecostal and Peace Churches is also growing. Women comprised about 30 percent of clergy in Mennonite churches, while women comprised about 25 percent of the Church of the Brethren and Church of God (Anderson, Indiana) denominations.
Being reliant on denominational data, the report doesn't touch on the percentage of female clergy within the nation's many independent or nondenominational evangelical churches.
Campbell-Reed's report also analyzed female involvement and leadership at U.S. seminaries.
In 1972-1973, when the Association of Theological Schools (an association of more than 270 graduate schools and seminaries) first began reporting data on gender, women made up just 3 percent of seminary faculty at ATS schools. By 1998, women made up about 20 percent of seminary faculty at ATS institutions.
In 2017, women made up only 11 percent of seminary presidents and less than 25 percent of seminary faculty and deans at ATS schools in 2017.
In looking at female enrollment at seminaries, the report states that women comprised about 5 percent of students pursuing master of divinity degrees and 10 percent of seminary enrollment at ATS institutions in 1973. By 1998, about 33 percent of all seminary students at ATS institutions were female.
"The story of the past twenty years, however, appears to be one of stagnation," the report reads. "In 2017 women are actually a smaller number and a lower percentage of MDiv Students in all ATS schools than they were in 1998."
Women make up about half of the enrollment at mainline seminaries.
Women who are enrolled in the 10 biggest evangelical seminaries comprise about 25 percent of the total enrollment and 16 percent of master of divinity enrollment.
"Surveying the 10 largest Evangelical schools means that Southern Baptists figure prominently in the EV data," the report reads. "In these last 20 years, the SBC adopted greater ecclesial limits on women's pastoral leadership, de-emphasizing the need for MDiv education."
In the 10 largest Catholic schools, women comprise somewhere between 29 to 36 percent of enrollment in overall programs in the past two decades. However, women enrolled in masters programs at Catholic institutions have dropped to 10 percent from 17 percent.
Along with her academic work, Campbell-Reed is also an author and consultant. Her most recent book is titled Anatomy of a Schism: How Clergywomen's Narratives Reinterpret the Fracturing of the Southern Baptist Convention.