NYC Evacuation Map: Hurricane Sandy 2012 Projected Path - Landfall Monday (Latest Tracker Info)
New York City has ordered the evacuation of more than 370,000 people from low-lying areas as Hurricane Sandy continues on its projected path, and if the hurricane's track maintains its course it will make landfall sometime late Monday. A NYC evacuation map can be found by clicking HERE.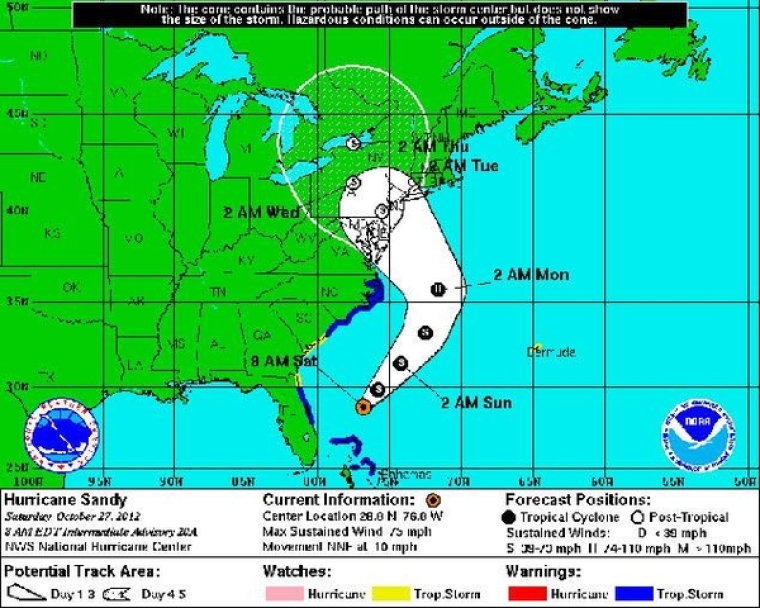 Hurricane Sandy is predicted to bring "life threatening" flooding to some of the United States' most populous regions over Sunday night and Monday.
On Sunday New York officials decided to push forward with plans to shut down transportation links. The NYC Subway system was closed down at 7 p.m. ET with all 468 stations shuttered up. Bus services were also ordered to stop from 9 p.m. ET.
So far Sandy has left more than 60 people dead across the Caribbean, and it has been predicted that the U.S. East Coast could be disrupted for days. The sheer size of the storm could mean affected regions could be slammed through Monday and Tuesday, and it could be Wednesday before transportation links are restarted, officials have warned.
NYC schools have also been declared closed on Monday leaving more than 1.1 million school children off. Officials have also used 76 public schools as evacuation centers.
New Jersey Transit has already begun slowing down its services with a complete stop expected just after midnight. PATH trains are also to be shut down from midnight Sunday. The Staten Island Ferry stopped running at 8.30 p.m. ET.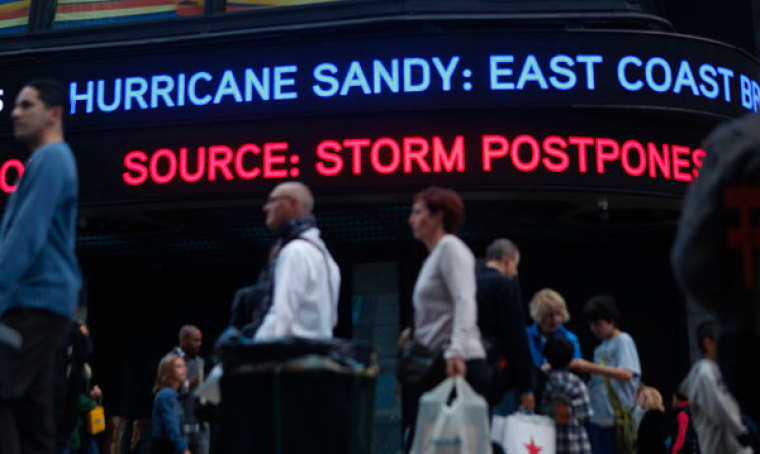 Meanwhile, Amtrak has canceled almost all its trains on the Eastern Seaboard, and the MTA rail lines were also suspended from 7 p.m. ET Sunday. Philadelphia has also shut down its mass transit system.
In Washington DC Metrorail subway and buses have also been shut down late Sunday, and schools across Washington, Baltimore and Boston also called off class for children on Monday.
"We're looking at impact of greater than 50 to 60 million people," said Louis Uccellini, head of environmental prediction for the National Oceanic and Atmospheric Administration.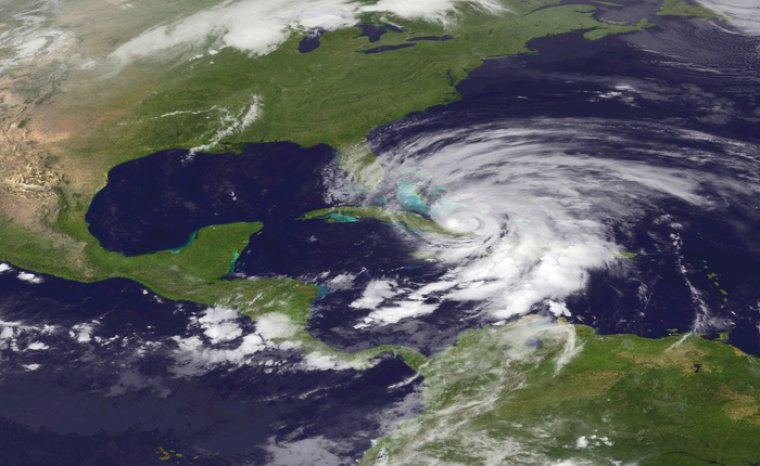 The latest forecast update suggests that Hurricane Sandy is of Category 1 strength, with 75 mph winds. On Sunday morning it was about 260 miles (420 kilometers) south-southeast of Cape Hatteras, N.C., and moving northeast at 14 mph, according to the National Hurricane Center in Miami.
The National Hurricane Center has said that surges could reach 11 feet in New York Harbor, Long Island Sound and Raritan Bay in New Jersey, which is significantly larger than the levels recorded during the tropical storm that hit last year.
Hurricane Sandy was expected to continue moving northward parallel to the Southeast coast throughout Sunday night and approach the coast of the mid-Atlantic states by Monday evening, when it is expected to cut westward towards the U.S. coastline and make landfall.
New Yorkers Evacuate City ahead of Hurricane Sandy