NYC Extends Bronx Church's Lease Amid Fears of 'Crackdown' on Worship (VIDEO)
NYC Extends Bronx Church's Lease Amid Fears of 'Crackdown' on Worship (VIDEO)
The New York City Housing Authority has extended the lease of a Bronx church that uses one of its facilities after the congregation accused authorities of trying to evict them in the context of an alleged clampdown on worship groups in government buildings.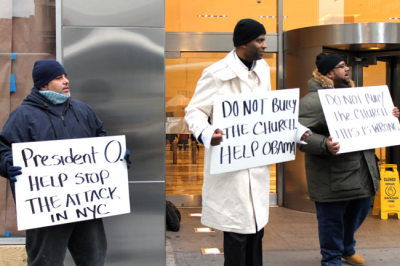 Infinity NY Church, a nondenominational ministry led by Pastor Dimas Salaberrios, has been fighting to keep its space at the Bronx River Community Center after it received a notification from NYCHA that its lease was going to expire, and that the church would need to move by February.
A number of congregants staged a protest in front of the New York City Law Department offices last week, in which Salaberrios and other participants were arrested while praying.
Some claim the case is linked to the recent ban on church services in public school buildings. "New York City Law Department is working on getting rid of churches from community centers. Now they're targeting us," Salaberrios told The Christian Post the day of his arrest.
"What's happening here is that the city government is interpreting the court order dealing in the public schools of New York, to be an all-purpose permission slip to throw out the churches in the public building where they allow private groups to meet," Jordan Lorence, senior counselor for the Alliance Defense Fund, which has been working to help the displaced churches maintain their legal right to worship in community centers, told CP the day of the protest.
However, City authorities deny it has taken any discriminatory action against churches that meet in NYCHA facilities. A NYCHA spokesperson told CP Wednesday that the agency "is not evicting any of these organizations from our property." There are four other groups using the community center under the same terms, authorities said.
Moreover, the City had already offered lease extensions in a letter to all five organizations before Christmas and it allows worship services at its facilities, authorities said. The extension is good until Feb. 26 and, "pending finalization of our policy and procedures," could be extended further, City Communications Officer Sheila Stainback said in a statement emailed to CP.
"These organizations have been using NYCHA space under short-term agreements that have expired according to their terms. We have offered each of the 5 groups, including the Infinity NY Church, an extension to remain at NYCHA facilities, and 4 of the 5 have signed an extension agreement," Stainback said, adding that NYCHA has been reviewing the terms under which it rents its space to all organizations for almost a year.
CP did not manage to immediately reach Infinity NY Church for a response.
New York City Extends Bronx Church Lease