NYC's Movement Day Highlights Amachi Mentoring Program; Church Partnership Is Helping 300,000 Children of Incarcerated Parents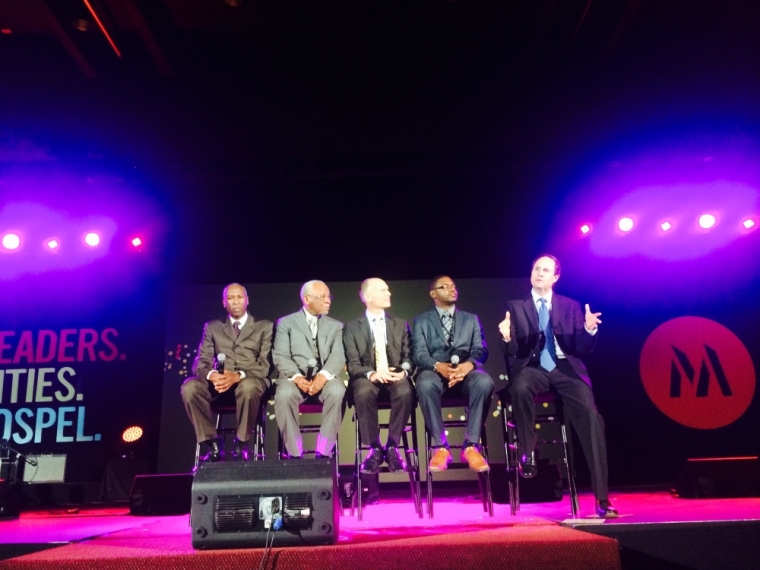 New York — This year's Movement Day event for Christian leaders took place in New York City last week and used one of its sessions to demonstrate the importance of effective partnerships between faith communities and civic leaders.
One of the standout speakers from the session was former Philadelphia Mayor W. Wilson Goode Sr., president of the Palau Association, who discussed Amachi, a program he founded to mentor and build relationships with the children of incarcerated parents. This particular cause is close to his heart, because he, too, was a child of a father who served time in prison.
Amachi has already accomplished great feats across the country by pairing up 300,000 children of incarcerated parents with adult mentors.
"It started with churches — there are 6,000 churches that have participated in it — but now there are a number of other organizations involved, and so all of the 300,000 children did not come from churches. They came from various groups across the country," Goode told The Christian Post about the initiative.
While serving as mayor of Philadelphia, Goode saw a drastic need for this type of mentoring program.
"In Philadelphia alone there are 40,000 children with a parent in prison," he said. "Across the country there's 2.2 million. It's a serious problem."
By ignoring these children, society and the church might end up creating more criminals, according to data cited by Goode.
"The danger of not engaging them is that 70 percent, seven out of 10 of these children, will end up in prison," he continued. "Unless they see something that's different, they will end up and stay in prison."
Goode further explained that two thirds of the children Amachi has worked with have improved their grades, and behavior and attendance at school. He also talked about other success stories with some of these children growing up and graduating college with master's degrees.
Former Congressman Floyd H. Flake, senior pastor of Greater Allen A.M.E. Cathedral in Jamaica, Queens, also shared a compelling story about how drugs destroyed his neighborhood in southeast Queens and how that made him want to make a difference. He began his fight early on by aiming to rid the area of drug dealers and improve the quality of life for those living in his community.
By buying up vacant lots, building a school and several senior citizen centers, Flake was able to help the community. To Flake, just having a church presence in the community was not enough to make a substantial change.
"When you are in a community deteriorating you cannot stay in your church," he asserted. "You have to get in the community. All I want is the best for everybody and that's why I spent 11 years in Congress."
Kevin Palau talked briefly about leading a church in the progressive city of Portland, Oregon, and how a partnership with its first openly gay mayor proved to be fruitful.
"Portland is this place where the church community had no relationship with our city leaders, and so there was an unfortunate feeling that the church was known more for being against things than for them," Palau said.
Christian leaders from all around the city eventually approached the mayor almost 10 years ago and asked how they could serve Portland. From there, a fruitful partnership was born, according to Palau.
"It's been so encouraging to see not just a one hit wonder, but eight years of a really transformative relationships with the first openly gay mayor of the top 20 cities, Sam Adams, who was here at Movement Day last year helping to tell the story," he added.
Out of this relationship came 253 public schools in 16 districts having a formal church partnership, improved care for foster families and a "real turn around in favor with the city," overall, according to Palau. It has also opened up doors to share the Gospel.
Harold C. Miller, who works for New York City Mayor Bill de Blasio and was part of the five-man panel, said the city's faith and civic leaders both share the desire to improve justice and to combat inequality. Miller expressed that he hopes government leaders and the church could work even more closely down the line.
"We want to engage in a thoughtful way of how we could hear the concerns of the pastors in New York City that are hearing the concerns of the people," he said.
The panel was mediated by Jim Denison, founder of Denison Forum on Truth and Culture.
Movement Day is a Christian leadership conference founded by Redeemer Presbyterian lead pastor Tim Keller and Mac Pier of The New York City Leadership Center. This year's New York City event was attended by 1,500 pastors and leaders from all over the world.