Obama, Castro Cautiously Praise One Another in Historic Meeting; Cuba Says Its Willing to Discuss Human Rights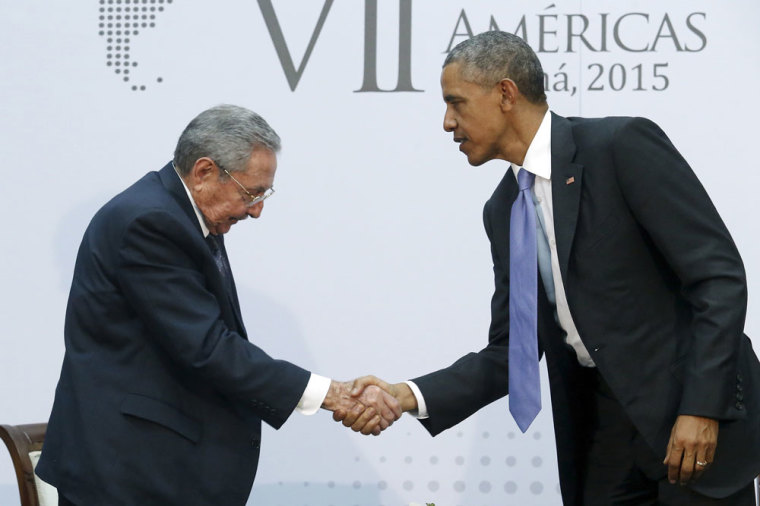 President Barack Obama and Cuba's President Raul Castro met Saturday on the sidelines of a summit in Panama. It was the first between U.S. and Cuban leaders in more than half a century, and the Cuban President said he is willing to discuss sensitive issues such as human rights "with patience."
"It was my belief it was time to try something new, that it was important for us to engage more directly with the Cuban government," President Obama said as he opened the meeting with Castro at the Summit of the Americas, according to The Associated Press.
"And more importantly, with Cuban people," he added. "What we have both concluded is that we can disagree with a spirit of respect and civility. And over time, it is possible for us to turn the page and develop a new relationship between our two countries."
Obama thanked the Cuban president "for the spirit of openness and courtesy that he has shown during our interactions," and said he will "make sure that the people of Cuba are able to prosper and live in freedom and security."
Castro was quoted as saying that Cuba is ready to discuss sensitive issues, even human rights. "We are disposed to talk about everything — with patience. Some things we will agree with, and others we won't."
Castro called Obama "an honest man," according to Fox News.
The communist nation of Cuba has been governed by a one-party state since Fidel Castro, the brother of Raul Castro, overthrew the U.S.-supported dictatorship of Fulgencio Batista in 1959. The relations between the two countries were severed in 1961.
The summit, which concluded Saturday, was Cuba's first as the United States had blocked that nation from participating.
"Yes, we have conducted solidarity with other peoples that could be considered terrorism -- when we were cornered, when we were strongly harassed," Castro was quoted as saying. "We had no other choice but to give up or to fight back."
Cuba showed some signs of economic and political reforms after Raul Castro's election as President in 2008. Human rights groups say Cuba still persecutes Christians and dissidents.
According to Open Doors USA, about 57 percent of Cubans are Christian and they face constant government surveillance and infiltration. However, the church is growing in the island country.
Cuba's foreign minister Bruno Rodriguez said the two nations "have found common ground in the willingness to have a civilized behavior that respects our differences."
Rodriguez added that there is still no timeline for restoring diplomatic relations between the two countries.
"The United States will not be imprisoned by the past — we're looking to the future," Obama said at the summit Saturday. "I'm not interested in having battles that frankly started before I was born. The Cold War has been over for a long time."
"The 2015 Summit of the Americas demonstrated the global importance of the region and the progress we have made over the last two decades to improve people's lives," the White House said in a statement. "Our region's leaders must continue to work together, focusing on pressing issues that need our attention and action, so that we redouble our commitment to a more prosperous, safe, sustainable, equal, and democratic Western Hemisphere."
Summit host Panama announced Saturday that the next edition of the regional gathering of hemispheric leaders will take place three years from now in Peru.