Obama, UN Urged to Help Keep Weapons From World's Worst Human Rights Abusers
Obama, UN Urged to Help Keep Weapons From World's Worst Human Rights Abusers
NEW YORK – A new Arms Trade Treaty (ATT) seeking to end the illegal flow of weapons to terrorist organizations was brought to the table at during a press briefing at the United Nations on Tuesday, as diplomats from more than 100 countries meet this week to negotiate an international agreement.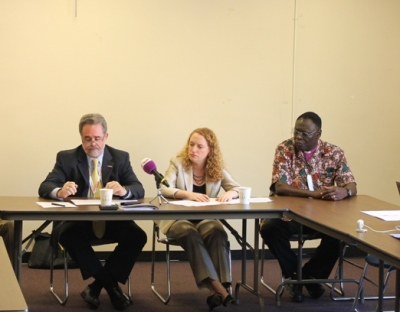 Global peace and faith leaders were present at the July 3 press briefing, including a former child soldier turned bishop. The participants shared personal accounts of why world leaders and the U.S. government especially need to fully back new regulations on conventional arms and ammunition to address the growing loss of life in impoverished places affected by the illegal weapons trade.
"President Obama needs to promote this arms trade treaty. If he loves the innocent lives, women and children, then he needs to stand for this treaty, and the nation of American and all the nations of this world need to stand for this treaty," urged Bishop Elias Taban, President of the Sudan Evangelical Alliance, who shared at the briefing details of his life as a child soldier back in Sudan.
"I am a living testimony to the dangers of an illegal arms trade. I have lived 40 years of my life carrying arms. Born 10th of May 1955 in a small little town in Southern Sudan. From the first morning that I was born, there were gunshots at the police station," Bishop Taban began, going on to tell how all the nurses and the doctors had to rush out of the hospital while he was still lying in bed.
"My mother tried to leave me behind and run -– but after 10 minutes she came back, because she could not continue without me," he revealed.
"I survived by the grace of God – but at the age of 12, I became a child soldier. I joined the liberation movement in Southern Sudan, which was trying to liberate Southerners in Southern Sudan from Islamist terrorists. They raided our village, and I was abducted as a child at the age of 12, trained, and given a gun. I have seen many children my age by then dying on the warfronts," Bishop Taban continued.
"My brothers and sisters, the reason why I say this treaty is an answer to prayer is because I have seen what arms have done in my country and also within the neighboring countries."
The evangelical Christian leader, who said that he believes God is always in control of all things, then referenced Isaiah 2:4, saying: "Then God will act as a judge in any arguments between nations. He will decide what is right for people from different lands. They will stop using their weapons for war."
"This is a prophecy in the Bible from many thousand years ago. And today here we are. From all nations, from all lands, talking about control of arms. This needs to happen if we want peace in this world," the bishop concluded.
Admiral Stuart Platt (Ret.) who served for many decades at the U.S. Navy and has experience with all kinds of weapons and machinery, who also served under President Ronald Reagan, highlighted that a big part of the problem can be solved even by regulating ammunitions better.
"I am not an expert on treaties, but I am an expert in battle space – a highly decorated war hero, and I can tell you that war is a very nasty business. You don't want to be in it if you can avoid it," said Platt. "However, what we see in some of these places, people are supplied with arms, and when we talk about ammunition, remember – a rocket launcher is no good without a rocket. An airplane is just in air unless it can carry bombs and rockets. What you deliver is force – that is a nice way of saying destruction."
"Most of you are against regulation, but I would say at this particular space, the arms treaty is better to have than not have. It is something that the planet will benefit from. Having control in underdeveloped nations and faraway spaces helps put a spotlight on this arms treaty," he concluded.
Raymond C. Offenheiser, President of Oxfam America, and Suzanne Nossel, Executive Director of Amnesty International USA, represent two organizations deeply involved in efforts focused on ending the illegal arms trade.
Although the unchecked flow of weapons results in thousands of deaths, injuries and the victimization of women and children around the world, Offenheiser said his efforts were not aimed at completely shutting down the arms trade, as "the international arms trade is a legitimate commercial enterprise."
"Weapons in the wrong hands prevent access to hospitals, productive lands, education and market. The short-term effects are that families and children are malnourished, and there are high rates of infant mortality. The long-term effects are disruption to the nation's economy," he said.
"We want to increase responsible behavior amid state to state transfers. It is important to state that currently there is no international law that states when and where nations can make weapons trades," Offenheiser stated. "The ATT, if successfully negotiated, will provide a legal factor that countries must assess before they make decisions on how to transfer arms."
The Oxfam president revealed that only about half of the world's governments have "basic control" over the export of small arms, and even less have control over arms brokers.
Suzanne Nossel explained that the initiative for greater arms control started just one year after the Sept. 11, 2011 terrorist attacks on the U.S. At the time, only a handful of countries offered their support. Now, however, the number of international supporters have grown.
"We have been working for over a decade to tackle a problem that kills 15,000 people every day and more than half a million people each year. In our minds, these conventional weapons, these are the real weapons of mass destruction," she said. "They kill day in and day out, month after month, year after year, family by family, village by village and city by city. This is a once in a lifetime, once in a generation type of opportunity to come together and lay the foundations for controlling the weapons that fall in the hands of the world's worst human rights abusers."