Obama vs. Romney: Education Reform
Editor's note: In this series comparing the positions of both major party presidential candidates on a range of issues, each candidates platform will be described using information from the candidate's themselves, mostly from the candidate's websites. A candidate's description of their opponent's position will not be used. In describing the candidate's position, The Christian Post does not attest to the facts stated as part of the position.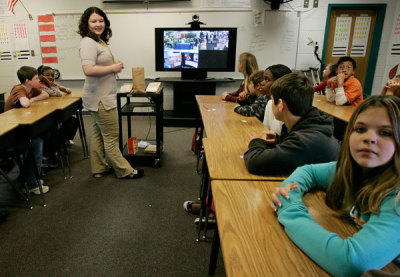 On the issue of education reform both presidential candidates, President Barack Obama and Republican nominee Mitt Romney, tend to have more in common than on many other issues. There are some important differences, though, on student loans for college and the Common Core Standards Initiative.
Barack Obama
On K-12 education, Obama's primary initiative was the Race to the Top program. This program incentivized states to reform their K-12 education system by setting up a grant competition. States competed for grant money by changing their education system to match Race to the Top criteria. Part of the criteria required states to adopt the Common Core State Standards Initiative, which set benchmarks for what students should learn at each grade level.
Race to the Top builds upon No Child Left Behind, the K-12 education initiative of Obama's predecessor, President George W. Bush. Some Republicans, such as former Florida Governor Jeb Bush and Indiana Governor Mitch Daniels, have praised Race to the Top while some traditionally Democratic constituencies, such as teachers unions, have been critical of the program.
On Obama's campaign website, though, he also touts that he has given states waivers on some No Child Left Behind mandates.
In the area of college education, last October Obama issued an executive order that would cap federal student loan repayments at 10 percent of income beginning in 2014. (There is currently a law that allows borrowers to cap payments at 15 percent of income.) He also signed a two-year extension, for 2011 and 2012, of a tax credit for higher education expenses that was originally passed under George W. Bush.
Additionally, the American Recovery and Reinvestment Act of 2009, also known as the stimulus bill, made a number of other investments in education, such additional funds for Head Start, a federal early-childhood education program, and community colleges.
Mitt Romney
Romney has praised Race to the Top, but has also been critical of the Common Core. His education platform also places emphasis on greater choice in education.
Romney's education agenda can be found in a May 23, 2012 white paper, and in an interview at the Sept. 25 "Education Nation" Summit in New York.
At the Summit, he noted that while he was governor of Massachusetts, his state had the best scores in math and English for fourth and eighth graders. He also praised his predecessors for laying the groundwork that led to that accomplishment. While in office he passed reforms that required students to pass an exam in order to graduate and provided tuition free scholarships to any student who graduates in the top 25 percent of their school and attends a state college.
If elected president, Romney wants to reform funding for special needs and low income students such that the funding follows the student and can be used for any school. In order to help parents with choices, he also wants to implement a simple grading system, A through F, for schools.
On Race to the Top, Romney said he likes the fact that it encourages innovation and that it ties teacher pay to performance. The part Romney said he does not like is the Common Core.
"[Education Secretary Arne Duncan] wants to promote at the same time a national curriculum; I prefer to let states and communities decide what their own curriculum will be," Romney said at the "Education Nation" Summit.
On the issue of college education, Romney wants to streamline the system, by eliminating programs that are "duplicative, inefficient or ineffective," and direct more money to students with the greatest need through the Pell Grant program. Romney also wants to eliminate some data collection requirements for colleges that he deems unnecessary and make other data more widely available to parents.
With regard to student loans backed by the federal government, Romney wants to reverse an Obama administration decision that made the federal government the only lender and "embrace a private-sector role."
First Presidential Debate 2012 (Complete) Romney vs. Obama