Obamacare Headed to Supreme Court Again; Will This Be Death Blow to Law?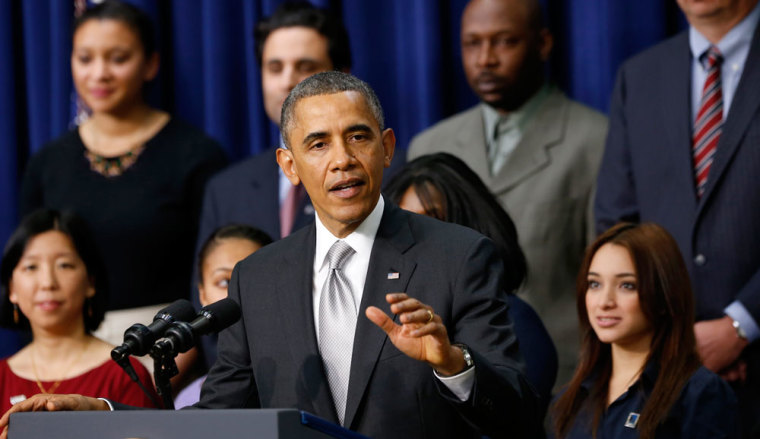 The U.S. Supreme Court said Friday it will consider reviewing a controversial part of President Obama's signature health-care law concerning tax credits. The Republican-backed lawsuit could give a death blow to the law.
Oral arguments in the lawsuit targeting tax credits that subsidize health coverage purchased on federal exchanges will be held next year and a ruling is expected by June, according to CNN.
The plaintiffs in King v. Burwell are four Virginia residents who are asking the court to block the subsidies in 36 states that have chosen not to set up their own exchanges, arguing that billions of dollars in tax credits granted by the government amount to a "gross distortion" of the law's language. The lawsuit says the law only allows subsidies to be distributed by state-run exchanges.
If the court rules in favor of the plaintiffs, some provision of the Affordable Care Act, or Obamacare, could become ineffective and also possibly destabilize insurance markets.
The 4th Circuit Court of Appeals in Virginia had declared this summer that the subsidies are legal.
The administration is defending the law.
"This is a law that is working and has generated significant benefits for working families and small-business owners all across the country, and that's why you're going to see a vigorous defense," White House Press Secretary Josh Earnest was quoted as saying.
The administration has in effect argued that the language of the health-care law reflects the confidence of Congress that no state would refuse to set up their own exchange to facilitate the law.
The case is crucial given that more than two-thirds of those who have signed up for health insurance purchased it from a federal exchange.
A Rand Corporation analysis warns that eliminating the ACA's tax credits would cause large declines in enrollment and substantial increases in premiums.
Without the ACA's premium support, premiums could rise by nearly 45 percent, and enrollment may fall by nearly 70 percent, it says.
An analysis by the Robert Wood Johnson Foundation also says it affects more than 7.3 million people who are expected to receive subsidies in 2016.
A similar case, Halbig v. Burwell, is pending in the D.C. Circuit, where a three-judge panel ruled initially in favor of the lawsuit. Now, the full D.C. circuit is rehearing the case.