Obama's 9/11 Proclamation Void of 'God'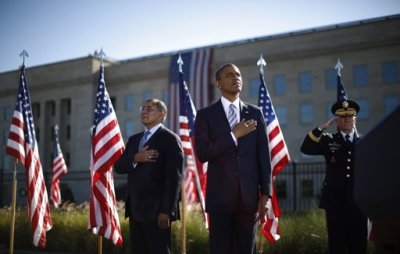 President Obama's annual proclamation – Patriot Day and National Day of Service and Remembrance, 2012 – that recognizes the terrorist attacks of Sept. 11 was void of any mention of "God" or prayer, but did call for Americans to observe a moment of silence and encouraged them to volunteer by assisting men and women in uniform.
"From volunteering with a faith-based organization, to collecting food and clothing for those in need, to preparing care packages for our men and women in uniform, there are many ways to bring service into our everyday lives – and each of us can do something," read a portion of his proclamation.
The absence of "God" in the proclamation comes on the heels of the Democratic National Convention fiasco in which "God" and "Jerusalem" were left out of the party's final draft of their platform, but was amended the following day by a controversial floor voice vote. Tapes of the floor seemed to indicate a majority of delegates voted "no." A two-thirds majority of voting delegates is required to amend the platform.
However, various news accounts said it was President Obama who demanded that "God" and a reference to Jerusalem being the capital of Israel be inserted back into the document that outlines the party's ideals and objectives.
Notably, last week, Obama declared Sept. 7-9 as National Days of Prayer and Remembrance.
GOP nominee Mitt Romney also issued a statement in honor of the 11th anniversary of the tragic events, saying that America would never forget the loved ones that were lost defending our freedom.
"Today we again extend our most profound gratitude to our brave troops who have gone into battle, some never to return, so that we may live in peace," said Romney, a Mormon, in a written statement. "On this most somber day, those who would attack us should know that we are united, one nation under God, in our determination to stop them and to stand tall for peace and freedom at home and across the world."
President Obama did include a reference from the Bible in his remarks at the Pentagon Tuesday morning that read, "Do not be overcome by evil, but overcome evil with good."
Although not included in the president's remarks, the verse is from the NIV version of Romans 12:21 that is part of a letter the Apostle Paul wrote to the Romans, telling Christians to bless those who persecute them and not to repay evil for evil, while also warning that God will ultimately avenge anyone who persecutes Christians.
Both Obama and Romney have agreed to suspend campaign advertising in honor of the victims of 9/11.
President Barack Obama DNC Speech Complete: Romney in 'Cold War Mind-Warp' - DNC 2012