Over 130,000 Mourners Attend Mass for Brazilian Presidential Candidate Who Died in Plane Crash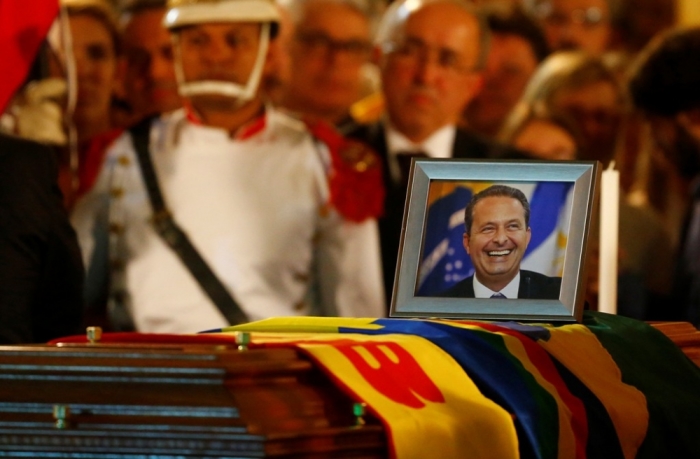 Huge crowds of over 130,000 people attended Mass in Recife Sunday for Brazilian presidential candidate Eduardo Campos, who died in a plane crash last week.
The crowd stretched out for close to 1.9 miles to pay their respects at Campos' coffin, which was placed outside Recife's local government headquarters, AFP reported.
The Socialist Party candidate, who had been running against Brazil's President Dilma Rousseff in the upcoming election in October, died on Wednesday after his campaign jet crashed in Santos city due to bad weather, killing all seven people on board.
"We lost Eduardo Campos when Brazil needed most his patriotism, his detachment, his fearlessness and his competence," the Brazilian Socialist Party said. "We are all grieving."
Campos, a Roman Catholic, was married and had five children. At 49, he had climbed the political ladder during his term as governor of the northeastern state of Pernambuco, which he left earlier this year to run for president, The Economist noted in an obituary.
Rousseff was reportedly in attendance during Sunday's open air mass, but received jeers from some sections of the crowd. The president was a former political ally of Campos, BBC News noted, but the two fell out last year.
"All of Brazil is in mourning. We lost a great Brazilian today, Eduardo Campos. We lost a great comrade," Rousseff said in a statement following Campos' death.
Former President Luiz Inacio Lula da Silva and several ministers accompanied Rousseff. The current second place presidential contender, Senator Aecio Neves, also attended.
"Brazil has lost one of its most talented politicians, who always fought with idealism for what he believed in," Neves said.
Opinion polls had shown Campos in third place in the presidential race, trailing Neves and the front-runner, Rousseff.
Socialist Party leaders are set to meet later this week in Sao Paulo to discuss who will take over Campos' place.