Over 150 High Schoolers Stage Walkout Protest After Trans Student Seeks to Use Girls' Locker Room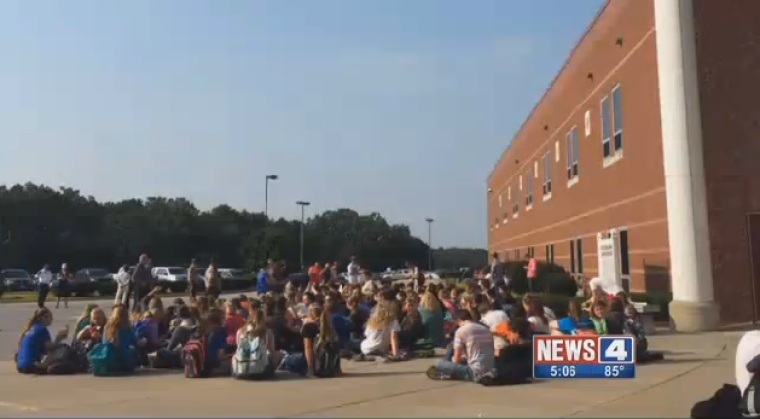 Over 150 students at a Missouri high school walked out of class Monday and staged a two-hour protest to voice their disapproval with a transgender student's request to use the girls' locker room to change for her physical education class.
After dozens of parents showed up to a school board meeting at Hillsboro High School last Thursday to discuss their concerns over a senior transgender student's desire to use the girls' locker room and bathrooms, students and parents took to the school's parking lot on Monday to tell administrators they won't allow girls' privacy rights to be infringed upon to provide special accommodation.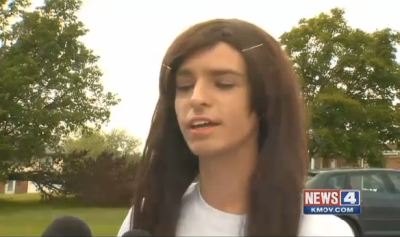 While local news outlets reported that about 30 to 40 students counter protested in favor of granting Lila Perry, a 17-year-old biological male who came out as a transgender last February, permission to use the girls' bathrooms and locker room, most of the students at the rally are opposed to granting Perry the special privilege.
"I find it offensive because Lila has not went [sic] through any procedure to become female, putting on a dress and putting on a wig is not transgender to me," Hillsboro student Sophie Beel told a St. Louis Fox News affiliate.
Even though Perry, who previously identified as gay, publicly announced her transgenderism just last school year, she claims she has identified as female since the age of 13.
Last year, Perry did not take physical education, and therefore did not need to use the girls' locker rooms. When it came to using the restrooms, Perry was told to use the unisex bathroom facilities.
When Perry's desire to use the girls' locker room for PE classes this fall was made known, students and parents fired back with the argument that no biological male should be permitted to use the same locker room as teenage girls, regardless of how they self-identify.
"They should have the ability to do whatever they need to do in the privacy of the bathroom without having a male in there," Derrick Good, a parent of two girls at Hillsboro who is also an attorney, told KFOR. "They have a right to their own bodily privacy, and I've raised my girls, and many of these parents have raised their girls, to protect that privacy. They don't share that with members of the opposite sex."
During Monday's protest, Perry was locked in the principal's officer for safety concerns.
"There's a lot of ignorance. They are claiming that they're uncomfortable. I don't believe for a second that they are. I think this is pure and simple bigotry," Perry told KMOV. "It wasn't too long ago white people were saying I don't feel comfortable sharing a bathroom with a black person and history repeats itself."
Tammy Sorden, who has a son that attends Hillsboro, told the St. Louis Post-Dispatch that it's not right to give Perry special treatment "while the girls just have to suck it up."
Following two-hours of protesting, students were told by school administrators to go back inside to finish the remainder of the school day. However, some students on both sides of the protest risked suspension by leaving after the protest ended.
Perry's supporters, which consist of members of the school's gay-straight alliance, claimed they did not feel safe returning to school, while those in opposition to Perry's request left school as a continuation to the protest.
Although Perry has since dropped out of the PE because she was concerned with the lack of supervision in the class, Good drafted a policy and introduced it at last Thursday's school board meeting that would force students to use the restrooms and locker rooms associated with their biological gender or gender-neutral bathrooms.
"I wasn't hurting anyone and I didn't want to feel segregated out," Perry continued. "I didn't want to be in the gender-neutral bathroom. I am girl, I shouldn't be pushed off to another bathroom."
After the student protest, 41-year-old Jeff Childs, who has a niece and nephew attending an elementary school in Hillsboro, protested outside the school with his 21-year-old son. They displayed signs that read "Girls Rights Matter."
"This needs to stop before it goes too far," Childs told the Post-Dispatch. "I'm not trying to be ignorant, but [the transgender student] is bringing it out in public for everybody else to deal with."