Over 180 Killed in Major Battle With Islamic Militants in Syria; Insurgents Capture Military Base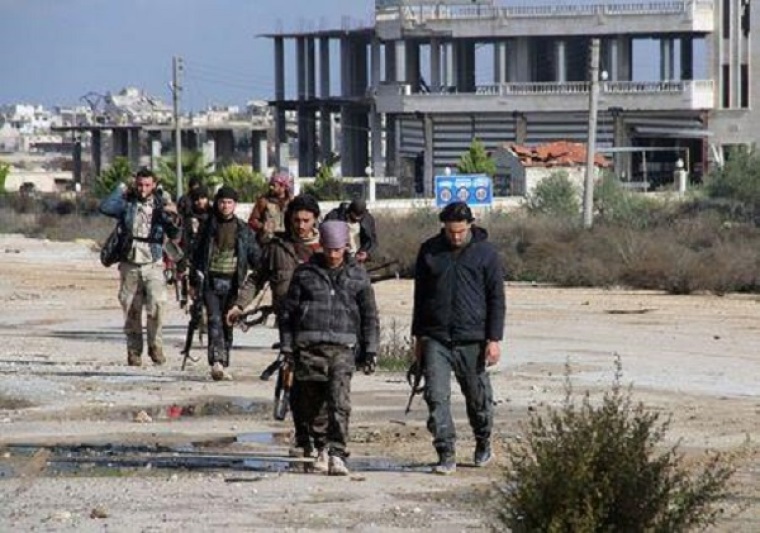 About 100 Syrian soldiers and at least 80 Islamic militant fighters lost their lives in a major battle over the past two days, resulting in the insurgents capturing the Wadi al-Deif military base.
The Syrian Observatory for Human Rights noted that militants from the Ahrar al-Sham, Jund al-Aqsa and Jabhat al-Nusra groups also arrested close to 200 soldiers who had attempted to flee the camp after it was captured.
"SOHR couldn't confirm the exact number of the detainees due to the secrecy in Jabhat al-Nusra, Islamic fighters also seized large amounts of weapons, ammo, heavy machine guns, what makes the area between Ma'ara al-Nu'man and the southern countryside of Idlib is completely out of regime's control," the group said in a report on Tuesday.
Reuters reported that the captured military base is next to Syria's main north-south highway, which links Aleppo with Damascus.
The Syrian government is fighting a war with various Islamic groups intent on capturing the country. It is also engaged in a separate battle with terror group ISIS, which has captured a number of cities across Iraq and Syria.
The Wadi al-Deif base had been surrounded by militants for years, though President Bashar al-Assad's soldiers had up until now managed to safeguard the important location.
The Syrian civil war has stretched for well over three years, and has killed as many as 200,000 people, according to the U.N., while millions have been displaced or had to flee as refugees.

The Associated Press noted that fall of Wadi al-Deif, as well as the smaller base of Hamidiyeh, is a "significant blow" for the Syrian army and its efforts to fight back against the militants.
State-run Syrian TV also reported on news of the attack, but was unable to provide figures on the number of people killed.
The Syrian army has, meanwhile, also been attempting to keep its last remaining air base from falling into the hands of ISIS. Earlier in December, 30 soldiers and 37 ISIS fighters were killed in a battle near the al-Jafra village close to the base.
A U.S.-led coalition has been hitting ISIS targets across Iraq and Syria, attempting to slow down the jihadist advancement. The American government has thrown its support behind some more relatively moderate Islamic groups operating in Syria, and has refused to back the government of Assad.