Over 1,800 Pastors Take Part in Pulpit Freedom Sunday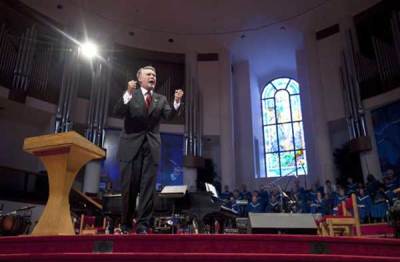 More than 1,800 pastors from across the United States have participated in this year's Pulpit Freedom Sunday since the Alliance Defending Freedom's annual event began last Sunday to protest an Internal Revenue Service rule which is used to silence churches.
"The tax-collecting IRS shouldn't be playing speech cop and threatening a church's tax-exempt status simply because its pastor exercises his constitutionally protected freedom of speech," ADF Senior Legal Counsel Erik Stanley, who heads the Pulpit Freedom Sunday event, said in a statement.
The movement of pastors is against the IRS rule Johnson Amendment, which activist groups often use to silence churches by threatening their tax-exempt status. This year's event goes through Election Day, Nov. 4.
Of the participating pastors, 1,517 preached sermons presenting biblical perspectives on the positions of electoral candidates and signed a statement agreeing that the IRS should not control the content of a pastor's sermon, according to the Arizona-based Christian legal group.
An additional 242 pastors signed the statement only, bringing the total number of pastors in support of pulpit freedom to more than 3,800 since 2008.
"Pastors and their churches should decide what is said in church," Stanley said. "The IRS shouldn't be empowered to censor speech, period. A growing movement of pastors is calling for a solution to this very real violation of the First Amendment."
Churches registered as 501(c)3 nonprofits risk losing their tax-exempt status if they appear to endorse or oppose candidates from the pulpit, according to The Wall Street Journal.
In response to a related lawsuit, the IRS in July told the Freedom From Religion Foundation, which is opposed to the event, that the political speech prohibition will now be more strictly enforced.
"So long as Pulpit Freedom Sunday, and any other electioneering by churches during this election season occurs, FFRF remains committed to seeking IRS investigations into this illegal activity," the secular group stated.
Pulpit Freedom Sunday, which began in 2008 with 33 participating pastors, is an event associated with the Pulpit Initiative, a legal effort designed to secure the free speech rights of pastors in the pulpit. ADF hopes to eventually go to court to have the Johnson Amendment struck down as unconstitutional for its regulation of sermons, which are protected by the First Amendment.
"The Johnson Amendment commissioned the IRS to be a 'speech cop,' a role it should not have," said ADF Litigation Counsel Christiana Holcomb. "This law was specifically designed to silence public criticism of a politician. That's clearly in conflict with the First Amendment. Political retribution to protect the powerful has never been the basis of good law."
Stanley explained that a federal agency can't use tax status as a "weapon" to "force" an American to "surrender" his constitutionally protected freedoms. "Churches don't have to give up their freedom of speech to remain tax-exempt any more than they have to give up their protection against illegal search and seizure or any other protection in the Bill of Rights."
A 2011 national phone survey conducted by ADF and LifeWay Research with 1,000 randomly drawn senior pastors found that nearly nine out of 10 Protestant pastors believe that the government should not regulate their sermons.