Palestinian Christians Claim Israeli Authorities Intentionally Excluding Them From Easter Celebrations
Palestinian Christians are complaining that Israeli authorities have intentionally excluded them from Holy Week celebrations in East Jerusalem by limiting entry permits to the week's festivities.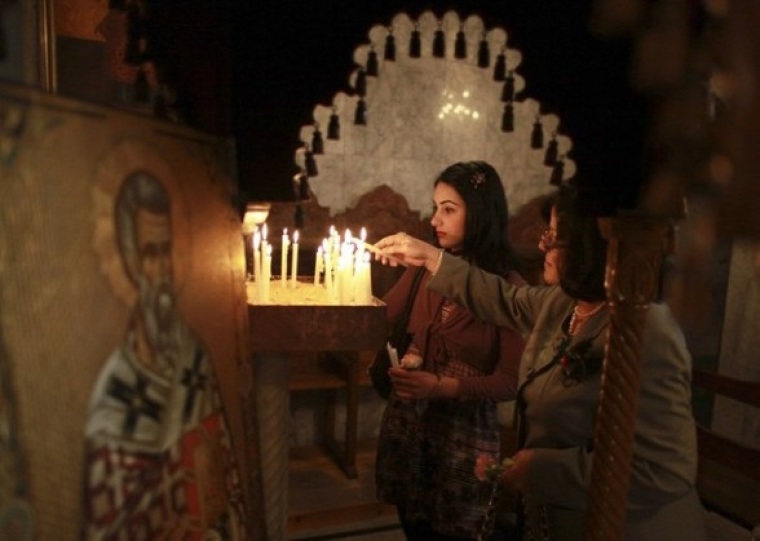 According to a report from Radio Bethlehem, the government requires special entry permits for Palestinians hoping to join Palm Sunday celebrations, but arbitrarily distributes them. Consequently "in many cases, when families apply to get permits through their churches, Israel deliberately grants some family members permits and denies permits to others, and therefore, the whole family won't be able to attend."
This year, Palestinians are claiming Israeli authorities only granted 600 permits to Palestinian Christians living on the Gaza strip.
One resident, only identified by their initials A.R. told Radio Bethlehem that the Israeli government had a double standard for Palestinians.
"I cannot even imagine what type of international media and public outrage would happen if a Jewish person was denied the right to pray," he said. "They would have turned the world upside down, calling for freedom of worship. But Israel's racism knows no religion."
Ass'ad Mazawwi, an attorney who represents Orthodox institutions in court, also called on Israel to remove its roadblocks, checkpoints and "other measures that obstruct access to churches in and around the Old City and deprive Christians of their right to freedom of movement and worship."
"The Israeli policy of harassment against Palestinian Christians during Easter has nothing do to with security. It is purely motivated by political interest, i.e., the intention to affirm the situation of Israeli-Jewish domination in occupied East Jerusalem that has been created through gross and systematic violation of international humanitarian and human rights law," he said in a statement.
A fact sheet about Palestinian Christians and Easter provided by Palestine Liberation Organization Negotiations Affairs Department, also claims that no Palestinian Christians in Gaza over the age of 16 can apply for a permit. (Another report says that those over the age of 35 may also apply.)
"For those who are permitted to apply- and are fortunate enough to receive a permit to visit their own capital city- the humiliation of having to cross foreign military checkpoints within their own country discourages participation in festivities," it states.
The PLO department also reported that the number of Palestinian Christians living in Jerusalem has plummeted since 1948 when 33,000 Palestinian Christians lived in Jerusalem. Today, only 11,000 live there, while the majority of the population now lives in Jordan, the U.S., Chile, Australia, Canada, Lebanon (including Al Dbayeh and Mar Elias refugee camps) and Sweden.
About 200,000 Palestinian Christians live in Palestine and Israel, and 125,000 foreigners were expected to visit Israel this month for Easter and Passover holiday celebrations.