Parkland Shooter Nikolas Cruz Who Said 'Demons' Made Him Kill, Shown on Video Plotting Massacre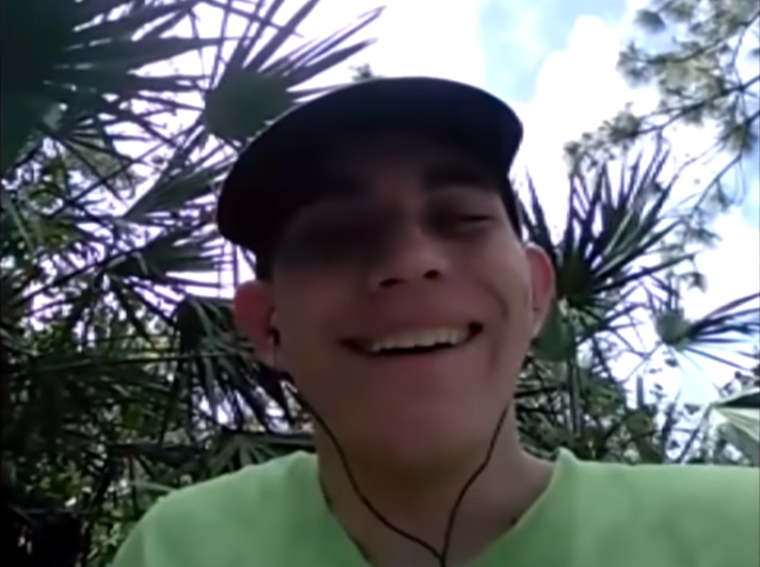 Shortly before Nikolas Cruz carried out a massacre at his former high school in Parkland, Florida, the 19-year-old recorded himself laughing as he plotted to kill at least 20 of his former schoolmates "with an AR-15 and a couple tracer rounds." 
In newly released video authorities found on Cruz's cell phone, Cruz appeared gleeful and intentional about the terror he planned to unleash at the school.
"Hello. My name is Nik. And I'm going to be the next school shooter of 2018. My goal is [to kill] at least 20 people with an AR-15 and a couple tracer rounds ... Location is Stoneman Douglas in Parkland, Florida. It's gonna be a big event. When you see me on the news you'll all know who I am," he says in the video before releasing a chuckle.
"You're all going to die," he continues. "Pew, pew, pew, pew, pew. Ah yeah. Can't wait."
In another video, he describes how he would take an Uber to the school in the afternoon to wield the power of his gun.
"Today is the day. The day that it all begins. The day of my massacre shall begin," Cruz says. "All the kids in school will run in fear and hide. From the wrath of my power they will know who I am."
Cruz also alludes to a motive behind his decision to kill.
"I've had enough being told what to do and when to do. ... Telling me I'm an idiot and a dumbass," he explains in the video. "In real life, you're all the dumbass. You're all stupid and brainwashed."
Cruz is accused of killing 17 people at Marjory Stoneman Douglas High School on Feb. 14. Police say he has confessed to the shooting.
Earlier, investigators told ABC News that Cruz said he heard voices in his head and that those "demons" gave him instructions on how to carry out the attack.
Other reports described Cruz as a troubled student who was battling autism and grief from recent relationship heartbreak and the death of his adoptive mother at the time of the massacre.
"So many signs that the Florida shooter was mentally disturbed, even expelled from school for bad and erratic behavior. Neighbors and classmates knew he was a big problem. Must always report such instances to authorities, again and again!" President Donald Trump said in a tweet as Cruz's profile emerged after the shooting.
Peter Langman, a sought-after expert on the psychology of school shooters whose latest book, School Shooters: Understanding High School, College, and Adult Perpetrators, was published in January 2015, told the Sun Sentinel that Cruz appeared to lack empathy in the videos.
"He seemed very calm," Langman said. "He seemed pleased at what he was about to do. And there was no concern for human life."
Adam Lankford, a criminal justice professor at the University of Alabama also told the publication that Cruz exhibited all three hallmarks of school shooters in the video — suicidal ideation, perceived victimization and a desire for attention or fame.
"I was struck by the fact that he seemed so textbook," Lankford noted.
Lankford told The Christian Post in April that "a high percentage of mass shooters, particularly the deadliest mass shooters, are often seeking fame." 
He also noted that the media has been helping them achieve their goals by posting their names and photos. Lankford joined 148 other academic experts in issuing an open letter last year calling on media organizations to stop publishing the names and photographs of school shooters, except during ongoing searches for escaped suspects 
According to CNN, a judge entered a not-guilty plea on Cruz's behalf during his arraignment. Broward County prosecutors plan to seek the death penalty for his crimes even though his attorney said he is willing to plead guilty in exchange for a life sentence.
Andrew Pollack, father of Meadow Pollack, a senior who was killed in the massacre, told CNN that based on the videos, Cruz cannot mount an insanity defense.
"He knew what he was doing," said Pollack said. "It's all premeditated murder."
If Cruz is condemned to die, he will become the youngest person on death row in Florida.