Passion to Unleash the Next Generation of Women to Live Out Their Purpose Leads to Successful Conference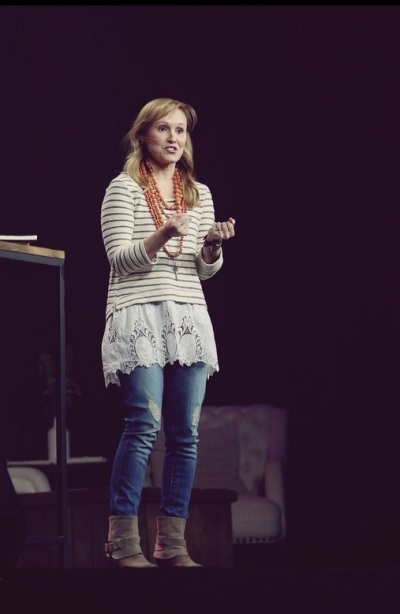 Before launching a recent women's conference, Jennie Allen, who is an author, mother of four, and former pastor's wife, compared herself to Frodo and the ring.
After she had just finished a two-day marathon screening of the "Lord of the Rings" trilogy, Allen said she could not help feel a little bit like the hobbit who had chosen to deliver the ring to Mordor.
"The ring wasn't his to wear. It wasn't his to own. He couldn't be seduced by the ring. He just had to get it to the place of where it's supposed to go. And that's how I've been feeling about If:Gathering—it's [about something] other than me. I just have to not mess it up," she told The Christian Post.
Allen can now return to her own Shire with the same sense of accomplishment as Frodo. Roughly 1,200 people attended the If:Gathering event in Austin, Tex., and more than 40,000 streamed the Feb. 6 and 7 conference online. The event also trended locally on Twitter.
Among those on its leadership team were musician Lauren Chandler, (whose husband Matt is the head of Acts 29 Network,) popular blogger and soon-to-be reality television star Jen Hatmaker, Rebekah Lyons, who cofounded Q Ideas with her husband Gabe, and "One Thousand Gifts" author Ann Voskamp. Hillsong pastor Christine Caine and Shelly Giglio, whose husband Louie started the Passion conferences as members of IF:Gathering's advisory team.
"If you give me a vision that I can be a part of something and that I can spend my life in ways that inspire me and ways that I am motivated by—that moves me," Allen added.
For Allen, that vision was to "gather, equip and unleash the next generation of women to live out their purpose," a passion that she has seen develop inside of her ever since she became a Christian at 17.
"Immediately I was very zealous as a teacher," recalled Allen. "I didn't necessarily have models—this was a little before [Bible study leader extraordinaire] Beth Moore and I didn't know what it meant to teach the Bible to women but I gathered a bunch of freshman girls and taught them the book of Revelation."
"I think this was just evidence of the Holy Spirit right away. I was never trained. Nobody taught me how to do it. I just knew what I was supposed to do," she continued.
Though Allen taught the Bible through college and young adulthood, she admits that she was a "little afraid to use any of her gifts with any passion" because she was worried "of what it meant to be a strong woman in the church."
"I was doing my best not to risk failure or disapproval or rocking the boat. Which is funny now because I rock the boat all the time," she laughed.
By the time that her husband Zac enrolled in seminary "everything in me had to go too," said Allen, who was at home taking care of their children at the time. "I wanted to learn the Bible. And he is an incredible man and he said yes."
Although seminary gave Allen a place where she could find others who were equally passionate about studying the Bible and although the couple started a church during that time, she came to a place roughly five years ago when she realized she had not been challenging herself in her faith enough.
After reading a blog entry from a woman who had adopted 14 children in Uganda one day, Allen said she finally "felt the permission to say 'Screw it. I want to spend my life well. I want to make sure that I'm obedient and doing what God wants me to do and not living in the fear of man.'"
After that epiphany, Allen's life began taking a radically different direction than where it had been headed.
In 2011, she and her husband adopted their son from Rwanda. That same year, she also authored her first book Anything.
Allen also began to teach—on a much larger scale than she had ever previously done. "150 women signed up. Our church was only 150 people. It was nuts," she said. It became an experience where Allen felt she could truly see God acting in the work that she was doing.
"It was raw and messy and it brought together women from all different places. The country club crowd came, a bunch of college girls came ... unbelievers came … it was just beautiful. And so my husband said, 'Take this and see if God wants to use this any further,'" said Allen.
Allen said that IF:Gathering came out of her convictions that she needed to bring together women and help them figure out what God had called them to.
"It's just not been a lick about me and it's about women. The legacy or the thing that I feel that I want to be about, that I want to live for is to be free and to set women free. I feel like that's in the spiritual and physical sense. I feel like there's a greater call in my life than to just know God. It's also to be the hands and feet of Christ," she said.