Pastor Andrew Brunson's Former Church Members Testified Against Him in Turkish Court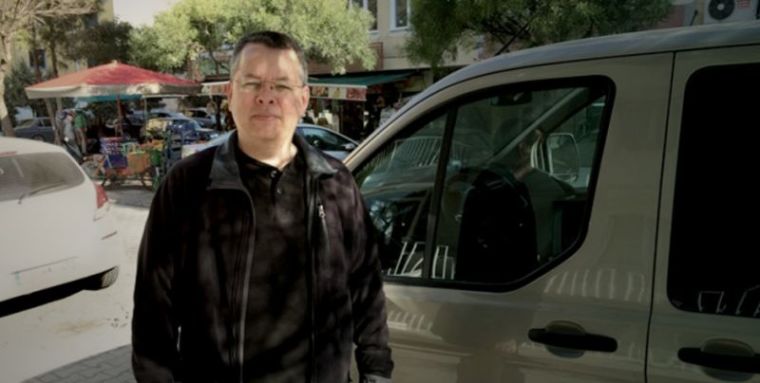 Andrew Brunson's former church members are among witnesses who have testified against the North Carolina pastor, who is facing the possibility of 35 years of imprisonment in Turkey, a U.S. government official said.
Kristina Arriaga, vice chair of the United States Commission on International Religious Freedom who attended Brunson's last court hearing, detailed what she saw in the July 18 hearing in Aliaga during a recent interview with the Christian Broadcasting Network.
"Pastor Brunson sat there while he heard former church members, people probably that he baptized, people that he had tea with, testify against him," Arriaga, who was seated next to Brunson's wife during the hearing, explained.
When asked why former congregants would testify against Brunson, who served the church in Izmir for over two decades, she replied, "I imagine these people were under tremendous pressure to keep their jobs or feed their families. We don't know what kind of threats they were under." 
As Brunson is falsely accused of involvement with an Islamic group blamed for staging the 2016 coup attempt against the Erdogan government, those who have attended the hearings have spoken out about the fact that prosecution witnesses have not provided any firsthand information to substantiate the government's charges against the pastor.
Many feel and Turkey President Recep Tayyip Erdogan has hinted that Brunson is being held as a political hostage for the extradition of Islamic cleric Fethullah Gulen, who is blamed for the 2016 coup attempt and is now in a self-imposed exile in Pennsylvania.
One American church leader who has attended Brunson's court hearings told The Christian Post after the July 18 trial that the prosecution brought forward three moore "false" witnesses to testify against Brunson.
Arriaga, who has been a vocal in her advocacy for Brunson, explained that she was brought to tears when she heard Brunson offer forgiveness to those who testified against him during the trial.
"And the judge at one point, turned to him around noon time and asked Andrew Brunson to speak for himself. He said, 'My faith teaches me to forgive. So I forgive those that just testified against me,'" Arriaga recalled. "There was a chill in the room. I know his wife, who is graceful and extremely strong, probably found it to be a natural answer. But I was stunned and moved to tears when he said that."
Arriaga was not the only one moved by Brunson's comment in the courtroom. Brunson's daughter, Jacqueline Furnari, gave an emotional account of her father's offer of forgiveness in the courtroom when she spoke last month at the first-ever State Department Ministerial to Advance Religious Freedom.
"He went on to say, 'It is a privilege to suffer for the sake of Christ,'" Furnari said as she choked up with emotion.
She then quoted her father:
"Blessed am I as I suffer for Him. Blessed am I as I am slandered. Blessed am I as I am lied about. And blessed am I as I am imprisoned. Blessed am I to share His suffering."
The day after Furnari spoke at the ministerial, a Turkish court ordered that Brunson be released from prison and moved to house arrest. At that point, Brunson had been in prison for over a year and a half. No charges were presented against Brunson for the first 17 months of his imprisonment.
Following the court order, President Donald Trump and Vice President Mike Pence were still not satisfied and threatened sanctions against the NATO ally if Brunson was not released back to the U.S. Last week, the Department of Treasury formally slapped sanctions on two top Turkish officials who head agencies responsible for Brunson's detention.
Erdogan responded over the weekend by vowing to place sanctions against two U.S. officials.