Pastor Caught in Bed With Parishioner's Wife Won't Resign Because God Has Already Forgiven Him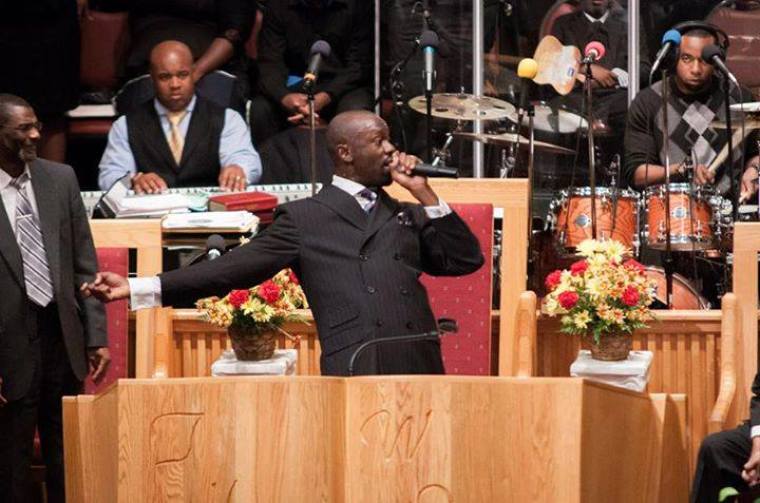 A Tallahassee, Florida, pastor who was forced to flee naked after he was caught having an affair with a parishioner's wife says he will not step down from his position because God has already forgiven him and his wife is standing by him.
Just days after the Rev. O. Jermaine Simmons Sr., pastor of the popular Jacob Chapel Baptist Church was caught sleeping with his parishioner, he was recorded telling his very supportive church that it is better for the church if he remains committed to God's work in the pulpit.
"What I want from God I've already received it and that's his forgiveness. What I am asking of our members is something I may or may not get and that is your prayers. And I'm asking for your forgiveness," Simmons said as his congregation said "amen" and gave him a standing ovation.
"I was reminded that I can't run through this. And I got somebody who said, and I believe her, that she's gonna walk with me," Simmons added, apparently referring to his wife and mother of his son.
A report from the Tallahassee Police Department acquired by The Christian Post said Simmons, 37, was caught in bed with Claynisha Stephens, 34, by the woman's husband, Benjamin Stephens III. Both Claynisha and Benjamin are his parishioners.
Claynisha, who has been married for seven years, told police that she first met Simmons in 2014, but "they have been establishing a relationship" as of October 2016.
On Jan. 17, she said, Simmons came over to the home she shares with her husband and their children so they could "talk over starting a business, patents and trademarks, and providing less fortunate kids with clothes and shoes."
During the meeting, she said they started having sex. While they were engaged, her 6-year-old son's school was trying to get in touch with her to pick him up. Since she did not answer, the school reached out to the boy's father.
Benjamin picked up their son and headed home only to discover his wife engaged with Simmons in their oldest daughter's bedroom.
Benjamin reportedly screamed "I'm gonna kill him," and went to the couple's bedroom to retrieve a small handgun.
On hearing the threat, the frightened pastor fled the couple's home naked without waiting to see what would happen. Police were later called to the scene and were able to prevent any loss of life or injury.
Simmons asked his congregants not to defend him in public because he had sinned and he is owning it.
"I'm hurting because I have hurt you. I'm talking to Jacob Chapel. Can't speak for people on the outside because I'm not Tallahassee's pastor. I'm not Florida's pastor. I'm not the world's pastor. I'm Jacob Chapel's pastor. It hurts me that you have to defend my actions because when you love somebody you want to fight for 'em. You want to defend them, but let me be very clear, you cannot defend sin," he said.
"And I preach to you each and every Sunday, you don't get defensive or try to justify sin. This ain't about nobody else but me. The world doesn't operate like we operate and so you will be attacked for loving me. They may be some folk here today in this room, who came to see what was going to happen," he continued while pointing out that "my baby brother is here ... I have to keep him from shooting people. Cause he ain't always saved yet. Gotta talk him down, 'what you want me to do?' ... I don't want you to do nothing."
He said he will not be deterred from God's work regardless of what the public or dissenting members of his congregation might think of his decision to remain at the helm of his church.
"If I stop preaching, if I stop doing what the Lord called me to do over this, it presupposes that I was qualified to do it in the first place. If I quit, if I walk away over this, it presupposes that I deserved to preach last Sunday when there was no scandal. I was wretch [inaudible] I'm a work in progress now but what the Lord allows. We will move forward," he said.
"I'll never be sorry enough for some people ... I don't have the energy for that right now. But I have to be clear that God is pushing us forward. Pushing us forward," he noted.