Eddie Long's Family Defends Him as Man Who Loved Unconditionally, Says Church Will Go On
Eddie Long's Family Defends Him as Man Who Loved Unconditionally, Says Church Will Go On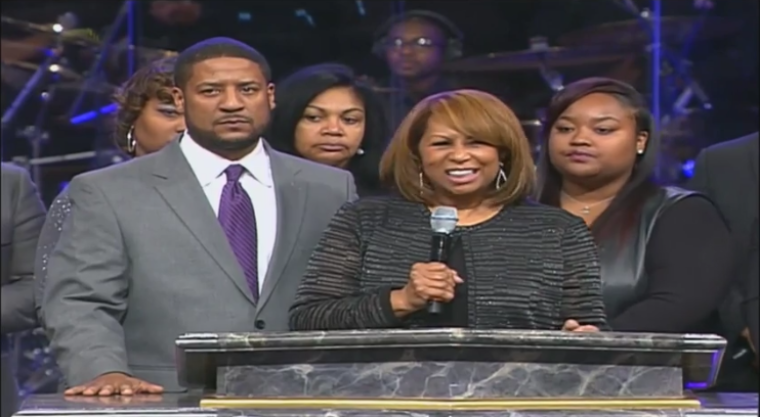 Led by their quiet matriarch, Vanessa Long, the family of the late Bishop Eddie Long of New Birth Missionary Baptist Church in Lithonia, Georgia, defended his legacy as a man who loved unconditionally and rallied members of the megachurch he founded to "get back to the business of ministry."
Speaking at the late bishop's homegoing service on Wednesday, Vanessa Long expressed joy at the thousands of people who showed up to bid her late husband goodbye and said he would be pleased.
"Forgive me, this is so overwhelming. When I arrived, I was holding it together until I came around the corner and I saw that balcony. It truly blesses my heart to know that Bishop Long was happy. Those of you who got a chance to see him, you know he got a smile on his face and I could just hear him saying, see 'I filled that balcony after all. It's full again,'" she said to applause.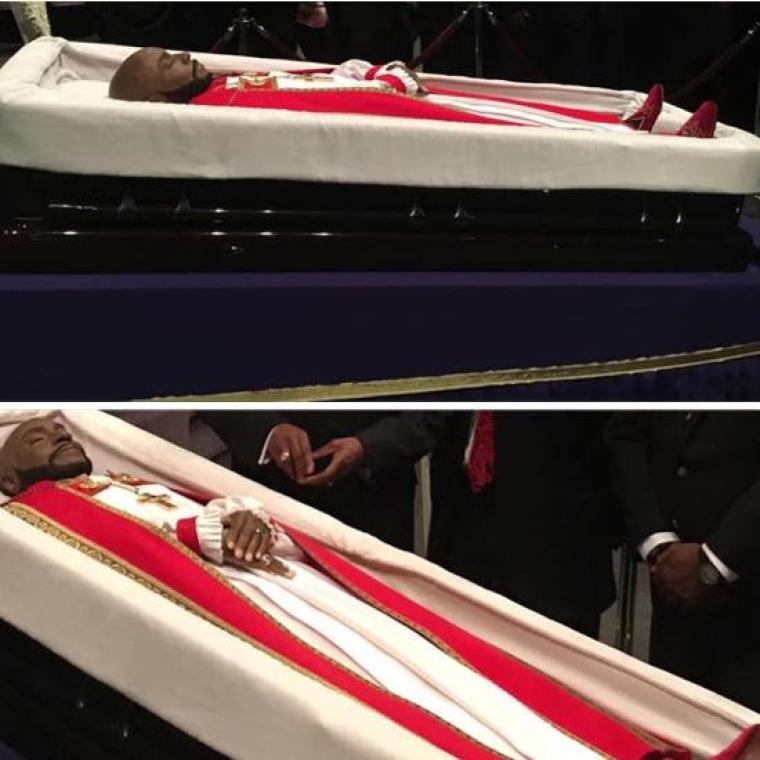 New birth, which once boasted some 25,000 members took a huge hit on its rolls after Bishop Long settled several lawsuits alleging that he had sexual relations with multiple teenage boys who were members of his church. He revealed in his last book, The Untold Story: The Story of Adversity, Pain & Resilience published in June 2016, that his church lost more than half its members after the allegations broke and membership had dropped to between 8,000 and 10,000.
Vanessa praised her husband who hosted several presidents at New Birth for living an "extraordinary life." She said even though he "died empty" after battling an aggressive cancer, "he finished strong."
She then declared that the church would continue.
"What I do want to say to my New Birth family is that we have to keep moving forward. Everything we need to move forward, he put in us. We know what to do ... and we're gonna do it. We're gonna get back to the business of ministry, we're gonna serve the community. We're gonna bless others because that's what he would do," she said as the congregation applauded in support.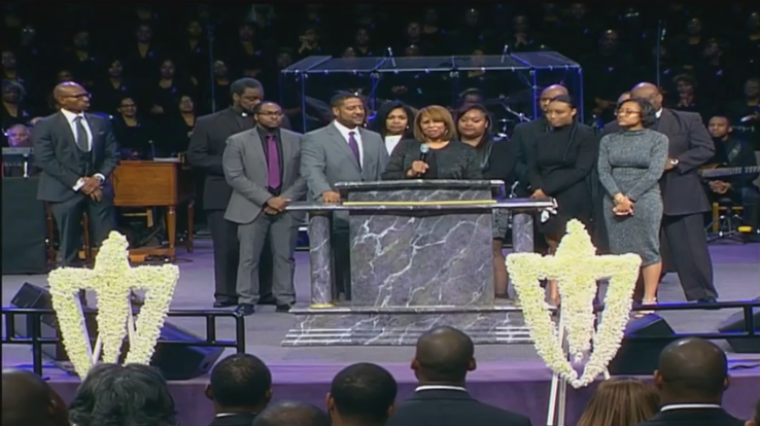 "That's the greatest thing that we could do to keep his legacy going. And not because of him, [but] because of the God he served. We can't get it twisted. It's not about Bishop Long, it's about the God that Bishop Long served. The risen Savior. The one who showed us unconditional love, grace and mercy," she added.
Bishop Long's daughter, Taylor, said she watched her father suffer through his illness and never once did he get upset with God about his affliction.
"I watched my dad go through such excruciating pain sometimes and I never once heard him curse God or say God, why me? In his pain I would only always hear him say 'thank you Jesus' so I just want to take this time to say 'thank you, Jesus,'" she said while thanking the church for receiving her father and her family.
Two of Bishop Long's sons, Eric and Edward, also praised their father for his resilience and took not so subtle shots at the media for their portrayal of him.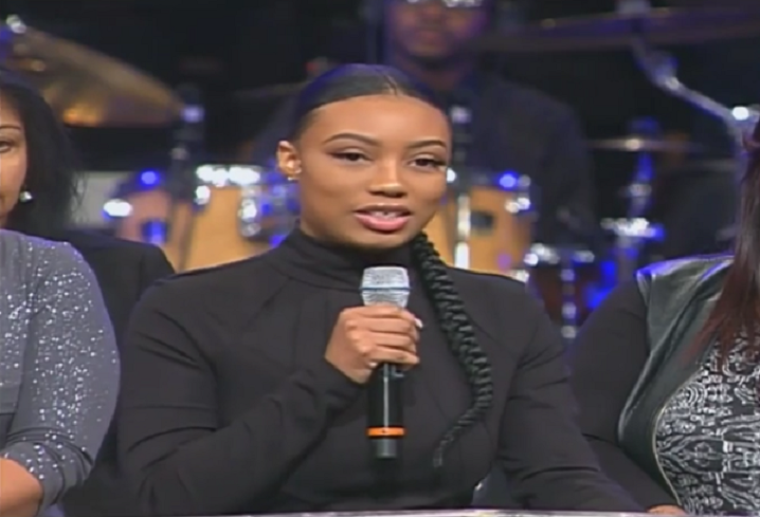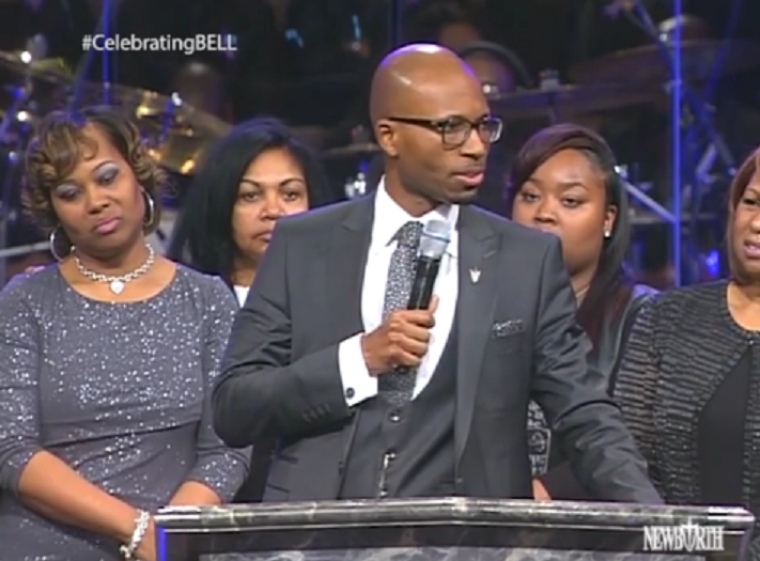 "Bishop taught me that you gotta work son. It ain't gonna be easy out here in this world. And the only way you gon' be significant is you gotta do what most people won't do and that's get up every day regardless of what circumstance that you face. That you get out there and that you motivate your family by your skill and by your level of determination.... Not what somebody is gonna say about you or what somebody is gonna put in the paper about you," said Eric.
"Bishop Long was Mr. Consistency. Bishop Long was the greatest voice of God in my life. We heard God in this man and that was so, so, so special about him. He had time for everybody," he added.
Elder Edward Long, 34, who is a minister at New Birth and Bishop Long's son from his first marriage to Dabara S. Houston -- who filed for divorce alleging physical abuse -- said his father was used by the media.
"For a lot of different mediums and platforms the name Bishop Eddie Lee Long was used to make headlines. But he was our and still is our lifeline. And so before you begin to talk about somebody, and say something sideways about somebody decide to be Christ first and pray for him. Decide to be Christ first and go to him and say what can I do to help you because I heard 'they' say it," he began.
"I'm trying still to figure out who the hell is 'they.' We always hear what 'they' said but we never see 'they.' 'They' never show their face, they never ...," he continued.
"At some point, what Paul said has to be true. You can prophesy, you can preach great sermons all around the world, speak in tongues and all that but if you don't disseminate love toward one another then it's no good. You wasted your time and God's time. It's a mockery of the kingdom. All Bishop Long did was demonstrate love," he said.
"The reason why we are in here right now is because he took you and whatever your situation was, he still saw the opportunity when everybody else turned they back on you. And so if we're going to move forward, we've got to move forward with the same principles," he said.
He acknowledged that he knew that not everyone among the thousands who showed up for Long's funeral were there to mourn but he believes his father's spirit will live forever.
"I'm no fool to think that everybody came today mourning, cause there's a few that came to make sure he was in a casket, there's a few that came to see the makeup and see that he's gonna rest, but I want to announce to you that the tomb is empty," he said making reference to Jesus' resurrection. "His spirit got up...his spirit is still alive. Bishop Eddie Long will live forever."
He also extended forgiveness to the people who spoke against his father.
"To all who have said something wild about him, I believe he would say today, I forgive you and I love you...if you need to make amends it is available to you now," he added.