Eddie Long's Church Declares 'This Is Our House,' Shares Memories Ahead of Funeral
Eddie Long's Church Declares 'This Is Our House,' Shares Memories Ahead of Funeral
Members of New Birth Missionary Baptist Church in Lithonia, Georgia, gathered on Sunday for the first time since the death of their leader, controversial Bishop Eddie Long, to share heartfelt memories and vowed that the church would not die with him ahead of his memorial service on Wednesday.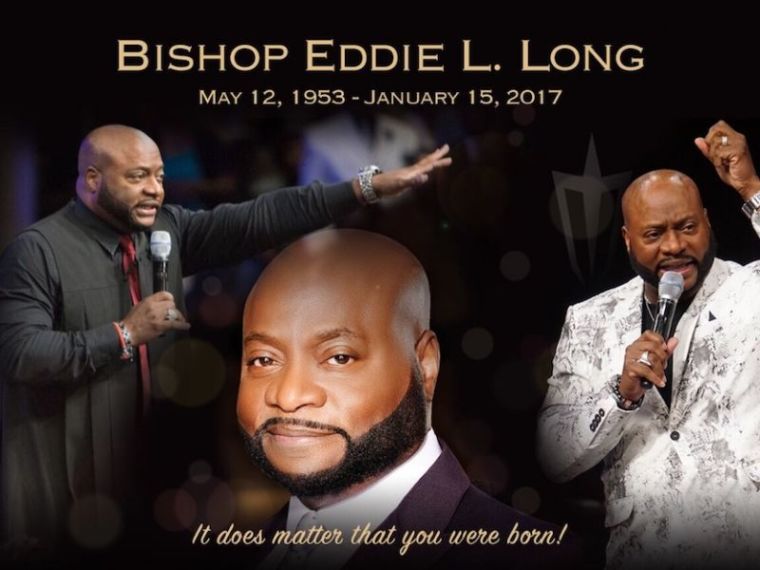 A report from The Atlanta Journal-Constitution said the well-attended Sunday service opened with a spirited performance from the church's choir and praise dancers, and the church showed a short video tribute to Long who was described as God-loving, humorous and dedicated to his church family.
"He is worth double honor ... quadruple the honor ... he is worth the honor that we give the man of God," said elder Carla Stokes."
Bishop Gary Oliver who leads Tabernacle of Praise in Fort Worth, Texas, and is a former member of New Birth delivered an inspiring message to the congregation and urged them not to allow themselves to be poached by other congregations.
"Just because our leader died doesn't mean we died," Oliver, described as one of Long's "spiritual sons," said.
"Do you know how many devils — oh y'all ain't hearing me — got freaked out this morning just 'cause you showed up?" he asked. "I can just hear the demons in Hell running and screaming at each other. 'Oh no, New Birth is up again. They threw off the spirit of heaviness. Look at them. They got on that mantle of praise.' Ahhhh, we don't sorrow like those who have no hope."
"This is the time to stay connected to family," said Oliver. "Stay with who you know and where you are known."
Many of the congregants then rose to their feet and raised their fists or hands in the air and chanted: "This is our house! This is our house! Right here! Right now!"
The future leadership of New Birth currently remains unclear. Some have speculated that a replacement for Long would be named quickly while others say there are enough "spiritual sons" and others who could serve as guest pastors for a while.
"Even though we don't know the details right now, Bishop Long wouldn't leave us in a lurch," longtime church member Lela Brooks told the Journal-Constitution.
Ed Stetzer, who holds the Billy Graham Distinguished Chair at Wheaton College in Illinois, said that in a lot of these situations, interim pastors are usually utilized.
"Most of the time an interim pastor will come in and help in the meantime, until they find a new pastor," he told the publication. "All too often, though, a lot of churches do experience a decline if they don't pick the right leader from within or from without."
"This is why churches need succession plans," he said, noting that he didn't know if Long had one. "Particularly in churches that are heavily tied to a personality. When a church has that kind of personality, it's hard to know where that person ends and the church begins."
New Birth announced the death of their leader in a statement on Jan. 15, saying he died after "a gallant private fight with an aggressive form of cancer."
For years, however, up until the very day he died, Long was dogged by a cloud of allegations stemming from lawsuits filed by multiple men in 2010 who claimed he engaged them in sexual acts.
He settled with his accusers — Anthony Flagg, Maurice Robinson, Jamal Parris and Spencer LeGrande — in May 2011, approximately eight months after they charged he had coerced them into having sexual relationships with him while they were teenage members of his congregation.
Homegoing celebration services for Long will be held at 11 a.m. Wednesday, Jan. 25 at New Birth Missionary Baptist Church. Long will lie in-state from 8 a.m. until 9:30 a.m.
Visitation will be held from 11 a.m. to 7 p.m. Tuesday, Jan. 24, at New Birth Missionary Baptist Church. 
The family requests that any floral arrangements be in white or off-white. He is survived by his wife, Vanessa Long, and their children Eric Long, Edward Long, Jared Long and Taylor Long.