Pastor, Church Members Plead Guilty to Torturing Boy, Forcing Him to Dig His Own Grave Because He Raped 7-Y-O Sister
Pastor, Church Members Plead Guilty to Torturing Boy, Forcing Him to Dig His Own Grave Because He Raped 7-Y-O Sister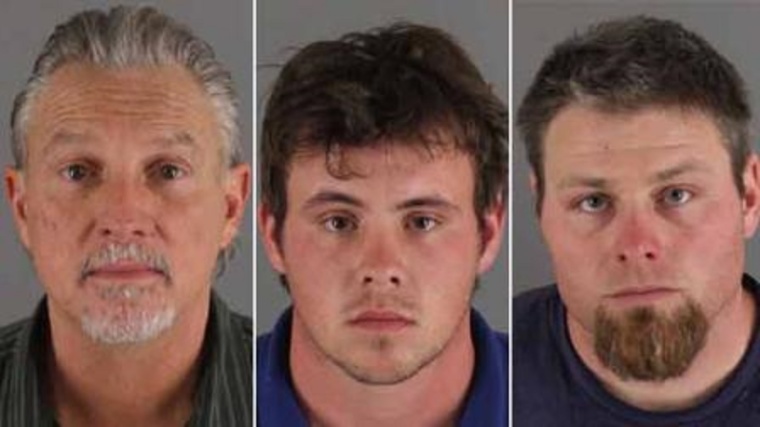 A pastor and two members of his small Corona, California, church pleaded guilty Monday to torturing and threatening the life of a 13-year-old boy whose mother had asked them to teach her son how to be a man after he sexually assaulted his 7-year-old sister.
According to a report from The Press Enterprise, Pastor Lonny Lee Remmers, 56, who leads the Heart of Worship Community Church, pleaded guilty to assault with a deadly non-firearm weapon and inflicting corporal injury on a minor.
Two of Remmers' parishioners, Nicholas James Craig, 24, and Darryll Duane Jeter Jr., 30, also pleaded guilty to making criminal threats and inflicting corporal injury on a child. They will serve a year in home confinement and three years probation for their crime in the bizarre case.
Another church member, veteran Corona police Cpl. Margaret Bell, also lost her job after 24 years last year because she failed to report the abuse to the police department when she was informed of what had transpired with the boy.
Pastor Remmers is set to be sentenced on Sept. 26. The Riverside County District Attorney's Office will push for a two-year sentence, according to The Press Enterprise.
Citing court records, The Press Enterprise noted that Remmers ministered to a group of 15 to 20 members who were predominantly single mothers and transient men seeking to re-establish their lives. The church operated a group home where Remmers provided his members with food and shelter for a fee and "was the ultimate authority, dictating what members read, who they dated and what movies they watched."
He was also in charge of discipline, which resulted in the boy's abuse.
Court records state that the boy had been living with his mother and sister in the group home for women until March 2012 when she took him to Remmers to be disciplined for sexually assaulting his 7-year-old sister, and she left him with the men.
In affidavits for search warrants, another church member named Stephen Larkey said the boy's mother wanted Remmers to "teach her son how to be a man and learn responsibility."
Craig and Jeter, according to court records, took the boy to the desert near Barstow on March 18 where they forced him to dig a grave and attempted to bury him alive.
"[The boy] said he dug for one to one and-a-half hours. He was then told to get into the hole and was told that depending on how he acts would determine if he would leave alive," noted the affidavit.
"[Redacted] said he was afraid he was going to be killed and begged both Nick and DJ for one more chance. [Redacted] said he tried to get out of the hole, Nick and DJ began to throw dirt onto him. [Redacted] feared he was going to be buried alive. He was also struck with belts as he tried to get out of the hole. [Redacted] was eventually let out of the hole…" said the affidavit.
After the grave-digging episode, the affidavit said the boy was returned to the men's group home in Corona where he was stripped naked and punished further on March 19, 2012.
"After waking up later in the day on March 19, 2012, he [boy] was approached by a group of men that he would not identify. [Redacted] said he was stripped of his clothing and placed into a chair. He said that both of his hands and feet were bound to the chair with white zip ties and placed in the shower. He was then maced on his face and was not allowed to wash or cool with water for approximately 30 minutes. During this time he said that his nose began to bleed. Due to the pain of the mace on his face he thrashed his face from side to side causing the blood to splatter on the walls of the shower," said the affidavit, which highlighted that this episode lasted for about an hour before he was untied and allowed to rinse his face.
The boy also admitted that Remmers used a pliers to pinch his nipple during a prayer meeting as punishment.
Riverside County District Attorney's Office spokesman John Hall and lawyers on both sides told The Press Enterprise that although the sentences for the three men might seem lenient, it was the best outcome for everyone involved in the case based on evidence in the case, which they would not discuss.
"Our agreeing to these pleas was based in part on the current state of the evidence in the case," said Hall. "There were new developments, which we will not be discussing, that caused us to believe this was the best disposition for all those involved. The victim and his family did not want this to proceed to trial, and we also considered that aspect."
READ MORE SHOCKING DETAILS IN THE AFFIDAVITS BELOW: