Pastor E. Dewey Smith Grieves After Death of Sister and Mother Weeks Apart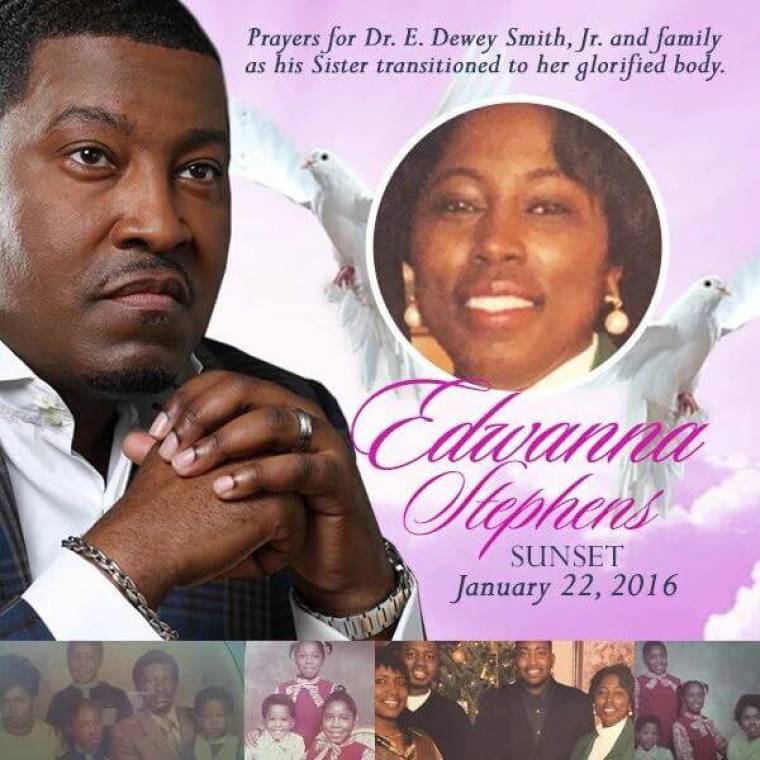 Just 21 days after the death of his mother, Verlene Smith, Senior Pastor E. Dewey Smith Jr. at The House of Hope Atlanta (Greater Travelers Rest) in Decatur, Georgia, is in mourning again, this time for his sister, Edwanna Smith Stephens, who died last Friday.
"My brother passed 1/29/07. My mother left me 1/2/16. And my sister 1/22/16. I'm hurting bad, yet thankful," Smith noted in a Facebook post the day after his sister died.
On Sunday, in brief remarks to his congregation, he thanked them for supporting him through his dark time and revealed that his siblings had requested that he deliver their eulogies should he outlive them.
"I want to thank you for your prayers and support. You know many of us have had deaths in our family. It's one thing when you have to use your hands to close your momma's casket and two weeks later use the same hands and close your sister's eyes, to see her take her last breath. It's just been not the best time. I thank you for understanding that, I hope you can," began Smith in a video clip of his remarks.
"Your support means everything, it really does, I thank God for the timing. And so sadly, some of you were there Jan. 9, when we said 'see you later' to my mother and three weeks later, for some reason, my siblings have all decided that if I should outlive them, that I would have to say the final words over them. And so having to preach my sister's eulogy two weeks after doing my mom's is not something I look forward to. And so your prayers mean everything to me. It really does," he added.
Stephens' memorial service is planned for Jan. 30 at the Macon Centreplex in Macon, Georgia.
Perhaps a prelude of what can be expected in the eulogy of his sister on Saturday, Smith shared a few words about his sister on his Facebook page.
"You were mad at me because I 'replaced you as the baby'! However, it didn't take long before I became 'your baby'! You made me practice the piano for YEARS, helped me with algebra and taught me how to drive a 'stick-shift'! I thought you were the 'sweetest' until I got 'older' and learned you could be just as MEAN as sweet! You got on my 'nerves' because you did it 'your way' but KNOW, I loved you more than ANY brother ever loved their sister!" he wrote.
"I wish you could get on my 'nerves' just ONE MORE time......I SWEAR, I wouldn't complain, fuss or give a REBUTTAL!!!! I know Momma is SO GLAD to see you......I'm glad you're not hurting anymore......" he continued. "Just know that both of y'all leaving us in 21 DAYS is an EXCRUCIATING pain to carry!!!! I LOVE YOU SUG!!!!!! I'LL NEVER FORGET YOU!!!!!!!!!"
Smith has been receiving an outpouring of support from congregants and pastors alike, such as Jentezen Franklin, senior pastor of Free Chapel in Gainesville, Georgia, who tweeted "praying for you sir. They are in your future not your past."