Pastor Greg Locke Reportedly Separates From Wife, Reveals He Struggles With Depression, Anxiety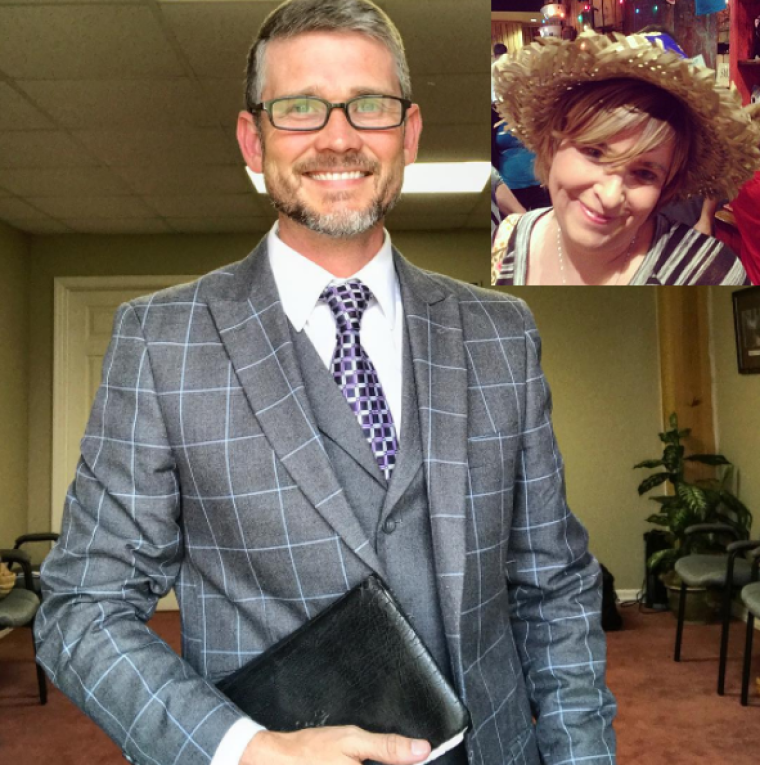 Popular and outspoken internet preacher and lead pastor of Global Vision Bible Church in Tennessee Greg Locke has allegedly separated from his wife over mental illness and is reportedly courting another woman.
A Pulpit & Pen report said Locke, who shot to internet fame after he posted a video on Facebook on April 22, 2016, criticizing Target for its new policies on gender-neutral bathrooms, "literally put his wife, Melissa, on a bus and sent her away." The couple have four children, including two who were adopted.
The preacher later confirmed with the outlet that this happened two months ago but told his more than one million followers on Facebook that the report was "vicious."
"I am saddened tonight by a vicious article that is rapidly circling the internet. I'm no stranger to hundreds of news articles both good and bad. However, this is a situation of a writer gathering fake and/or out of context information and totally fabricating a story. This is a very personal and hurtful hit piece. Our entire church congregation knows the facts and the timeline," he said.
"It's shameful that a small handful of bitterly disgruntled people can say such evil things and then have it reported by a publication that I've supported without even the courtesy of a phone call for verification. There is no doubt the Lord will work in all of this but for now it is a very difficult burden to carry. I'm sorry for those who choose to believe it. I'm trying to 'Be Still' during the storm. I love you all. What some mean for evil, God uses for good."
The Christian Post reached out to Locke's church for comment Wednesday morning regarding the report and a response is pending.
Sources from Locke's church reportedly told Pulpit & Pen that he recently claimed that his wife was mentally ill and that they were getting a divorce. Many in the congregation, however, appeared unaware that Melissa was suffering from any illness.
"Locke then laid out ultimatums to the congregation, telling them that they had to walk with him in his 'brokenness,'" the report said.
It was then quickly revealed that Locke was in a relationship with a woman identified as "Tai."
"Tai was given a ministry position at the church shortly before this unfolded. Pulpit & Pen has seen text messages between Greg and others, acknowledging that he was indeed in a relationship with the woman, Tai. They have begun doing things together with their mutual families. We have also seen photos of the two together," the report said.
While the Pulpit & Pen sources did not notice any signs of illness with Locke's wife, Locke revealed in a discussion of depression and anxiety last Thursday that he struggled with both.
"I want to be real and authentic for just a moment. I tell our people all the time, fixed folks can't help broke folks. So I'm trying to be extraordinarily real in every area of my life even from the stage and from these videos. I'm not gonna fake it until I make it and put on a Jimmy Carter smile," he said before discussing what he said are "the two evil buzzwords in evangelical Christianity."
"It is reality," he said. "You read the Bible, there are people who suffered greatly, deeply, massively with depression and anxiety. Paul did, Elijah did, Moses did, Jonah did, a whole myriad of people. David did, 'when my heart is overwhelmed within me lead me to the rock that is higher than I.'"
He then shared his personal struggle.
"There have been times in my life where I couldn't get out of bed for days on end. Didn't want to answer the phones, didn't want to mess with the kids, didn't want to just do the next thing because life was just a crap-fest," he said.
"When people that love you most ask you 'what's wrong' it ticks you off all the more because explaining the unexplainable feelings that you have, the chaos within you, it's impossible and it frustrates you. It makes you feel worse than you already are. I know what it's like to have a full-blown panic attack five minutes before I walk unto the pulpit to preach to thousands of people around the world in a livestream audience especially. And sometimes we think, oh we can't tell anybody. You better tell somebody," he explained.
According to his bio, Locke, 42, founded Global Vision Bible Church in November 2006 and has traveled around the world preaching the Gospel of Jesus Christ.
He dedicated his life to Christ as a teenager while he was a ward at the Good Shepherd Children's Home in Murfreesboro. He was sent there after multiple arrests, according to The Tennessean.
He said he went to a revival with the kids from the home one night and listened to a preacher railing against violence in rap music and misguided teens.
The message hit him hard and he confronted the preacher whose calm response made him "even more angry."
"Every time he spoke, it was like it was talking to me," he said of the preacher. He eventually responded to an altar call during the revival and ended up praying and crying with a basketball coach from a local Christian school and later felt the call to preach.