Pastor Kong Hee Trial Goes on Recess Amid Allegations City Harvest Church Leader Financed Wife's Superstar Career
Trial Goes to Recess Until January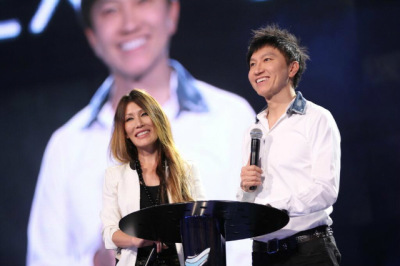 The trial of Singapore's popular pastor Kong Hee, who is accused of spending $41 million of church funds on his wife's singing career, has now gone on recess and will not resume until January 2014.
Pastor Kong Hee of City Harvest Church has been charged with conspiracy to commit criminal breach of trust, along with five other church staff members, including Pastor Tan Ye Peng, members Chew Eng Han and Lam Leng Hung, and accountants Serina Wee Gek Yin and Sharon Tan ShaoYuen, all of whom will face 10-20 years if convicted.
Prosecutors have alleged that the defendants channeled money "allotted for a church building fund into sham bonds in church-linked companies" and later "falsified church accounts to make it appear the bonds were redeemed."
The prosecution has also claimed that Kong and his fellow defendants spent $19 million to directly finance his wife's career, and another $20 million to cover their tracks.
Kong's wife, Ho Yeow Sun is not facing charges, though she has appeared to support her husband at the trial.
Kong alleged that Ho's singing career could be a tool to spread the Gospel, though the prosecution has dismissed his claims, suggesting that Ho's appearances in a nightclub in the Wyclef Jean "China Wine" music video and "Mr. Bill," where she plays a scantily-clad Asian wife singing about killing her husband, appeal to those "who would never choose to step foot into a church to listen to a preacher."
Evidence produced during the trial also claimed that more than $10 million was spent on Ho's marketing budget, meant to propel her into the realm of superstar elites, a number "in line with Shakira's marketing budget and less than the budget for Beyonce."
Ho also works as executive director of City Harvest Church. While she was initially dismissed from her position when charges broke, the singer was ultimately cleared of any personal wrongdoing and allowed to retake her old position.
"I am very thankful to Jesus that I can resume my executive duties at such a crucial time for City Harvest Church. I am truly glad that I have been fully vindicated. God's grace abounds and His faithfulness truly never ends! I want to thank the members of CHC for always standing with our church and our leaders. Your unceasing prayers are moving mountains and are so important to us in the days to come," Ho wrote after her reinstallment.
City Harvest Church claims a current church membership of 30,000 and was founded by Kong in 1989 as a non-profit non-denominational evangelical church. In 2012, Singapore's Commercial Affairs Department announced that it had completed a two-year inquiry, investigating allegations that Kong and church staff had financed Ho's career.
While the Commissioner of Charities has twice requested that Kong step down from his position, he has stayed on as pastor at City Harvest Church.