Pastor Mark Burns Says He Will 'Pray' About Challenging Lindsey Graham for Senate Seat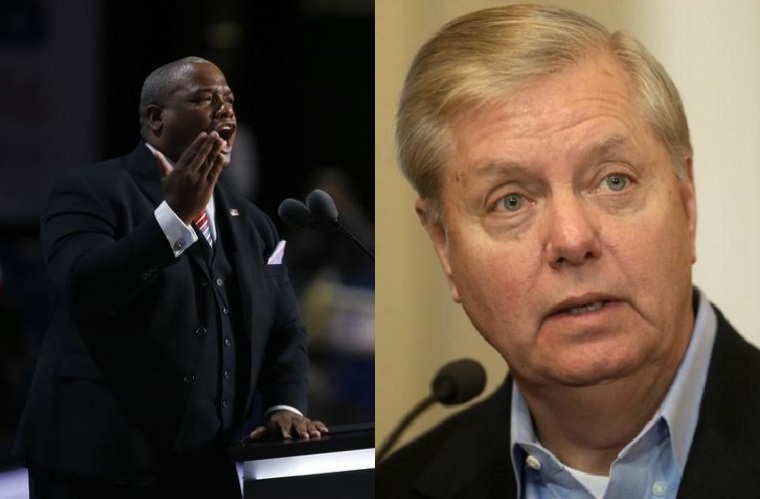 One of President Donald Trump's biggest evangelical supporters, Pastor Mark Burns who leads the Harvest Praise and Worship Center in Easley, South Carolina, says he mulling the prospect of challenging Republican Sen. Lindsey Graham for his seat in Washington when he's up for election in 2020.
Burns who is a member of Trumps evangelical advisory board revealed in a statement on Sunday that he is being encouraged by supporters to challenge Graham for his seat in the U.S. Senate or seek some local government office.
"I am impressed by the many South Carolinians disappointed by the self-centered actions of Sen. Lindsey Graham and flattered by the many Americans who are urging me to challenge him. Still others are urging me to seek statewide office in 2018 when I am committed to re-electing our great Governor Henry McMaster. I will be praying over these challenges in the weeks and months ahead," he said.
The statement does not say whether Burns would challenge in Graham in the Republican primary or the general election as a Democrat or independent candidate. 
In the meantime, Burns said he is focused on fighting "false victimhood" narrative being promoted by the left.
"Right now my focus is getting my message of rejecting and exposing the left's attempt to view through politically correct lenses to create false victimhood while remaining silent on the genuine obstacles limiting the expansion of opportunity within the minority community," he said.
"The American dream isn't about the government giving you a good life. The American dream is government getting out of your way providing you the opportunity to give your family the best life you[r] efforts and intellect can achieve," he added.
On the 2016 presidential campaign trail president Trump and Graham ripped into each other viciously. Graham referred to Trump as a "jackass," and Trump responded by calling him a "lightweight" and an "idiot," The State said. The president even made Graham's private phone number public and told supporters to try it.
While the two have feuded over issues such as the president's bungled response to the deadly riot in Charlottesville, Virginia, the two appear to have been mending fences in recent weeks.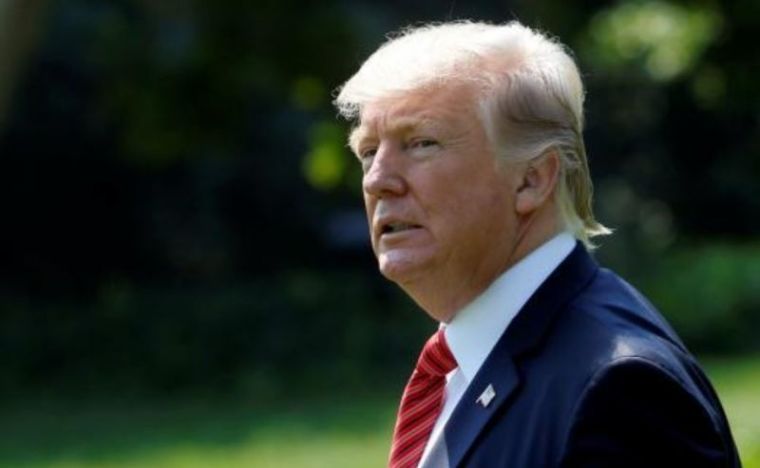 Both men were seen Saturday morning at Trump National Golf Club in Sterling, Virginia, and they were there together last Monday as well, according to ABC.
When asked about their golfing outing, a Graham spokesman responded: "Why not? Senator Graham loves golf. South Carolina is home to some of the best courses in the world."
After golfing with the president last Monday, Graham had high praises for Trump's game.
"Really enjoyed a round of golf with President @realDonaldTrump today. President Trump shot a 73 in windy and wet conditions!" he tweeted.
After a reported outcry from golfers about Trump's 73 shots claimed by Graham, the senator insisted in Golf.com that the president indeed shot 74 or 74 tops.
"Not one mulligan. Not one," he said.
Graham also repeatedly described Trump as an ideal host, Golf.com said.
"I ran out of golf balls," Graham explained. "He (Trump) started giving me golf balls. He's a gracious host. They didn't have the presidential seal. You know, they make TaylorMade golf balls in South Carolina. I'm going to have some made for him. They make them 10 miles from where I live."
He said he spoke with Trump about several things during their outing.
"We talked about serious things on the back nine," he said. "North Korea. Iran. Immigration. But the first nine was all about golf. Donald Trump on the golf course is a very charming, gracious man. Very funny. Very competitive, but gracious. When you host somebody, you want them to have a good time. We would play a hole, he would talk about the hole, how they took trees down. He had a lot of pride in the course. It's something, to play a golf course with the president of the United States on a course he owns. He's got that big, giant flag there —it's pretty stunning."