Pastor Saves Church Members' Lives by Planting Victory Garden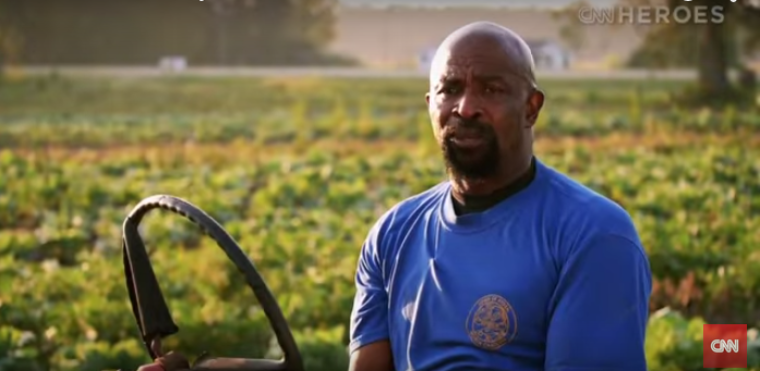 A member of a North Carolina Baptist church is now able to reduce his daily intake of medication thanks to a healthy diet of fruits and vegetables provided by his pastor.
Pastor Richard Joyner, 62, grows the crops on church property, and at other locations, to provide healthy foods for his community. He started the practice at Conetoe Chapel Missionary after presiding over many funerals for members who died from diseases related to poor nutrition.
"We had at least 20 funerals per year, and a lot of the deaths were health-related — poor diets, no exercise," said Joyner to Encore.org. "It just started to feel unconscionable that you would see someone 100 pounds overweight on Sunday and not say anything about it. Then they'd die of a heart attack."
After taking a health assessment of his church, Joyner discovered that 65 percent of the congregants were obese, and the same percentage was unemployed. At this point he knew something had to be done to combat the crisis.
Joyner's mission to grow healthy food got him nominated for CNN's Hero of the Year award.
His original garden, which was started at the church, has now expanded to around 20 plots of land around the community and even includes a 25-acre farm run by his nonprofit Conetoe Family Life Center.
The center also provides after school and summer camp programs for youth ages 5 to 18 at the community gardens. Participants are taught to plant and harvest produce they'll be able to sell at farmers markets. The program currently engages about 80 kids and they harvest around 50,000 pounds of fresh produce each year, according to a GoodNewsNetwork report.
Leftovers are normally donated to people in the community. Joyner's efforts have cut food costs for poverty-stricken families in half.
The pastor has even incorporated his message of healthy eating into his sermons. He calls the first day of the week "Healthy Sunday" and preaches sermons that focus on taking accountability when it comes to eating habits. Other topics include connecting with neighbors and reducing social poverty.
Conetoe congregants have seen a major difference in their lives, according to GoodNewsNetwork.
One member claims that he's been able to reduce the number of medications he takes: from 27 to six, thanks to the lifestyle changes made possible by Joyner's garden. Emergency Room visits in the area have also decreased.
Readers can vote for Joyner as Hero of the Year at CNNHeroes.com. The prize is $100,000.
The Christian Post reached out to Joyner for comment, but he was not able to respond by press time.
Pastor Rick Warren of Saddleback Church in California had a similar revelation in 2013 when he released "The Daniel Plan: 40 Days to a Healthier Life."
The book focuses on healthy eating, exercise and how faith and emotions effect those aspects of a believer's life.
He wrote the book after seeing that many in his congregation were "fat." Warren also felt uncomfortable about his own weight and decided to do something about it.
"'The Daniel Plan' adds three additional things to the traditional health and fitness program. Most programs deal with food and exercise, but we say human beings are a lot more complex than that," said Warren to CBS "This Morning" in 2013. "There are emotional reasons why you eat. There are spiritual reasons why you eat. There are mental reasons. So we added faith and focus and friends — or accountability, and changing the way you think and a spiritual motivation."