Pat Robertson Hospitalized Following Fall From Horse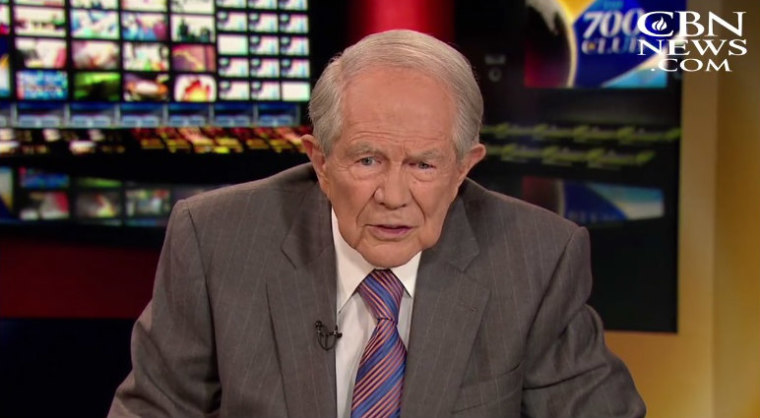 Famed televangelist and host of "The 700 Club" Pat Robertson was hospitalized over the weekend following a fall while horseback riding.
Physicians believe that the conservative Christian social commentator will "make a full recovery," according to a statement released Friday by the Christian Broadcasting Network, which Robertson founded. 
"Horseback riding is one of Robertson's greatest passions and at the age of 87 he still enjoys riding on a regular basis," stated CBN.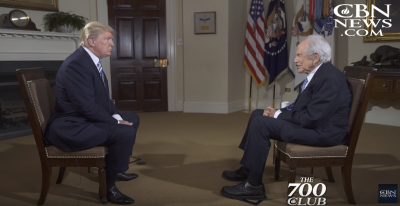 Born Marion Gordon Robertson in Lexington, Virginia on March 22, 1930, Robertson has been an active leader of the Christian Right for decades.
In addition to regularly drawing controversy for expressing his views on politics and society, Robertson founded CBN as well as Regent University and the charity Operation Blessing.
A prolific writer, Robertson has authored nearly 20 books including Beyond Reason: How Miracles Can Change Your Life, The New World Order, The End of the Age, The Ten Offenses, and America's Dates With Destiny.
Robertson also helped to found the conservative law firm the American Center for Law & Justice and had an unsuccessful campaign to become the Republican nominee for president in 1988.
During the 2016 presidential election cycle, Robertson became a strong supporter of Republican candidate and current president Donald Trump.
In a face-to-face interview with Robertson last month, Trump argued that Russian President Vladimir Putin would have preferred that Democratic opponent Hillary Rodham Clinton win the election.
"Why would he want me? Because from day one I wanted a strong military, he doesn't want to see that, and from day one, I want fracking and everything else to get energy prices low," said President Trump in July.
"We're going to be exporting energy. [Putin] doesn't want that. He would like Hillary. Where she wants to have windmills. He would much rather have that because energy prices will go up and Russia, as you know, relies very much on energy."
Robertson is not the first prominent conservative Christian leader to suffer injuries from a horseback riding accident.
In September 2011, Focus on the Family founder and radio personality James Dobson suffered an accident while competing in a horse-riding event in Montana, receiving broken bones and back issues.
Later that month, he was released from a Colorado hospital and resumed his duties as head of the radio program Family Talk, which he founded in 2010.