PCUSA Church Ordains First Married Lesbian Couple as Ministers, Days After Denomination's Marriage Amendment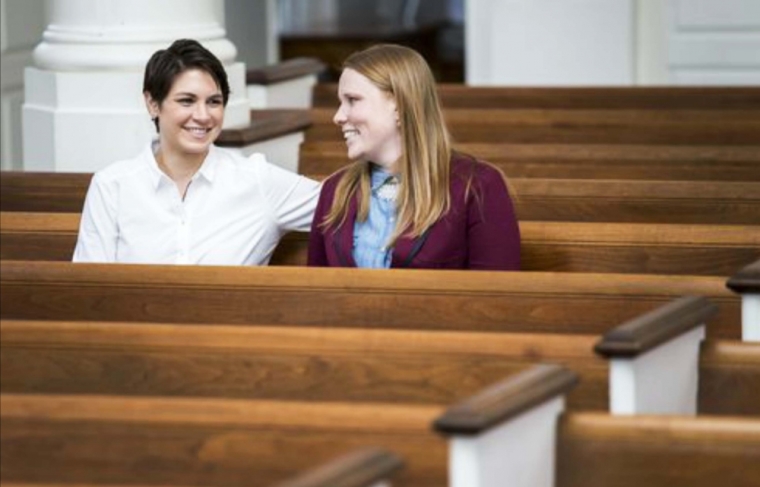 Days after America's largest Presbyterian denomination approved an amendment to its constitution changing its definition of marriage to include same-sex couples, a lesbian couple will be ordained as ministers Sunday at First & Central Presbyterian Church in Wilmington, Delaware.
Kaci Clark-Porter and Holly, who married three years ago, will be the first-ever same-sex couple to be jointly ordained, according to USA Today, which says the denomination couldn't point to other examples.
Last year, Presbyterian Church (USA) approved a vote on an amendment to change their official definition of marriage from "a man and a woman" to "two people, traditionally a man and a woman." And on Tuesday, the proposed change to PCUSA's Book of Order got the necessary number of presbytery votes.
The ordination service will be held Sunday afternoon.
Both were raised in conservative Texas homes, divorced their husbands and came out in their 20s during seminary.
"It wasn't until I started serving here at First & Central that I felt like I really became a pastor," WDDE quoted Clark-Porter as saying. "That I was really able to care for people. Because I finally cared for myself, and this community cared for me and accepted me, and accepted my relationship to Holly fully."
Clark-Porter will now be the church's associate pastor, and Holly runs the Big Gay Church, which operates at First & Central.
At the PCUSA General Assembly held in Detroit, Michigan, last June, a majority of delegates voted for a recommendation to amend the Book of Order regarding marriage definition.
"A proposed amendment to change the constitution to include same-gender marriages in the church's constitution passed the General Assembly but must be ratified by a majority of the church's 172 regional presbyteries," explained PCUSA in a FAQ document. "Presbyteries have one year to vote on the proposed amendment. If a majority ratifies the amendment, it would take effect June 21."
This is not the first time that PCUSA has hit the headlines on its move toward greater acceptance of homosexuality within the church.
In 2010, the PCUSA General Assembly approved a measure that allowed for presbyteries to approve the ordination of noncelibate homosexuals.