Pence Defends Trump's Decision to Renew Obama's LGBT Executive Order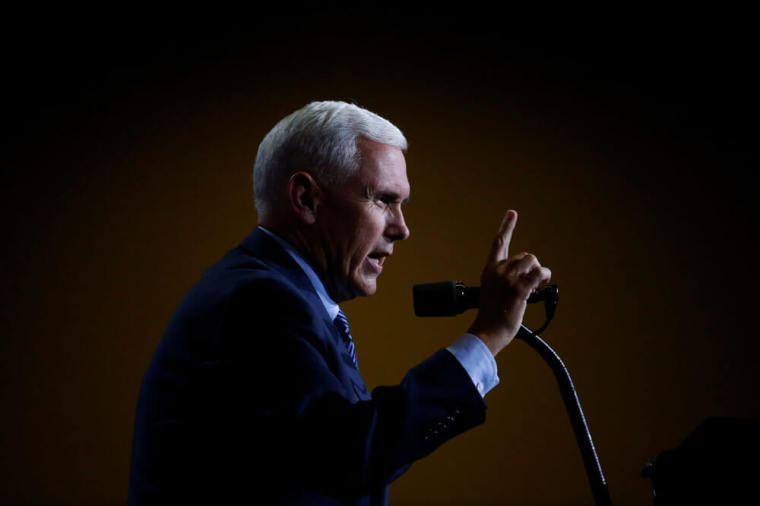 Vice President Mike Pence on Sunday defended President Donald Trump's decision last week to renew President Barack Obama's executive order for LGBT "anti-discrimination" policies in the federal government, saying discrimination has "no place in our administration."
"I think throughout the campaign, President Trump made it clear that discrimination would have no place in our administration," Pence said on ABC "This Week."
"I mean, he was the very first Republican nominee to mention the LGBTQ community at our Republican National Convention and was applauded for it. And I was there applauding with him. I think the generosity of his spirit, recognizing that in the patriot's heart, there's no room for prejudice is part of who this president is," Pence added.
The executive order was criticized for purportedly curbing religious liberty by barring groups and entities who hold moral objections to homosexuality and transgenderism. The Liberty Counsel released a statement denouncing President Trump's decision to renew the order, saying it "imposes the LGBTQ agenda in the employment context for federal contractors."
On Friday, Politico reported, based upon anonymous sources, that Trump's daughter, Ivanka, and her husband, Jared Kushner, encouraged Trump to keep Obama's LGBT executive order. 
In July of 2014, then President Barack Obama issued Executive Order 13672, which prohibited federal contractors and subcontractors from discriminating on the basis of sexual orientation or gender identity.
In the interview Sunday, the vice president also reaffirmed Trump's plan to "destroy" the 1954 Johnson Amendment, which prohibits churches and other tax-exempt organizations from endorsing or opposing political candidates.
Pence indicated that Trump could also issue executive orders also to preserve religious liberty. "His reiterated commitment to religious liberty are all a part of the kind of leadership that people are going to welcome from President Trump," he said.
ABC's George Stephanopoulos then asked, "Do you think a new executive order is necessary on religious liberty? Or is current law sufficient?"
Pence said it's the "purview of the president."
A draft order on religious freedom, leaked recently to the The Investigative Fund at The Nation Institute, is titled "Establishing a Government-Wide Initiative to Respect Religious Freedom."
According to The Nation, the four page draft order "seeks to create wholesale exemptions for people and organizations who claim religious or moral objections to same-sex marriage, premarital sex, abortion, and trans identity, and it seeks to curtail women's access to contraception and abortion through the Affordable Care Act."
The draft order covers and protects the religious freedom of individuals and "any organization, including closely held for-profit corporations" that are seeking a job, employed, providing social services, employing others, receiving government grants and participating in the public square or marketplace.