Pentagon to Investigate Veteran's Removal From Military Base for Referring to 'God' in Speech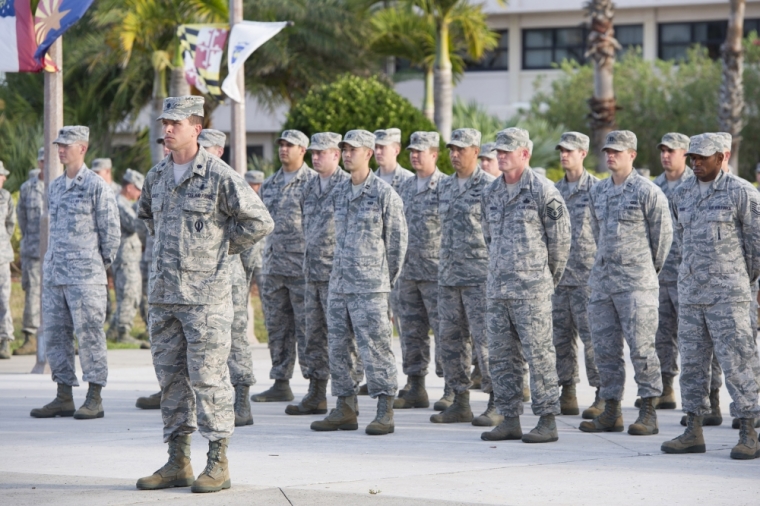 The Pentagon has launched an investigation to review the Air Force's actions against 33-year veteran Oscar Rodriguez, who was forcibly dragged away for giving a speech that included the word "God" at California's Travis Air Force base in April.
Secretary of the Air Force Deborah Lee James ordered the Air Force Inspector General to review the Air Force's actions against Rodriguez, two days after the group First Liberty, which defends religious freedom of all Americans, sent a demand letter to the Air Force on behalf of the veteran.
"We view the Pentagon's action today as a positive first step towards not only acknowledging that religious scripts may be used at retirement ceremonies, but also ensuring these kinds of situations are not repeated," Mike Berry, director of Military Affairs for First Liberty Institute, says in a statement.
For many years, Rodriguez, who retired as Senior Master Sergeant in 2013, regularly performed a patriotic flag-folding speech at retirement ceremonies, and civic and patriotic events.
Master Sergeant Charles "Chuck" Roberson, a USAF veteran, who retired in April 2016 at Travis Air Force Base, saw Rodriguez perform the flag-folding speech at a friend's retirement ceremony. Moved by the speech, Roberson personally asked Rodriguez to give the same speech at his own retirement ceremony.
When senior officials learned that that Rodriguez's speech would mention "God," they attempted to prevent Rodriguez from attending, but didn't have the authority to do so. Roberson and Rodriguez tried to clear the speech through higher authorities at Travis Air Force Base, even offering to place notices on the door informing guests that the word "God" would be mentioned. But they received no response.
At the ceremony, when Rodriguez began speaking, multiple Airmen physically assaulted him, dragging him out of the ceremony. Travis Air Force Base officials then threw Rodriguez off the base, according to First Liberty.
"To even imagine that I would be removed while the American flag is being unfurled and open—the flag which represents freedom of speech, freedom of religion, freedom of the press…it's horrifying," Rodriguez was quoted as saying.
"I have given more than three decades of service to the military and made many sacrifices for my country," Rodriguez added. "To have the Air Force assault me and drag me out of a retirement ceremony simply because my speech included the word 'God' is something I never expected from our military."
"Air Force personnel may use a flag folding ceremony script that is religious for retirement ceremonies," the Air Force said in a statement last week. "Since retirement ceremonies are personal in nature, the script preference for a flag folding ceremony is at the discretion of the individual being honored and represents the member's views, not those of the Air Force. The Air Force places the highest value of the rights of its personnel in matters of religion and facilitates the free exercise of religion by its members."
During his 33 years of service, Rodriguez sacrificed greatly for our nation, including losing his business as a result of being called to active duty from the Reserve, Liberty Institute points out. Sen. Mary Landrieu (D-La.) spoke of Rodriguez's story from the Senate floor as an example of how our veterans pay a high price to serve our nation.
"The Air Force had no right to assault a citizen, much less a 33-year military veteran, because they didn't want him to mention 'God,'" Berry said earlier. "Mr. Rodriguez has a constitutional right to free speech and religious expression, even on a military base. The military broke the law and abused its power."