'Person of the Year' 2012: Time Names President Obama
'Person of the Year' 2012: Time Names President Obama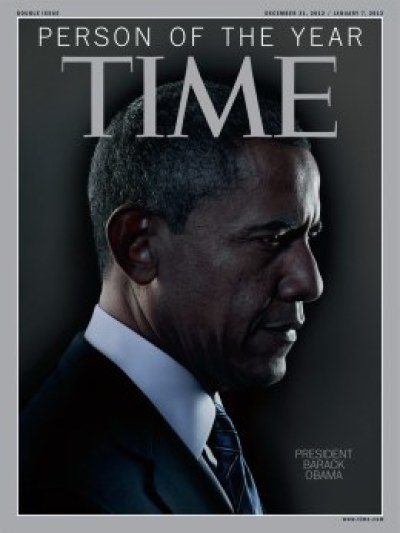 President Barack Obama has been named Time magazine's "Person of the Year" for 2012, which follows up his previous selection in 2008, the year he became America's first ever black president.
"In many ways, Barack Obama is the 21st century version of this new American. But he's more than just a political figure; he's a cultural one. He is the first President to embrace gay marriage and to offer work permits to many young undocumented immigrants. There has been much talk of the coalition of the ascendant -- young people, minorities, Hispanics, college-educated women -- and in winning re-election, Obama showed that these fast-growing groups are not only the future but also the present," wrote Time managing editor Richard Stengel in a blog post on Wednesday.
"If his win in 2008 was extraordinary, then 2012 is confirmation that demographic change is here to stay," Stengel added.
The Dec. 31-Jan. 7 edition of Time features an under-lit portrait of Obama against a dark grey background. His 2008 cover, by contrast, shows a much more colorful red and white stylized stencil portrait, inspired by his iconic "Hope" campaign poster.
The U.S. President has had a big year in 2012.
On Nov. 6, he was reelected for another four years in office when he defeated GOP candidate Mitt Romney by a comfortable margin in the polls. In May, he announced his support for same-sex marriage, becoming the first president in office to make such a statement. In September, he faced accusations that his administration did not do enough to protect the U.S. embassy in Libya that was attacked by an Islamist mob, resulting in the deaths of four Americans including Ambassador Christopher Stevens – although tightened security at other American consulates under attack prevented further casualties.
And in the past week, President Obama has had to bring together a stunned and grieving nation after a 20-year-old gunman killed 20 children at an elementary school in Connecticut, one of the most troublesome incidents of gun violence in America's history.
"For finding and forging a new majority, for turning weakness into opportunity and for seeking, amid great adversity, to create a more perfect union, Barack Obama is TIME's 2012 Person of the Year," Stengel explained.
The four runner-ups for "Person of the Year" identified by Time include: Malala Yousafzai, a 14-year-old Pakistani girl who blogged about women's rights, and was shot in the head but survived after being targeted by the Taliban; Tim Cook, who took over as CEO of Apple after Steve Jobs passed away last year; Fabiola Gianotti, an Italian physicist in charge of the ATLAS experiment at the Large Hadron Collider (LHC) in Switzerland, and Mohamed Morsi, Egypt's new president who has recently faced accusations that he is giving himself unlimited constitutional powers.