Ex-Heroin Addict 'Philly Jesus,' Turns to GoFundMe to Raise $70K to Take Ministry Across the US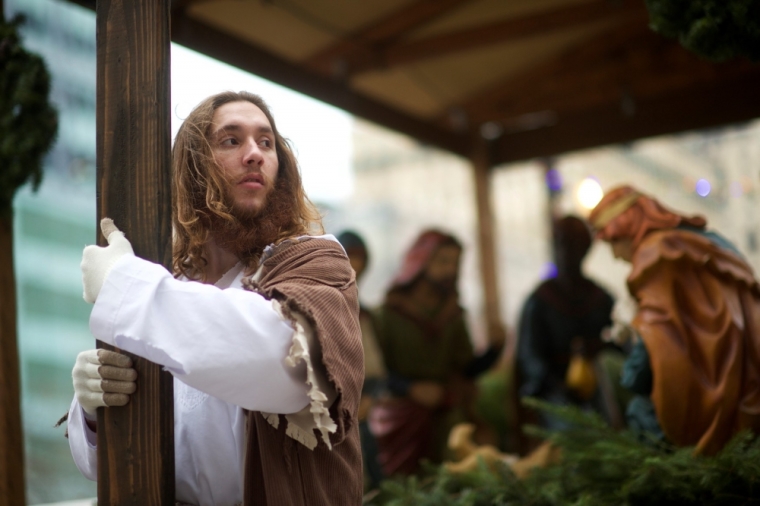 A former heroin addict who now dresses as Jesus Christ and goes by the name "Philly Jesus" has started an online fundraiser to accrue $70,000 for his ministry.
On a GoFundMe page created Thursday, the resident of Philadelphia whose real name is Michael Grant has requested money to help finance his ministries.
"iF you BELiEVE that the LORD is in this Ministry that i have launched. ... iF you Believe that you will be helped by it ...and Believe OTHERS will be helped by it ... i want to ask you to OPEN your Heart and ask The HOLY SPiRiT of Christ Jesus (Yeshua) ... if u should sow financially into this Ministry i have launched," reads the page's description.
"… im relying on GODs True Chozen People. ... His True People ... being touched By The Source of Our Existence (Origin) Jesus Christ Of Nazareth (Yeshua) and His HolySpirit ... to finance this Ministry that i have launched ... so i can further the kingdom of Truth through my Talents ... that JESUS has bestowed on me."
Philly Jesus was originally a drug addict and former satanic music artist named Opal Weaver. After being put into a drug rehab program, Grant became a Christian and decided to become "Philly Jesus," dressing himself as the popular image of Jesus Christ.
"JESUS came into my Life and brought me to my knees in tears of JOY ... and broke every chain of addiction in my life. ... He broke the chain of sin in my life ... ripping its veil completely," says Grant on his website. 
"The people of Philadelphia have coined me with the name Philly Jesus ... so i decided to run with it ... i have decided that i will be doing this Philly Jesus street ministry for the rest of my days on Earth to HONOR and GLORiFY ONE MAN."
Since becoming Philly Jesus, Grant goes about Philadelphia evangelizing with those he meets and even performing the occasional baptism at the LOVE Park fountain.
"This is not the first baptism I did at the fountain," explained Grant to NBC Philadelphia following the baptism of a tourist in December 2014. "I do it everyday. ... Like in a six-hour day in LOVE Park, I probably baptize six or seven people."
As of Friday morning the GoFundMe page has gotten over 277 shares on Facebook and received $275 in donations from 11 different individuals.
Specific items that Philly Jesus hopes to fund with the money include donations to several charitable endeavors, such as "food drives for the homeless," "clothing drives," and "vehicle to transport food and clothing to the homeless."
Philly Jesus also hopes to use the funds to "help with employing a creative team around the PhillyJesusMinistry" and "to develop office space for the PhillyJesusMinistry."