Pilot Rips Claim by Creflo Dollar Ministries That It Needs $65 Million Luxury Airplane to Carry '100,000 Pounds of Food'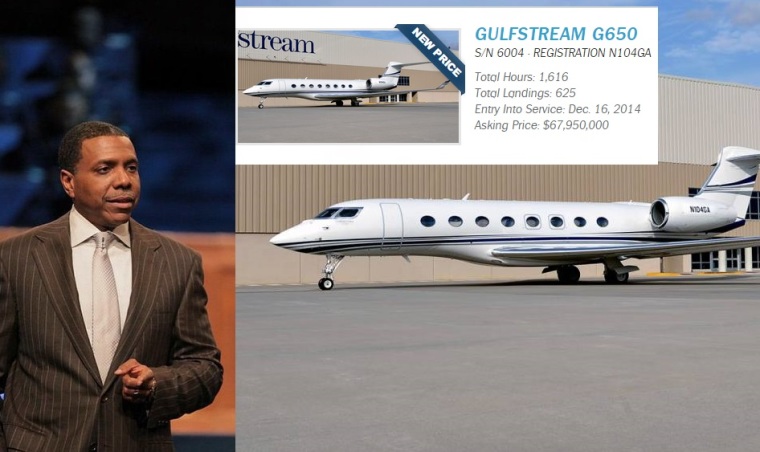 A veteran pilot from Rock Hill, South Carolina, said rubbish to claims by Creflo Dollar Ministries on Friday that the effort to purchase a new $65 million luxury Gulfstream G650 airplane is needed by the ministry to transport "100,000 pounds of food," and staff members across the world to spread the love of Jesus.
The organization headed by popular televangelist Creflo Dollar, who is also founder of World Changers Church International, came under fire this week after The Christian Post first reported on their online campaign asking 200,000 people to donate $300 or more each to facilitate the purchase of the luxury airplane once described as the "holy grail of private jets" in a Bloomberg report.
When asked why the televangelist could not take commercial flights instead to carry out his work as suggested by many critics, Juda Engelmayer of 5W Public Relations in New York, which represents Creflo Dollar Ministries, said their significant cargo made the jet necessary.
"You're missing the point. The plane is not so Creflo Dollar can get on by himself and fly. They take a ministry team of 10 to 15 people with them. They take thousands of pounds of food and provisions with them when they go around the world. If he's coming to the New York church, he'll hop on a Delta flight; if he's taking 12 people plus 100,000 pounds of food, it's not that simple," Engelmayer explained.
David Graham, Global Express aircraft captain with Advanced Air Management, which "specializes in the management of long-range business jets owned by individuals and entities desiring the opportunity to offset the cost of ownership through private charter," decried the explanation by Dollar's media representative as nonsense in an email message to CP late Friday.
"The G650 MAX RAMP WEIGHT is 99,600# then add 4,000# for the G650ER. IT CANNOT CARRY 12 PEOPLE AND 1000,000 # OF FOOD AND SUPPLIES LIKE THE COMMENTER SAYS!!!! CREFLO IS A CROOK AND SCAMMIN (sic) HIS CHURCH IN THE NAME OF THE LORD!!!" wrote an incensed Graham.
On his LinkedIn profile he explains: "I have an extensive knowledge of the Corporate Aviation Industry. My experience ranges from Chief Pilot to Line Captain with Worldwide Operations. Part 91 and Part 135."
Gulfstream, the manufacturer of the G650, also highlights on its website that the aircraft "flies at more than 92 percent of the speed of sound," holds about 18 seated passengers and can take off with a maximum weight of 99,600 pounds.
The company also lists a pre-owned G650 with a flight record of 1,616 hours and 625 landings since it entered service in last December for $67,950,000.
As of Friday afternoon, the link to the $65 million campaign was no longer functional and appeared with a message stating that the link "could have been removed, had its name changed, or is temporarily unavailable."
Engelmayer could not confirm if Dollar had abandoned his appeal for $65 million or the mission to get a new jet, but said his client was currently traveling via "commercial" flights.
"Whatever he has to [use to travel], you know, commercial transportation," he said almost grudgingly.