Planned Parenthood Supporters Want to Jail, Financially Destroy Undercover Sting Video Producer, Lawyer Warns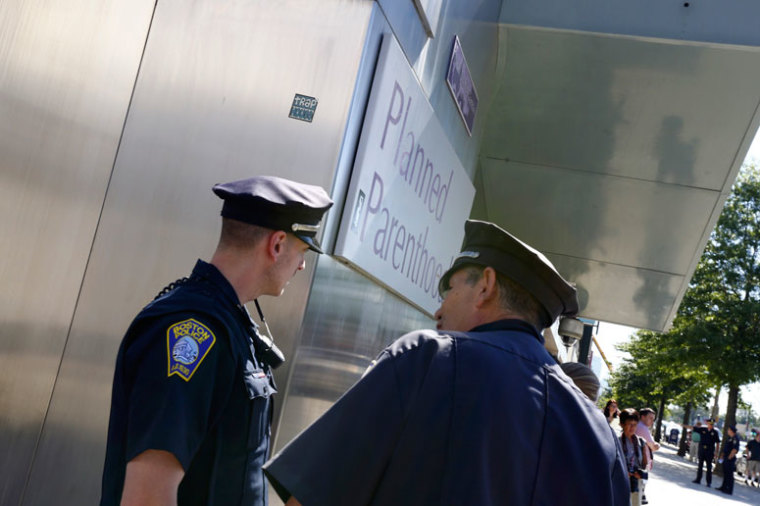 Planned Parenthood supporters in positions of government power are looking to jail and financially destroy the producer of the undercover sting videos that have brought attention to the abortion giant's illegal practices, a pro-life lawyer claims.
Tom Brejcha, an attorney for the Thomas More Society, said anti-abortion activist and Center For Medical Progress founder David Daleiden is facing aggressive lawsuits for his undercover investigation of Planned Parenthood, and their end goal is to put him in jail and "destroy him financially."
David Daleiden and Tom Brejcha were two of the four figures who presented during a "Stop Baby Parts Trafficking" live webcast Tuesday. The simulcast was hosted by David Bereit, the national director of 40 Days for Life, a pro-life mobilization effort.
Brejcha said that while abortion groups are pursuing aggressive lawsuits against Daleiden, Presiden Barack Obama's Department of Justice "is waiting in the wings to pounce on David." Brejcha added that the California Attorney General's office is no friend of the right to life movement and have launched their own investigation of Daleiden and the Center for Medical Progress.
"National Abortion Federation is seeking to suppress David's ability to communicate what he has found in these undercover videos," said Brejcha. "They want a temporary gag order and then a permanent one.
"The stakes are very great here, the law is favorable to David," added Brejcha. He told over ten thousand listeners to the simulcast that the Center for Medical Progress broke no laws. The Thomas More Society lawyer says the public has a right to know and said "public interests must prevail over mere private agreements."
Brejcha says Daleiden deserves a top defense and declared, "We are considering every option to defend David."
The Thomas More Society attorney pointed out that Planned Parenthood has not sued anybody and declared their strategy largely consisted of playing defense.
"They have left it to the NAF that is represented by a huge multi-corporate law firm," said Brejcha, "that is really aimed at silencing David and the evidence he has already produced."
Brejcha vowed victory and said his organization and attorneys are in the legal battle for the long haul.
Daleiden spoke at the beginning and end of the simulcast, admitting "he was quite tired," but doing well in general.
Daleiden spoke out about his journey into investigating the selling and harvesting of aborted baby parts.
"I got involved in this topic of exploitation of aborted fetuses about five years ago," said Daleiden. "First time I found out about it I had nightmares for several weeks."
Daleiden said it was a paradox that aborted babies are not considered humans under our laws and within a large part of culture, but added "it is precisely that humanity that makes them so valuable for scientific experimentation."
Daleiden spent 30 months on the undercover investigation into Planned Parenthood.
Daleiden said that there are three basic revelations that set the stage for other evidence and revelations that have been uncovered on Planned Parenthood.
"Planned Parenthood sells the body parts and they make money off of that. That is directly against the law," claimed Daleiden.
He also accused Planned Parenthood of altering abortion procedures and using illegal partial birth abortions to better harvest baby parts and organs. "Planned Parenthood changes the procedures that they use to get higher quality body parts to sell." 
Third, He said top officials at Planned Parenthood of supporting and approving these measures, and said that they go through great efforts to cover that up.
Daleiden added that the videos have changed the dynamics for Planned Parenthood and they can no longer run a practice of abortion and harvesting of baby parts that is "out of sight and out of mind." He asserted "that is forever gone for them."
"Most abortion providers are honest about what occurs during an abortion and the activists are those that don't want to talk about what is going on," he added.
Daleiden believes that the videos have given a "microphone to the abortion practitioners," and said "the reality is the destruction and the violent death of a little person that is right there in front of you."
He claimed the videos are holding people accountable for their actions.
Bareit of 40 Days for Life said the "videos are forcing PP national to admit to what they do." He quoted Isaiah 9:2: "The people that walked in darkness have seen a great light: they that dwell in the land of the shadow of death, upon them hath the light shined."
Bereit praised the spontaneous rallies in hundreds of cities by Students for Life, among other right to life organizations, that have responded to the investigative journalism covered by the Center for Medical Progress.
"Right to life groups are reporting growth in numbers and donations," he claimed.
"David Daleiden [has] almost singlehandedly sprung to life the national abortion debate, but the abortion giant is not going to go down quietly," said Bereit.