'Pokemon Z' release date, Zygarde images leaked online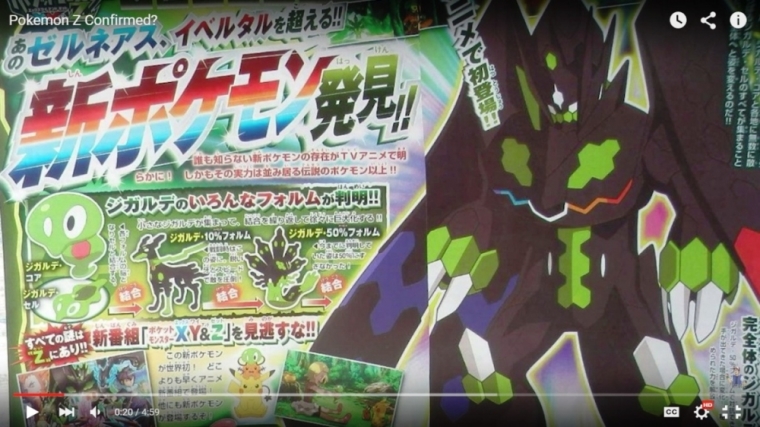 Despite the hubbub among fans about the impending release of "Pokemon Z," Nintendo still has not confirmed the release date of the new video game.
Leaked photos of the Pokemon Zygarde have allegedly been spotted online, and the creature is said to be the focus of the game Pokemon Z. The said images were taken from a new issue of Japanese publication CoroCoro, according to Latinos Post.
Zygarde may be the creature that accounts for the "Z" in the game's title. Along with Zygarde, the other forms called Core, Cell, 10%, 50%, and Perfect Forme will be featured in the upcoming Pokemon Z, the Inquisitr reports.
The Core is Zygarde's basic form and this creature is incapable of thinking, moving, or doing anything. When it takes on the Cell form, it can now communicate through telepathy but it still cannot move. Once the creature absorbs 10 percent of its surrounding cells, it will evolve into a form which moves at a speed of 60 mph and attacks its enemies using its fangs.
Absorbing 50 percent of the surrounding cells will turn the Pokemon into the Forme, which is Zygarde's most common look. Zygarde takes on this form when it detects a threat from its surroundings, the report explains.
Zygarde is the third legendary Pokemon character after Xerneas came out in "Pokemon X," followed by Yveltal from "Pokemon Y." The creature first takes the form of a blob before it evolves into a cell that looks like a flat green blob. The third form looks like a dog, while the fourth form looks like a snake.
The final form of Zygarde looks like a serpent with green, white, and black patterns all over its body. When Zygarde takes on its perfect form during a Mega-evolution, the new Pokemon will be more powerful than either Xerneas and Yvelta, the report adds.
Pokemon X and Pokemon Y were both released in 2013. Last year, "Pokemon Omega Ruby" and "Pokemon Alpha Sapphire" were launched. As for Pokemon Z, fans are expecting it to be released by 2016, but Nintendo has yet to make the announcement.