Police to Keep Peace at Controversial 'Jesus Lunch' at Wisconsin High School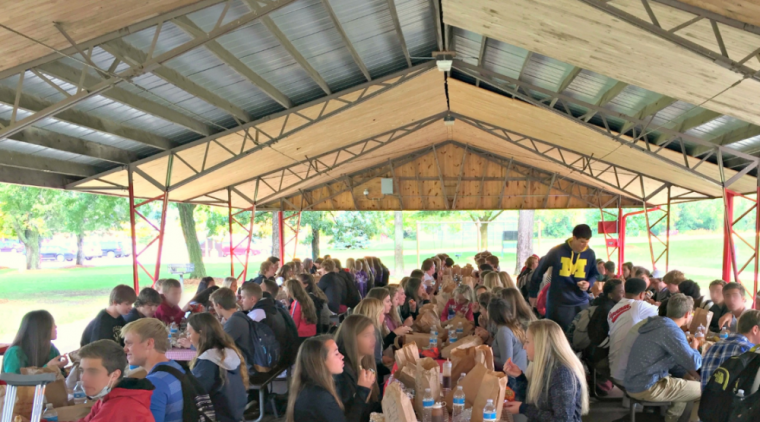 Uniformed police officers say they will be on hand to keep the peace at a Wisconsin high school Tuesday during a parent-led "Jesus Lunch" just in case tensions flare up between critics and supporters of the weekly event.
Every Tuesday during their lunch break hundreds of Middleton High School students attend a parent-led gathering at nearby Fireman's Park that includes Christian worship and discussion.
Chief Charles Foulke of the Middleton Police Department released a statement last Friday explaining that officers were going to be present at this week's luncheon.
"I am concerned that groups on both sides of this issue plan on also being present on Tuesdays for 'Jesus Lunch.' That is fine and perfectly legal, but let us keep it peaceful," stated Chief Foulke.
"Middleton Police Officers will be nearby, not to interfere in any way with anyone's right of assembly or speech, but we will intervene if things get contentious."
Foulke added that the police presence did not indicate "a preference for any side in this issue other than to preserve the peace and allow people to exercise their First Amendment rights."
"Reasonable people differ over the interpretation of the wording of the lease. I'm not worried about reasonable people, but I am concerned about unreasonable people," continued Foulke.
"Let's also remember that there is a high school next door and try not to interfere with the learning environment. I hope it is not the students who teach the adults how to act."
Since last year, parents have been overseeing a weekly luncheon centered around biblical discussion at Fireman's Park, a public park leased by Middleton-Cross Plains Area School District.
Officials from the school district and Middleton High recently expressed concerns about the Jesus Lunch gathering, stating in a letter to parents that the events violated certain policies.
"The policies in question include food handling, visitors to campus, and expectations around student organized events. We are in no way interested in opposing religious practice in otherwise legal circumstances," read the letter.
"If students are interested in organizing student led activities, MHS staff are happy to work with them and will convey the district and school policies that govern activities. This, however, appears to be an event initiated by adults without approval by the school."
District Superintendent Don Johnson told The Christian Post in an earlier interview that the matter has become "divisive" and said Jesus Lunch organizers have not been cooperating with school officials.
"The parents sponsoring the lunch met with the school principal once, and refused to look at alternatives. We have both in writing and verbally asked to meet with [them], their response has been 'talk to our attorney,'" said Johnson.
"Again, we have several alternatives for students and parents to engage in religious discussions, conversations, and events within our school and district policies."
For their part, supporters of the Jesus Lunch gatherings have argued that as a public park the organizers are not bound by school policies.
"By law, the lease agreement between the city and the school district of Middleton does not privatize the park," read a statement from organizers.
"The city of Middleton has sent us a letter this week and acknowledged our rental agreement of the pavilion at Fireman's Park."
Supporters of the Jesus Lunch organizers have launched an online petition, which as of Monday morning has gotten more than 2,000 signatures.
"Jesus Lunch has had a positive impact on our students lives and we go entirely by choice! We love the moms and the messages Jesus Lunch speaks about. We want the Jesus Lunch to continue," reads the petition.