Pope Francis Condemns Parents Who Choose Abortion as Committing 'White Glove' Eugenics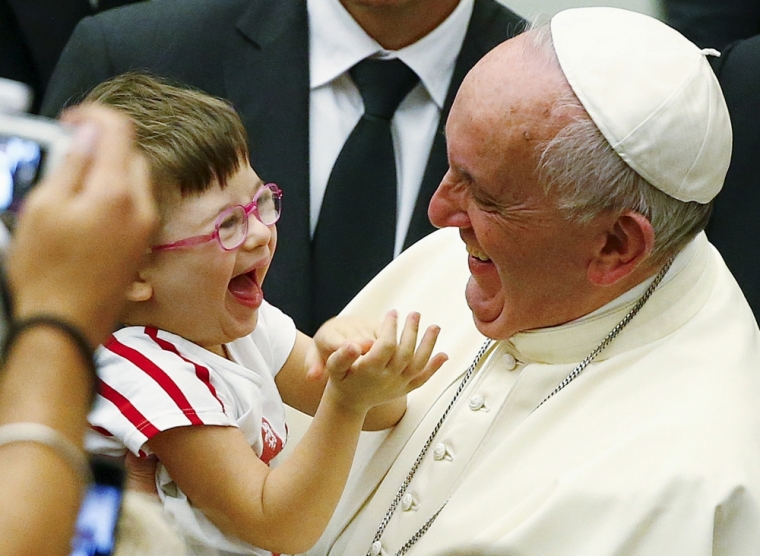 Pope Francis on Saturday denounced parents who abort a child if prenatal tests show the baby has a malformation or genetic problem, calling such "murder of children" the "white glove" equivalent of the Nazi-era eugenics program.
"It is fashionable, or at least usual, that when in the first few months of a pregnancy doctors do studies to see if the child is healthy or has something, the first idea is: 'Let's send it away,'" Pope Francis said while addressing the Forum of Family Associations on its 25-year anniversary on Saturday, according to USA Today. "We do the same as the Nazis to maintain the purity of the race, but with white gloves on."
Francis called it "murder of children… to have an easy life."
He urged families to accept children "as God gives them to us," according to ABC News.
"What could be a bigger sin than killing an unborn child?" Anna Perez, a New York-based nun from Nicaragua who was visiting the Vatican City, was quoted as saying. "I hope the pope, whoever he is, will always stand up for those who can't defend themselves, especially the unborn."
The pope has spoken against the "throwaway culture" of the world where even human beings are discarded. "It is frightful even to think there are children, victims of abortion, who will never see the light of day; children being used as soldiers, abused and killed in armed conflicts; and children being bought and sold in that terrible form of modern slavery which is human trafficking, which is a crime against humanity," Francis said in January 2014.
Argentina, Francis' home country, this week voted for a proposal to legalize abortion.
In March, The Washington Post deputy editorial page editor Ruth Marcus argued in favor of women aborting their babies even if the only reason was a positive pre-natal test for Down syndrome.
Explaining that while it would be "tragic" and "ghastly" to undergo a second-trimester abortion — likely the point when such a procedure would occur — she wrote she would have terminated a pregnancy if an amniocentesis screening showed the presence of an extra chromosome yielding Down syndrome. "I'm' going to be blunt here: That was not the child I wanted."
Cathy McMorris Rodgers, who represents Washington state in Congress and is the chair of the House Republicans, has a son with Down syndrome. She responded to the editorial, saying, "I struggled to put into words how offensive it is."
Last year, CBS News lauded a report from Iceland that said the country was "eradicating Down syndrome" by aborting 100 percent of babies who had an in-utero diagnosis of Down syndrome.
Emmy Award-winning actress Patricia Heaton spoke out against CBS News. "Iceland isn't actually eliminating Down syndrome. They're just killing everybody that has it," she wrote on Twitter.