Pope Francis Blames 'Deviant Forms of Religion' for Brutal Paris Murders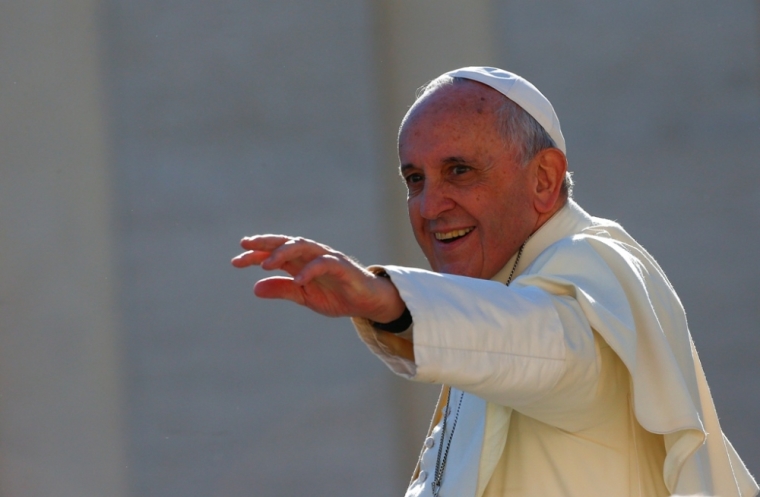 Pope Francis spoke to a large crowd last week to address the massacre in France and condemned "deviant forms of religion" for the shedding of blood.
"Losing their freedom, people become enslaved, whether to the latest fads, or to power, money, or even deviant forms of religion," Francis said in an address to the members of the Diplomatic Corps. There is a "culture of rejection" that leads to "the breakdown of society and spawning of violence and death."
Last week was one of the worst attacks in the city of Paris, with a total of 17 people left dead after persons loyal to the Islamic State murdered 12 persons, and another two people killed a police officer and several hostages in a standoff that ended on Friday. The three suspected killers were shot dead by police after the standoff. In the wake of the assault, Parisians and European leaders came together to send a powerful message that they would not cower to terrorists.
"We see painful evidence of this in the events reported daily in the news, not least the tragic slayings which took place in Paris a few days ago," the Pontiff said. "Religious fundamentalism, even before it eliminates human beings by perpetrating horrendous killings, eliminates God himself, turning Him into a mere ideological pretext."
However, Francis did not limit his words of concern to the actions in Paris. He also addressed the kidnapping of young schoolgirls in Nigeria by Boko Haram and the "unspeakable brutality" of over 100 children by the Taliban in Pakistan. The Pope then spoke to the closing of Guantanamo prison, which he hopes will happen sooner rather than later, and the newly reformed relations between Cuba and the United States. Francis was instrumental in helping the two countries come together after years spent in seclusion.
The Pope is currently in Sri Lanka on a mission to pursue the truth and greet his followers.
"The process of healing also needs to include the pursuit of truth, not for the sake of opening old wounds, but rather as a necessary means of promoting justice, healing and unity," Francis said after landing in the capital of Colombo. "The great work of rebuilding must embrace improving infrastructures and meeting material needs, but also, and even more importantly, promoting human dignity, respect for human rights, and the full inclusion of each member of society."
This is the first papal visit to the country since 2009, when a deadly civil war finally ended.