Pope Francis: Christians Can 'Show Gay People the Way,' but Church 'Does Not Condemn'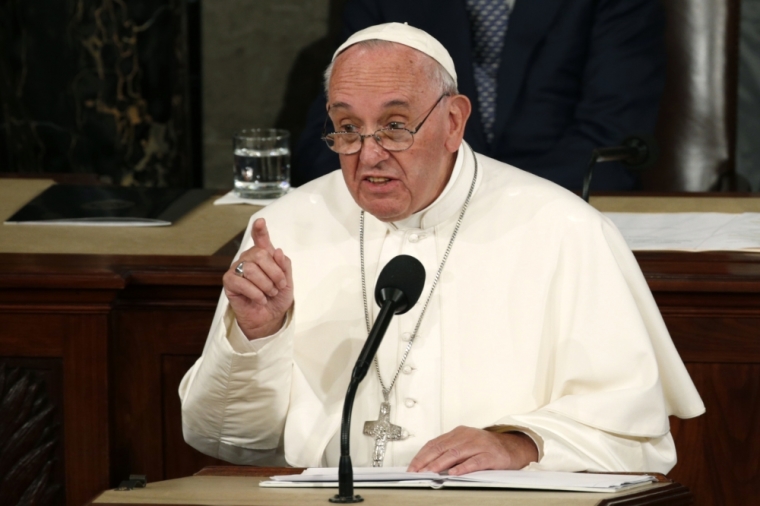 Pope Francis has spoken out on his famous remark in 2013 when he said "Who am I to judge?" about gay people, by clarifying that Christians can show them the way and walk with them, but insisted that the Church does not condemn people.
Francis' thoughts were included in a new interview book titled The Name of God is Mercy, to be released in 80 countries on Tuesday, which will include his reflections on a number of other issues concerning the Roman Catholic Church as well.
Catholic website Crux reported that Francis said he was "paraphrasing by heart the Catechism of the Catholic Church" when he told reporters at an event at the Vatican in 2013: "If someone is gay and he searches for the Lord and has good will, who am I to judge?"
Fancis was hailed by some gay rights groups at the time for the quote, even being awarded person of the year by LGBT publication the Advocate.
When asked to clarify his thoughts on the matter, Francis said that he supports compassion and inclusion, but is not in favor of changing traditional Catholic teachings.
"You can advise [gay people] to pray, show goodwill, show them the way, and accompany them along it," the pontiff explained.
He added: "The Church does not exist to condemn people, but to bring about an encounter with the visceral love of God's mercy."
The Vatican leader further rejected what he called "a formal adherence to rules and to mental schemes," and said that "mercy is the first attribute of God."
Francis also spoke out on another hot-button issue concerning marriage, namely whether Catholics who divorce and remarry outside the Church have the right to receive Holy Communion.
The pontiff shared the story of a man who was due to marry one of the future pope's nieces despite his previous marriage being declared null and being excluded from the sacrament.
The husband apparently continued going to church every Sunday to ask the priest for a blessing, recognizing that he can't be absolved due to the Church's rules.
Francis said that the man was "religiously mature," which Crux suggested could be a clue that the pontiff is urging understanding, but not a change to doctrine.
Back in September 2013, Francis affirmed his support for the traditional Church teachings on subjects like homosexuality and abortion, but said that they should not be the only focus.
"We cannot insist only on issues related to abortion, gay marriage and the use of contraceptive methods. This is not possible," the pope said in an interview back then.
"I have not spoken much about these things, and I was reprimanded for that. But when we speak about these issues, we have to talk about them in a context."