Pope Canonizes First-Ever Married Couple Whose 5 Daughters Became Nuns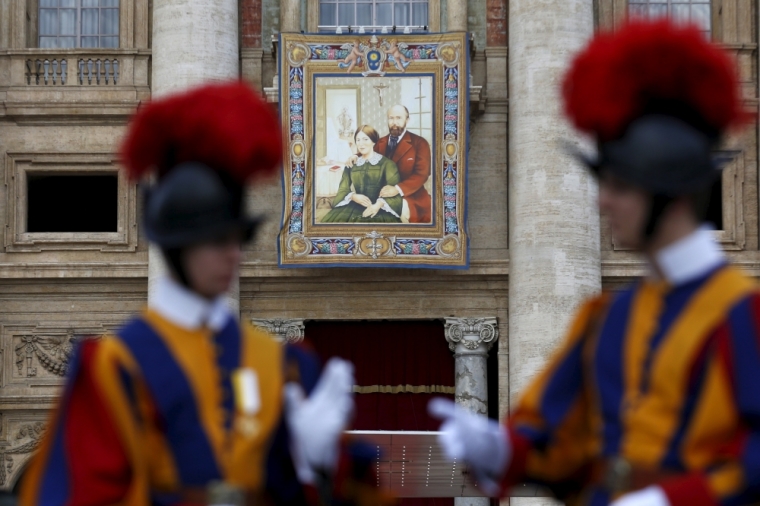 Pope Francis has carried out the first ever canonization of a married couple in modern times, proclaiming Louis and Marie-Zelie Guerin Martin as saints of the Roman Catholic Church. The husband and wife, who lived in France in the 19th century, had five daughters who all became nuns, including one who also became a saint.
"The holy spouses Louis Martin and Marie-Azélie Guérin practised Christian service in the family, creating day by day an environment of faith and love which nurtured the vocations of their daughters, among whom was Saint Therese of the Child Jesus," Francis said in his homily at the Vatican on Sunday.
"The radiant witness of these new saints inspires us to persevere in joyful service to our brothers and sisters, trusting in the help of God and the maternal protection of Mary. From Heaven may they now watch over us and sustain us by their powerful intercession."
BBC News noted that the couple had nine children in total, but four of them died in infancy.
One of their daughters was Saint Thérèse of Lisieux, also known as "the little flower," who served as a French Carmelite nun, and died at the age of 24 of tuberculosis. She was canonized in 1925 by Pope Pius XI.
"Therese of Lisieux is widely venerated for the simplicity of her spiritual life," BBC analyst David Willey wrote.
"Her parents are being held up as a fine example of a Christian family while bishops from around the world are gathered here to discuss how best to minister to modern families — including divorced persons who remarry — who, under present Church rules, are barred from taking communion," he added of the Vatican's ongoing Synod on the Family.
The Catholic leader also canonized Italian priest blessed Vincenzo Grossi and Spanish nun blessed Mary of the Immaculate Conception, who centered their lives on helping the poor.
"The men and women canonized today unfailingly served their brothers and sisters with outstanding humility and charity, in imitation of the divine Master," Francis said on Sunday.
Back in September during his trip to the U.S., Francis canonized the controversial 18th century Franciscan Friar Junipero Serra, who has been accused by some Native Americans of being a "brutal colonizer," and not just a Christian missionary.
Francis insisted, however, that Serra "sought to defend the dignity of the native community, to protect it from those who had mistreated and abused it."