Pope Francis 'Will Not Judge' Priests for Sexual Orientation, Reaffirms Catholic Stance on Homosexuality, Women, Abortion and Sin
Pope Francis has spoken openly about the issue of homosexuality on Monday, saying that he would not judge priests for their sexual orientation.
"If a person is gay and seeks God and has good will, who am I to judge him?" the pope said at an 80-minute news conference with reporters on his plane as he returned from his recent trip to Brazil.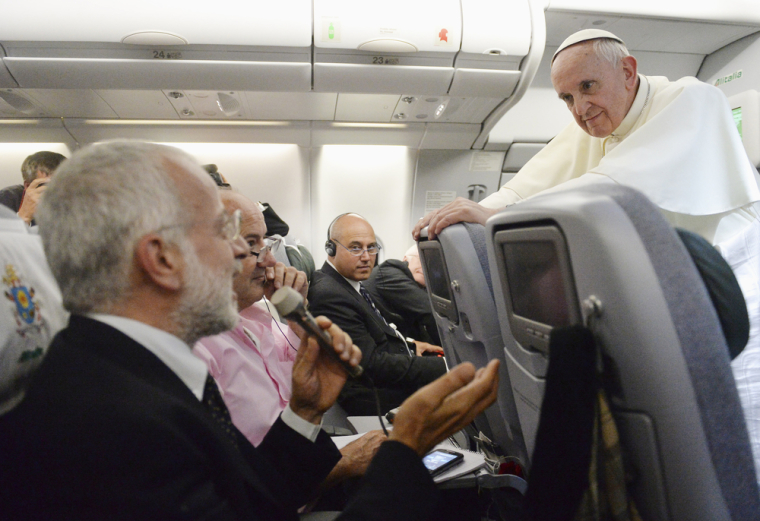 The pope's remarks have been interpreted as a landmark act of conciliation, and although some media outlets have promoted his latest comments as a big shift in the Catholic Church's stance on homosexuality, the remarks were perhaps more a shift in tone than what has been typical from his predecessors. Indeed, Francis distinguished between homosexual orientation and homosexual acts, highlighting the Church's universal Catechism; reaffirming that the Catholic Church's biblical position remained that homosexual acts were sinful, but that homosexual orientation alone was very much different.
Speaking candidly, the leader of the more than 1.2 billion members of the Catholic Church stressed that under those same teachings homosexuals should be treated with dignity and not be marginalized because of their sexual orientation.
He said, "The Catechism of the Catholic Church explains this very well. It says they should not be marginalized because of this (orientation) but that they must be integrated into society."
The pontiff, however, condemned lobbying by homosexual activists, "The problem is not having this orientation. We must be brothers. The problem is lobbying by this orientation, or lobbies of greedy people, political lobbies, Masonic lobbies, so many lobbies. This is the worse problem."
Pope Francis was also asked about local Italian media reports that suggested a group within the Catholic Church had tried to blackmail Church officials with evidence of their homosexual activities. Italian media had claimed earlier this year that the allegations had contributed to Pope Benedict's decision to step down.
In response, the pope, who allegedly admitted earlier this year in June that there was a "gay lobby" in the Vatican's administration - the Roman Curia, again told reporters that homosexuals should be treated with dignity. However, he said that it was an entirely different thing to conspire to use private information to blackmail, and to exert pressure.
Regarding allegations that a trusted Vatican aide had been involved in a gay tryst a decade ago, Francis explained that he had investigated the matter according to canon law, but found no evidence to back up the claims.
He did, however, rebuke reporters for reporting so extensively on the matter, especially as it was so long ago. He explained that the allegations in this case were concerned with matters of sin, and was not a criminal matter such as the child sexual abuse scandals. He told reporters that when someone sins and confesses, "God not only forgives but forgets."
Imposing that same standard on ourselves, the pope added, "We don't have the right to not forget."
The near hour-and-a-half meeting with the pope was one of the most candid and open any pontiff in recent history has had with reporters. Pope Francis has been praised by media on Monday for his openness, and for not dodging any questions, but giving direct and non-evasive answers.
The Roman Catholic leader was also asked about the role of women in the Church. On that issue the pope said that women should be given a bigger role to play, however, specifically on the ordination of women in the Catholic Church, he affirmed that the "door is closed" on that issue.
However, he continued to emphasize the need for women to be given a more extensive role: "We must go farther in the explicitness of the role and charisma of women living in the church."
Pope Francis also spoke very bluntly and directly about the issues of gay marriage and abortion, affirming that both were in direct opposition to biblical teachings. When pushed on the issues he simply said, "You know perfectly the position of the Church."
Here is a related video:
Pope on homosexuality: who am I to judge?