'Preachers of LA' to Bring Church to Twitter; Producer Insists Reality Show Is Not 'Salacious'
The cast of the new and controversial docu-series, "Preachers of L.A.," will be bringing church to social media by delivering Twitter sermons in a new promo campaign unfolding a month before the Oct. 9 premiere of the program on the Oxygen network.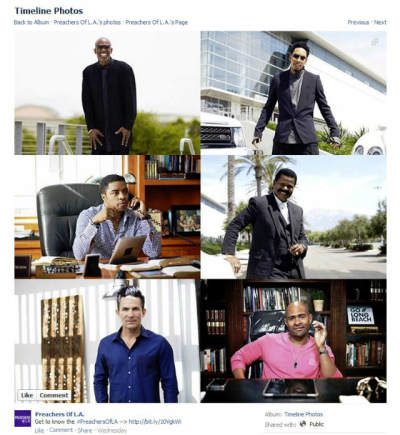 According to a press release from the network, the Twitter "church service" takes place on Tuesday, Sept. 3.
"The preachers will deliver a digital sermon, sharing anecdotes, quotables, advice, and scripture with fans of the show," the announcement reads. "The Twitter Sermon will focus on the preachers' religious and personal lives."
It is snippets of the personal lives and religious views of these preachers — Bishop Noel Jones, minister Deitrick Haddon, Bishop Clarence McClendon, Pastor Jay Haizlip, Pastor Wayne Chaney, and Bishop Ron Gibson — that have prompted questions among viewers of the trailer for the upcoming reality show.
The well-circulated trailer provides glimpses of the lives and ministry work of these mega-pastors and also highlights their large houses, fancy cars, expensive suits, as well as their remarks explaining "prosperity."
The trailer has reportedly pulled in more than 13 million hits via Google, and has left some viewers with a negative impression of the upcoming reality program.
"This is sad! The health, wealth, and prosperity preachers lead people down the wrong path. You would have never seen the Apostle Paul, or Peter dressed in flashy clothing or driving a fancy car. It's about humility, of which I saw none in these 'pastors,'" wrote one viewer of the "Preachers of L.A." trailer.
Amid the criticism, Bishop Jones, senior pastor of City of Refuge Church in Gardena, Calif., has explained that he signed on for "Preachers of L.A." to help expose Christians to the real-life challenges and very human nature of their church and ministry leaders.
"My original intention was not for this to be an evangelical tool, very certainly not," said Jones in an interview last month. "My original intention was (for) it to be a tool to help bring the minds of Christian people to the place where they give some balance to who their pastors are and how they deal with their pastors."
Jones added, "The only reason I signed up was to help to reduce the iconoclastic proclivities that church members have about their pastors to the point where if they break any of the rules that the church members are breaking, they completely throw them away."
The Rev. Mark Whitlock of Christ Our Redeemer Church, who's familiar with the program and some its main stars, told The Grio that he believes "Preachers of L.A." will succeed in opening a window to the preachers' lives and communities. Although he has some reservations about the portrayal of these preachers, Whitlock said he he hopes that "Preachers of L.A." will lead to a "greater appreciation" for the work of Christian ministers.
"I sincerely hope that the producers of this program don't exploit these great men of God," said Whitlock. "They're responsible for the souls of thousands, and television often is driven by commercials, by how the ratings are."
One of the producers behind the show, Holly Carter, president and CEO of Relevé Entertainment, insists that while she is prepared for a backlash, "Preachers of L.A." is not "a salacious tale of opulent lifestyles."
"The trailer is a sales tool; our goal was to give the preachers an opportunity to be seen as human," Carter told the Los Angeles Wave. "So many times we put pastors and leaders on a pedestals and it's hard for them to live up to that. But what this show will do is walk you through the authenticity, inspiration and purpose that drives these men as the audience explore their ministries, their families, triumphs and trials."
The Twitter sermons scheduled for Sept. 3, will be launched from @PreachersofLA. "Preachers of L.A." premieres Wednesday, Oct. 9 at 10 p.m. ET on the Oxygen network.