Preaching on Politics Is Biblical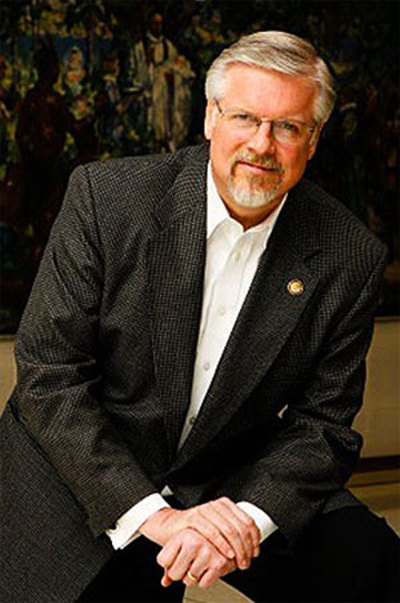 We had been to see the new Dinesh D'Souza documentary, "Hillary's America," when afterward a woman and her husband recognized me with my wife, Kim, on the sidewalk outside of the theater. She bounced over my way and said, "You're just the man I wanted to see" and quickly launched into a half dozen questions about the documentary and other matters of both a religious and political nature.
While engaged in answering her inquiries, she concluded with a question I've heard over and over again through the years. It was really rhetorical. She already knew the answer. She was just expressing her profound disappointment as a parishioner in her own church.
"Tell me," she said, "Why don't pastors take up the social issues from the Bible? Why don't they give us some direction on politics from the pulpit?"
Dr. Joel McDurmon of American Vision, I believe, addressed this question quite eloquently once, when he wrote:
"The problem is that our pulpits and preachers today have abandoned the fullness of what Christ commanded us: to disciple nations and to teach them all of his commandments. That Great Commission includes the call, which our fathers ably demonstrated, to speak truth to the public realm: to call out rulers, governments, laws, abuse and to demand liberty and justice. In all our preaching today about iniquity and sin, we neglect to address inequity and tyranny."
But the refrain heard from both many ministers and laypersons alike, heard even to ad nauseam, is that politics is not the proper place for the pulpit. Stay away from politics, they warn, and just preach the Gospel.
Chuck Baldwin, a minister and former presidential candidate for the Constitution Party, has addressed this assertion as stupendously as anyone. He's written:
"[I]f the only thing God expected us to do was to preach the Gospel, why did he give us a voluminous Bible, which is filled with examples, principles, and truths relating to virtually every important area of life? If one takes only those Scriptures that deal specifically with the Gospel, he or she is going to have a very small Bible …The stories of the Old Testament, for example, were written for 'our learning.' (Romans 15:4). Hebrews 11 challenges us with the examples of Old Testament men and women who were 'not afraid of the king's commandment,' who did not fear 'the wrath of the king,' who 'subdued kingdoms,' 'waxed valiant in fight,' and who 'turned flight the armies of the aliens.'
"Furthermore, the Apostle Paul spent about as much time in jail as he did out of jail. And, of course, he was thrown in jail for breaking the unjust, evil laws of men. Every apostle except John was killed by tyrannical governments because they refused to submit to unjust laws."
To argue that pastors should avoid all politicking and just stick to preaching, I suggest, is not only unbiblical but un-American.
American history is replete with examples of clergymen who carried the torch of liberty and helped secure it for our country. Churches became the primary source that stirred the fires of revolution, advocating the King and Parliament were trampling upon the inalienable rights of the people. They knew well those passages from Scripture like Romans 13 that required submission to civil authority. But they were just as familiar with passages requiring them to resist ungodly authority. In fact, it was out of the churches that watchwords during the American Revolution like "No King but King Jesus" and "Resistance to Tyrants is Obedience to God" were born.
If space permitted, I could write at length about Parliament's derogatory references to Colonial preachers called the "Black Regiment" — ministers who donned black clerical robes each Sunday and urged their congregants to pursue and secure freedom.
I could talk about Rev. John Peter Gabriel Muhlenberg who after completing a sermon from Ecclesiastes 3:1, "To everything there is a season, and a time to every purpose under heaven," stepped down from the pulpit, removed his robe and revealed the uniform of a Colonial Army officer to lead 300 men from his congregation to join General George Washington as the Eighth Virginia Calvary.
I could also share concerning Rev. Jonas Clark who, on the night of Paul Revere's famous ride, was asked by John Hancock and Samuel Adams if the men of Lexington would fight. Clark replied, "I have trained them for this very hour; they would fight, and, if need be, die, too, under the shadow of the house of God."
These are but a few examples.
Let me once again reference Baldwin, who rightly argues that "[p]reaching the Gospel, by itself, will not save America. Christians have to be taught how to understand; how to discern the difference between good and evil; the principles of law and justice; jurisdictional authority; and the principles of Christian resistance. As long as pastors refrain from teaching these essential and necessary truths, our nation will continue its slide into tyranny and oppression — all the Gospel preaching going forth notwithstanding."
Granted, the primary purpose of the church is to proclaim Christ. That mission undergirds all of the work of God's people. Nevertheless, true discipleship neglects no need, it recoils at no duty.
Martin Luther is reported to have summed it up, I think, in this fashion:
"If I profess, with the loudest voice and the clearest exposition, every portion of the truth of God except precisely that little point which the world and the devil are at that moment attacking, I am not confessing Christ, however boldly I may be professing Christianity. Where the battle rages the loyalty of the soldier is proved; and to be steady on all the battle-field besides is mere flight and disgrace to him if he flinches at that one point."
Luther's summation on the matter begs another question — one with which I shall end.
If politics and preaching do mix, and according to the Scriptures they do, and if the practice of such is also what made America, then how many preachers are both traitors to the cause of Christ and their country?
Rev. Mark H. Creech is executive director of the Raleigh-based Christian Action League of North Carolina Inc.