President Donald Trump's Evangelical Council Divided Over 'S***hole' Comments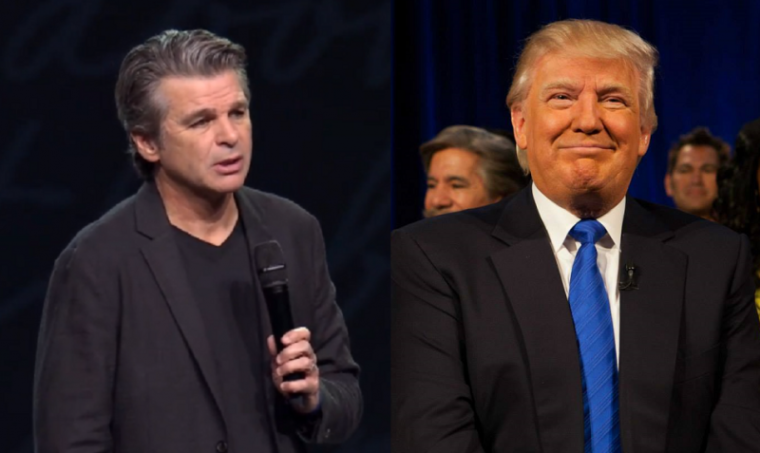 Megachurch pastor Jentezen Franklin who leads the Free Chapel Church and serves as a member of President Donald Trump's evangelical advisory council condemned on Sunday recent comments allegedly made by the president and branded as racist in which he called Haiti, El Salvador and nations in Africa "s***hole countries."
"I don't agree with what the president said this week. It was wrong what he said. I say that respectfully. There's no nations that are trash and I'm putting it kind what he said. There's no people in those nations that are worthless and trash," Franklin said as his congregation applauded near the end of his sermon.
[Franklin's comments on Trump begin at 38:40 mark in video below]
Sources first reported by The Washington Post allege that at a meeting in the Oval Office discussing protections for immigrants from Haiti, El Salvador and Africa last Thursday, Trump asked: "Why are we having all these people from s***hole countries come here?"
He then suggested that America should take more immigrants from countries like Norway before singling out Haitians.
"Why do we need more Haitians?" Trump said, according to people familiar with the meeting. "Take them out."
President Trump has since denied making the comments and council spokesman Johnnie Moore also cast doubt on the veracity of the claims, calling the "crass" remarks "absolutely suspect and politicized," according to The Washington Post.
Jentezen joined a minority of Trump's evangelical council, also called the Faith Leaders Initiative, who have boldly denounced the controversial comments, including Rev. Dr. Samuel Rodriguez, president of the National Hispanic Christian Leadership Conference.
"With great due deference, I believe that the comments attributed to our president can best be described as wrong, inappropriate, and hurtful. Why? Because when God looks at these nations, He sees His children," Rodriguez said in a statement Friday.
"Every single person is created in the image of God. Without exception. Therefore, as it pertains to immigration, we must provide a legal avenue, with rigorous vetting, that enables individuals from both Norway and Nigeria, from Holland and Haiti, to come to our nation if they embrace our values, commit to self-reliance and to enriching our collective American experience," he said.
When asked if she thought Trump's comments were racist, she said, "yes."
"I think they were, yes. I think they were unfortunate. I don't know if they were taken — I wasn't in the room. I know the comments were made. I don't know in which context they were made," she said. "I'm looking forward to finding out what happened, but more importantly, I'm looking forward to fixing the problem."