President Trump, First Lady Attend Church on National Day of Prayer for Harvey Victims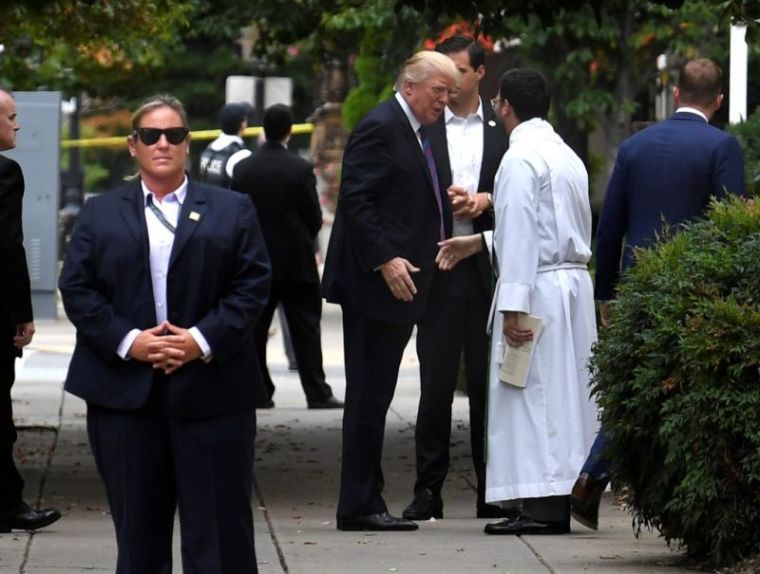 President Donald Trump and First Lady Melania Trump attended St. John's church on Sunday, the day the president had proclaimed as a National Day of Prayer for the victims of Hurricane Harvey and the response and recovery efforts in Texas and Louisiana.
The first couple arrived at the 19th-century Episcopal church near the White House for its 10.30 a.m. service, according to The Washington Post.
After the service, Melanie Trump tweeted, "Beautiful service today at St. John's. @potus and I wishing you many blessings on this National Day of Prayer."
Trump attended services at St John's also on the morning of his inauguration on Jan. 21.
On Friday, Trump had signed a declaration for Sunday to be observed as a National Day of Prayer for the survivors of Harvey.
"From the beginning of our nation, Americans have joined together in prayer during times of great need to ask for God's blessing and God's guidance," Trump told Christian leaders Friday in the Oval Office while signing the declaration. "When we look across Texas and Louisiana, we see the American spirit of service embodied by countless men and women."
The president has also pledged $1 million of his personal money to help victims in Texas and Louisiana.
The flooding that followed the storm has killed at least 44 people, displaced over 1 million and dumped as much as 50 inches of rain.
Trump's church visit comes the day after he visited Texas — for a second time since Harvey's landfall — and Louisiana.
"Tomorrow's a very big day, so go to your church and pray and enjoy the day," Trump told hurricane victims and first responders in Texas.
Trump passed out food and relief supplies and stopped at a street in Houston that had until recently been under water. He also made an impromptu stop to visit with residents who were cleaning debris from their homes, according to Reuters.
Trump hugged, kissed and played with children at the "kid zone" in Houston's NRG Center, a convention facility which has been turned into the city's largest emergency shelter.
"Our thoughts and prayers continue to be with the people and families so deeply effected by Harvey," Melania Trump was quoted as saying on Saturday. "After spending the day with children, women and men who have been impacted by the storm, it has only furthered our determination to provide all of the support we can as we pledge to continue our efforts in the long road ahead in the months to come."
The president on Friday asked Congress for $7.85 billion for response and initial recovery efforts.
Texas Gov. Greg Abbott said there's a need for more than $125 billion.