President Trump 'Understands the Power of Prayer,' Franklin Graham Says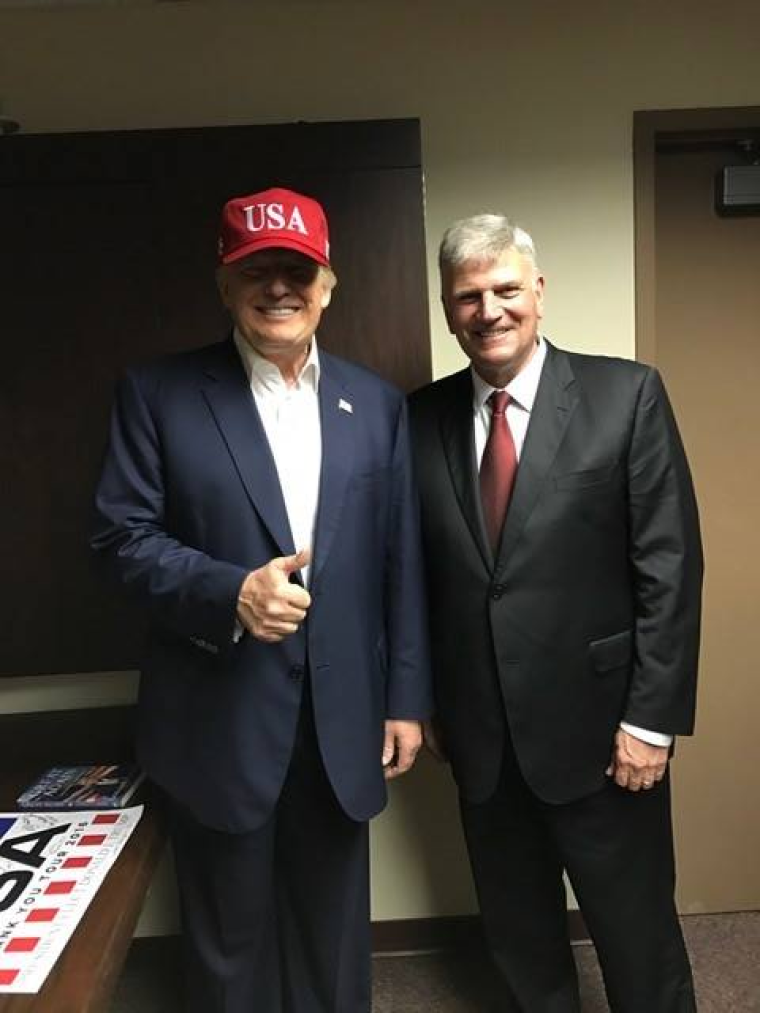 President Donald Trump "understands the power of prayer," Rev. Franklin Graham said on "Fox & Friends" after airstrikes on chemical-weapon targets in Syria. 
"I appreciate that we have a president who understands prayer and solicits prayer," Graham said Sunday. "Our country is in trouble, the world is in trouble, and the perplexity of the problems that the president faces every day — at home and abroad — is just incredible."
Graham added, "The Bible tells us to pray for authority, not that those in authority are perfect people — they're not. They're imperfect, and that's why God wants us to pray — to pray for the president, all those that are in leadership, and the president in turn asked us to pray for our soldiers, and those that were leading this charge, and for the Syrian people. And I just appreciate that we have a man in office that understands the power of prayer and the need for prayer."
On Friday, Trump said during his remarks, "Tonight I ask all Americans to say a prayer for our noble warriors … as they carry out their missions. We pray that God will guide the whole region."
The U.S., France and the U.K. launched airstrikes late Friday in response to the Syrian regime's use of chemical weapons near the capital city of Damascus a week earlier. That attack killed dozens of civilians and injured hundreds others.
The targets of the airstrikes included Syrian President Bashar al-Assad's chemical-weapons arsenal and a former missile base 15 miles west of the city of Homs, according to The Wall Street Journal.
"Whether you're a Democrat or a Republican, the fact is that Donald Trump is the president of the United States," Graham said. "And if he does well, makes good decisions, it benefits all of us as a nation, regardless of our background … We need him to succeed at home, and we need him to succeed abroad. It's not about winning or losing, it's about succeeding for all Americans."
After Fox News tweeted Graham's statement, "I just appreciate that we have a man in office that understands the power of prayer and the need for prayer," Thomas S. Kidd, who teaches history at Baylor University, and is Associate Director of Baylor's Institute for Studies of Religion, responded by writing on Twitter, "Because on Fox 'evangelical' Christianity means nominal Christianity employed for political ends."
Shane Vander Hart, a conservative Christian political activist in Iowa, also criticized Graham for claiming that Trump understands the power of prayer. ".@Franklin_Graham, for the sake of the good work you do at @SamaritansPurse and @BGEA, more importantly, for the sake of the Gospel, please stop. There is no evident, public fruit in @realDonaldTrump's life that demonstrates either statement is true," he wrote. 
Around the same time as the Fox News show with Graham was being aired, Trump was deriding former FBI director James Comey on Twitter, calling him "Slimeball!" "Slippery James Comey," "not smart!" and "the WORST FBI director in history, by far!" 
Comey had claimed Trump was "morally unfit to be president" and treats women like "pieces of meat."
While Graham didn't support Trump in the presidential primaries, he encouraged his supporters to vote for Trump in the general election, and has since become one of Trump's strongest evangelical supporters.
In January, Graham defended Trump against charges that he had an affair with a porn star and weeks before the election arranged to pay her hush money to keep quiet about the affair. 
"We just have to give the man the benefit of the doubt," Graham argued.