Pro-Life Group Releases Scathing 6-Year Investigative Report on Planned Parenthood
Live Action Asks Americans to Sign Petition Demanding Congress Stop Giving $500 Million to Nation's Largest Abortion Provider
Lila Rose, president of the pro-life youth led organization Live Action, distributed a 60-page six-year investigative report on Planned Parenthood, the nation's largest abortion provider, to members of Congress Wednesday, asking them to defund the organization.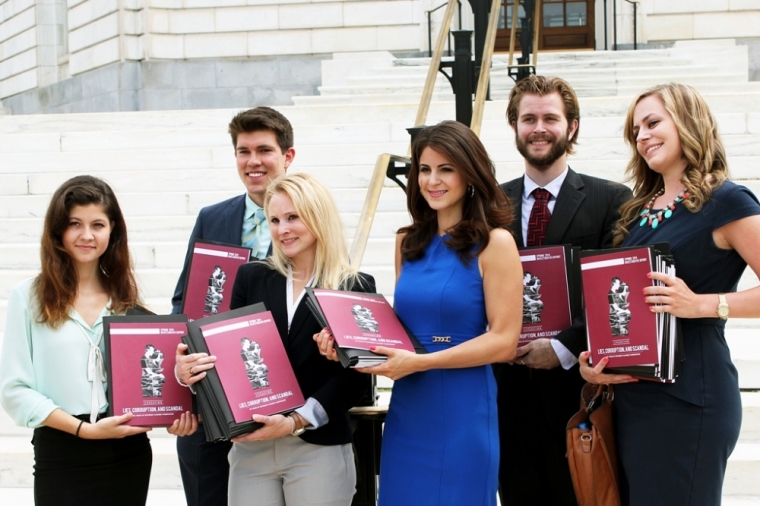 According to Live Action's multi-state investigative report, "Lies, Corruption, and Scandal: Six Years of Exposing Planned Parenthood," which was distributed to members of Congress and is available online here, Rose and her investigative team have documented the abortion provider covering up the sexual abuse of children; aiding the sexual exploitation of girls; accepting donations to abort black babies and girls; and not informing women about post-abortion PTSD, among other illicit and illegal activities.
To launch their new national campaign, Rose, along with volunteers and interns, walked the halls of Congress to deliver their findings to Republican and Democratic Senate and House members, asking them to review the report and pass legislation to stop using taxpayers' dollars to fund the abortion provider.
"Over the last six years, Planned Parenthood has been investigated by our organization and others, and exposed for rampant lawlessness, abuses, and many other illicit activities," Rose told The Christian Post during an interview at the Russell Senate Office Building on Wednesday.
Rose continued, "We are going through the halls of Congress and dropping off this six-year report, along with a letter to each member whether they're in the Senate or the House, explaining what this report is, and the importance of reviewing the fact that $500 million every year is going to fund the biggest abortion chain in the country, Planned Parenthood."
"We're calling on Congress to immediately review, investigate and stop taxpayer funding of this abortion giant, especially in light of the 320,000 children who are killed every year in their facilities, and the many abusive and illegal activities taking place," Rose told CP, noting that the Planned Parenthood is a billion dollar organization.
Along with the 60-page investigative report, Live Action has simultaneously launched a video campaign at wwwPlannedParenthoodExposed.com and a petition for people to sign asking lawmakers to defund Planned Parenthood.
The petition highlights that the organization's surgical abortion centers have quotas to meet, and states that Planned Parenthood's staff "routinely puts women's lives at risk."
"Planned Parenthood staffers, nurses, and managers have been documented coaching and covering for sex-traffickers, ignoring the sexual abuse of young girls, and putting women's lives at risk. The corporation is awash in deaths, injuries, and allegations of and settlements paid for massive fraud," the petition reads, in part.
According to Rose, Planned Parenthood's latest annual report reveals that the organization received $540.7 million in taxpayer funding in 2011-2012, and the corporation performed 327,166 abortions during that time.
"When I first began to go undercover in these facilities in 2007, I thought I would find illegal and harmful activity," she said. "But even I had no idea of the huge, company-wide commitment to abortion at any cost — the fraud, the lies, the cover-ups."
"It's a grave injustice that our government and president actively promote this extreme form of violence. It's a disgrace that we are all forced to fund it. … These facilities need to be investigated, inspected, and shut down," Rose asserted, adding that a majority of abortionists regularly skirt or violate state statutes on abortion and patient consent.
WATCH THE CHRISTIAN POST'S INTERVIEW WITH LILA ROSE BELOW: